Shock's End
is a Horror Book Series/Universe that takes place from the year 2011. The Book Series is written by a collaboration of users who write their own books for the series. They are all written by
Thektdude
(t∣b∣c)
,
LegendaryIce
(t∣b∣c)
,
Raspberry*Nightmare
(t∣b∣c)
,
MeGa eXal
(t∣b∣c)
and
.vectorDestiny
(t∣b∣c)
The series is about a small town that has a street called "Shock's End" that is cursed and famous for strange happenings, attacks, paranormal, disturbances and even death.
History
Shock's End was founded in 1932, by a family of six known as the "Shocks" and Mr Luke Shocks, had went to a house before he moved into Shock's End that was haunted and experienced something terrifying that caused him to get a curse. He carried the curse onto the street and the family. The family had experienced bad luck, with the second youngest getting really sick of a flu and passing away less than a week after he got the flu. In 1946, The youngest ran away from home at the age of 15 and was later found dead a year later with 2 bullet holes in the chest and head. Mrs Martha Shocks and Mr Luke Shocks had a divorce after they heard about the death 3 days later, and Mrs Martha Shocks had moved out and moved to one of the new houses in Shock's End, who was killed by an Intruder 6 years later; who gave birth to twins a 4 months earlier that were adopted to another family. Mr Luke Shocks had killed himself with overdose to whisky a day after when he heard about the death of his wife. Then the oldest had disappeared before Mr and Mrs Shocks were dead and was never seen again. The Second oldest child in the family was the only one to survive the curse who had people to come and help him get the curse away from him. After that, he moved out of Shock's End into a much nicer house in one of the other neighborhoods that were built way after Shock's End. His name is Blake Waker (used to be Blake Shocks, but changed the name to remove the curse more) and is still alive to this day in a care home and is about 88 Years Old.
While the things had happened to the family, there was more neighborhoods, shops, a school and a park made in other areas that eventually turned into a medium town, known as Lechnade so that people could be away from the curse when they found out about it.
What the stories are about
The Stories are mainly about Teenagers from 15 - 20 that experience weird things happening to them that have Shock's End involved and finding out clues to who it is or what is happening to them, that eventually comes to a conclusion of who it is or what is actually happening to them that sometimes involved a twist.
The Stories mainly focus around a murder mystery, or a disturbing stalker, but sometimes to do with paranormal, and other strange happenings. The Stories also focus around sometimes on the adults instead of the teenagers.
The Book Series begins from 2011, along the way to today.
Map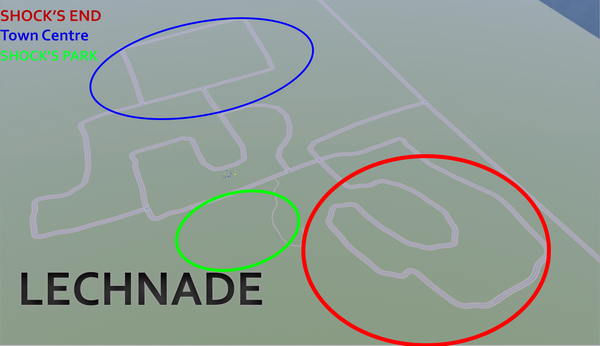 In Shock's End: Houses, and a small Shop
In Town Centre: Shops, a small mall, Movie Theater, School, small park and apartments
In Lechnade's Streets: Houses, and a couple of shops.
In Shock's Park: A Forest, a park, Benches, Paths and a lake.
Books
Spin-offs
So Far, there are no Spin offs to the series, however; there is plans to make a Shock's End Origin Book, as well as a 60's Crime Series called, "The Shock's End Files" and probably also a friendly version of the series that focuses around kids around 6 - 12 years old and instead of murder mystery, its monsters and ghosts.
Can I write for the Series?
We are open for anybody to write a book for the series that takes place in the universe. Just contact Thektdude (t∣b∣c) to ask about writing a book for the series either in the comments, chat PM, the forum post or the Talk Page.
How can I write?
Well, you can write in any way you want on what suits you best. You can write the plot of your story or even do a transcript instead or you can actually make it into a full novel if you wish. It's your choice.
Ad blocker interference detected!
Wikia is a free-to-use site that makes money from advertising. We have a modified experience for viewers using ad blockers

Wikia is not accessible if you've made further modifications. Remove the custom ad blocker rule(s) and the page will load as expected.