The Shiny Blooper is a playable character in Super Mario Galaxy D.I.Y.. It has yellow water and an item in Mario Kart 5: Toads of Town. He has a teliscope on his head.
Appearances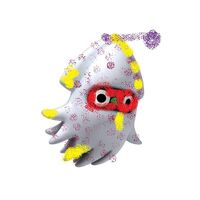 Shiny Bloopers first appear in Super Mario Galaxy D.I.Y. as a playable unlockable character. His ability is to throw yellow paint on the enemies.
Appears as an item.
Trivia
Although none of the Shiny Bloopers have good abilities, they don't have jumps, but the Shiny Bloopers fly higher than any other Blooper else.
Shiny Bloopers will make a cameo appearance in Oh no, Mario!.
Ad blocker interference detected!
Wikia is a free-to-use site that makes money from advertising. We have a modified experience for viewers using ad blockers

Wikia is not accessible if you've made further modifications. Remove the custom ad blocker rule(s) and the page will load as expected.