Ad blocker interference detected!
Wikia is a free-to-use site that makes money from advertising. We have a modified experience for viewers using ad blockers

Wikia is not accessible if you've made further modifications. Remove the custom ad blocker rule(s) and the page will load as expected.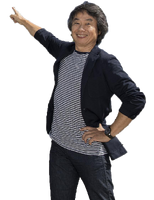 Shigeru Miyamoto, nicknamed Shiggy, is the creator of the Mario, The Legend of Zelda, Star Fox, Pikmin, Nintendogs series as well as a few others. He is recognized as probably the most important figure in Nintendo history. He appeared as himself in Nintendo Road Trip where he is the leader of the Nintendo Gang and starter. In the final battle, he uses a gun with no bullets. He also uses a Wii Remote in the Ninja on train scene and also once in the Final Battle.