Ad blocker interference detected!
Wikia is a free-to-use site that makes money from advertising. We have a modified experience for viewers using ad blockers

Wikia is not accessible if you've made further modifications. Remove the custom ad blocker rule(s) and the page will load as expected.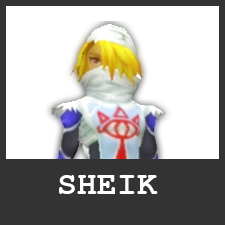 broad
A mysterious warrior with great wisdom and strength, Sheik (pronounced /ˈʃiːk/ SHEEK) is one of the last surviving Sheikah in Ocarina of Time. He[0] aids Link on his quest without really describing who he is or why he is doing so. He has great advice, wisdom, and knowledge of the world, making him an invaluable ally for Link. Sheik also teaches Link various warp songs with the use of his harp.
All of the quotes from Sheik can be read here. 
| NOM STAT | STAT  |
| --- | --- |
| Heart | 100% |
| Might | +0.5 |
| Protection | -0.5 |
| Speed | +0.75 |
| Magik | +1.25 |
|  distance | +0.75 |
| TYPE | TECHNICAL |
Mouverest
| Type mouverest | Nom mouverest |
| --- | --- |
| Classic-Attaque: | Sheikah Punch |
| Special Attack-normale | Farore Punch |
| Special Attack-Side | nuts Deku |
| Special Attack-Haut | Din Punch |
| Attaque spéciale-Bas | scanning |
| Attaques à distance | shuriken |
| Attaques défensives | Sheikah Barrier |
| Smash-finale | Eye Sheikah |