"I'm not gonna let you do that..!"


—Shazam in Justice: Apocalypse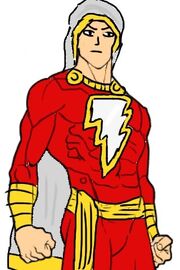 Shazam! is a fictional DC character.
Appearance
It was Billy Batson, the boy who could become a superhero by simply yelling, Shazam, that remained a member of the Justice League even after all that has happened. Shazam, however, was still anguished by the losses caused by Darkseid.
Trivia
Gallery