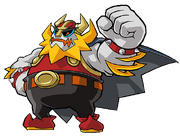 The Shake King is a villain in the Wario series. He debuted in Wario Land: Shake It!.
Appearances
WarioWare Racers!
Shake King appeared as a starter character in WarioWare Racers!. He is a heavy weight character and his main item is the Bandinero Throw.
Like most one-timer villains such as Wart and Tatanga, the Shake King had returned at least once, but unlike the other villains, he doesn't appears as often, and even in Wario Land games, it is usually the Bandinero King who makes the driving command, unless if the Shake King had to show up himself.
Nevertheless, in this established timeline, he is revealed that, while he retains his selfish side and his greed, is proven to be as intelligent as he is strong, but also tend to be quite childish (but not to the extent of crying, and only drop tears if he could be sad) when playing or even fighting, to the point of going overboard and getting flippant.
He also have high standard on hygiene, and enforce his men to wash at least twice per day, and brush the teeth the same amount of time. He is easily disgusted by dirty jokes and toilet humor, which make him an opposite of Wario despite both being greedy.
He is also willing to pay his men if they were doing well, but will steal all money and treasures of traitors as a severe punishment. He usually doubt the success of his second-in-command, the Bandinero King, but nevertheless does at least respect him.
The Shake King usually stay away from the Mushroom Kingdom and other places outside of the Shake Dimension, leaving the Bandinero King to do the task. One of the rare moments where he actively attempted to conquer the Mushroom World is by using and shaking the Metal Hourglass (an hourglass where the separate Metal Mario and Pink Gold Peach came from) in order to distract and weakens the heroes and villains, but he didn't realize that he does in the middle of a karting tournament, thus forces him to train for karting while the player got distracted dealing with the Metal Lookalikes.
Ad blocker interference detected!
Wikia is a free-to-use site that makes money from advertising. We have a modified experience for viewers using ad blockers

Wikia is not accessible if you've made further modifications. Remove the custom ad blocker rule(s) and the page will load as expected.