'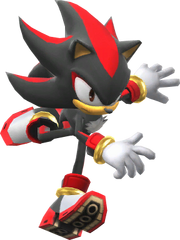 '
Shadow the Hegdehog
 is a 
unlockable character
 in 
Super Smash Bros. Endgame
. He is the dark counterpart of
Sonic
 and a rival to him. In some games, they work together to defeat evil beings. Shadow's enemy is
Mephiles
.
Appearance
Shadow is an anthromorphic hedgehog with a fur chest. He also has red stripes on his hair and arms. He also has Inhibitor Rings, if they were taken off, Shadow would become Chaos Shadow and is able to do a devastating attack, the almighty Chaos Blast.
On-Screen Appearances
TBA
Moves
TBA
Taunt(s)
TBA
Victory Pose(s)
TBA
Victory Theme(s)
TBA
Alternate Costume(s)
TBA
Gallery
TBA
Trivia
TBA
Ad blocker interference detected!
Wikia is a free-to-use site that makes money from advertising. We have a modified experience for viewers using ad blockers

Wikia is not accessible if you've made further modifications. Remove the custom ad blocker rule(s) and the page will load as expected.