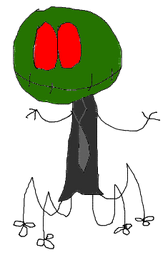 Sewsack is a zombie-like character with stitches across his face. He will star in the Sewsack series. His main features include his claws and his sticky toes.
Personality
He is on-going person who feels like he has the freedom to do what he wants, despite being half-dead. He argues with himself and is terrible at lifting weights and exercise. He is also a caring, symphatic person, even to people that call him enemy.
History
He died after falling off a cliff, but he got better after being struck by lightening.
Gallery
Ad blocker interference detected!
Wikia is a free-to-use site that makes money from advertising. We have a modified experience for viewers using ad blockers

Wikia is not accessible if you've made further modifications. Remove the custom ad blocker rule(s) and the page will load as expected.