"There is nothing to fear... BUT FEAR ITSELF!"


—Scarecrow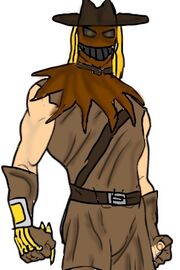 Scarecrow is a fictional DC comics villain who is portrayed as an enemy of Batman. He uses a gas called fear toxin to drive his enemies into complete fits on insanity.
Appearances
Justice: Apocalypse
Scarecrow worked with Sinestro and used his fear toxin all over Gotham, driving its citizens into complete madness and insanity. His obligation was complete at long last.
Gallery