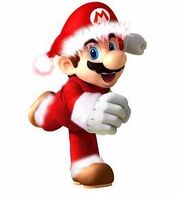 THIS IS JURPLUKES PAGE, PLEASE DO NOT EDIT WITHOUT PERMISSION
Santa Claus Mario first appeared in Super Mario Christmas. Your ability is to throw presents (once on goombas, twice on koopas) and do a magical power (star like power) to make them nice, as in not attack you and also a freeze attack. If you freeze a Choomba, it will turn into a Froomba.
Appearances
Super Mario Christmas
Used in boss battles from world 3-6.
Abilities
Super Mario Christmas
Freeze attack, don't attack-attack, throw presents attack and turn Choomba into a Froomba attack/affect
Ad blocker interference detected!
Wikia is a free-to-use site that makes money from advertising. We have a modified experience for viewers using ad blockers

Wikia is not accessible if you've made further modifications. Remove the custom ad blocker rule(s) and the page will load as expected.