Ad blocker interference detected!
Wikia is a free-to-use site that makes money from advertising. We have a modified experience for viewers using ad blockers

Wikia is not accessible if you've made further modifications. Remove the custom ad blocker rule(s) and the page will load as expected.
Sandstorm Ruins / Soggy Sewers  is the second normal world of New Super Mario Bros. PIX. It is a Desert Themed World with a sewer  area. This wordd has levels total. 6 normal levels, 1 secret level, a tower, and a castle. 4 levels are in the sewer area & the rest are in the desert area. The tower boss is Boom Boom & the castle boss is Roy.
Levels
Sandstorm Ruins part 1
World 2-1 Cluckboom Ruins
Soggy Sewers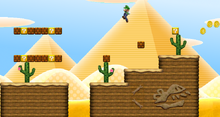 World 2-2 Piranha Plant Pipeline
World 2-3 Waterworks Lagoon
World 2-4 Polluted Pipes
World 2-, Boom Boom's Pipeline Tower
Sandstorm Ruins Part 2
World 2-5 Swingback Ruins
World 2-6 Desert Mushroom Pass
World 2-7 Sinking Sand Sea
World 2-8 Lakitus Canyon
World 2-, Roy's Pyramid Castle
Secret Course
World 2-A, Windy Sands