Not to be confused with the user.
"Great! You did very well, Sam The Koopa! And all of you too!"


—Super Sam Squad, after completed the 9th World.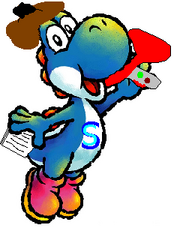 Samtendo09, AKA the Original Sam, is the director of the Super Sam Squad series. Not much known about him, until he show up and thanks the actors for playing their role pretty well, then thanks the players. He is a blue Yoshi and can control his emotions, unless there's something worng against him.