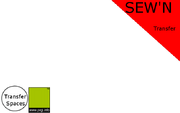 SEW'N Transfer is a console that uses a Transfer system, and a "vision" system. It will play any future disk game. There is a plug where you can plug in future versions, which are able to play the latest console's games in, for if it will not fit in a slot. It is a home console.
Concepts
SEW'N Transfer Stick
The console comes with a Transfer stick of Mr. Sew'n which you can plug into the far right of the system. On special occasions, a Transfer Stick of a different character will be released. Open up any game supporting Transfer, eg. SEW'N Vision Racing. When you are at the character roster, right click on any character you would like to save onto the memory stick, eg. Unten. Then, open up any SEW'N Transfer game that has a number of transfer spaces available, eg. Super Smash Merlin. You can then save the character (Unten) onto that game, and you can play as that character in that game. You can change that character at any time. Some games support more than one space for transfer characters.
SEW'N Vision
SEW'N Vision is a camera that sences your movement, and makes your character in the game do that.
Achivements
On certain games, you can get achievements for doing certain things, and you get points, which you can spend on certain game add-ons.
Games
Eshop Games
Trivia
The codename for this console was "Dave Transfer", and in Soap Master, there is a car that has the numberplate "DAVETR"
Ad blocker interference detected!
Wikia is a free-to-use site that makes money from advertising. We have a modified experience for viewers using ad blockers

Wikia is not accessible if you've made further modifications. Remove the custom ad blocker rule(s) and the page will load as expected.