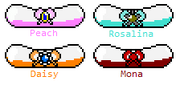 The Royal Raft is an alternate vehicle that appeared for the first time in P-Floatie Racers. It's a rubber raft with a white-colored top half and a character-colored bottom half. It also has character-colored vinyl ribbons on the sides and the character's decal is seen on its backside. Compared with the standard P-Floatie, the Royal Raft seems to have much better handling but lower off-road stats.
Alternate colors
Much like Mario Kart 7's Royal Ribbon/Birthday Girl, the Royal Raft can only change colors depending on the female character using it:
Trivia
The Royal Raft not only shares the Royal Ribbon's feature of being recolored depending on the female character using it. It's also named after said kart.
Pink, orange and cyan Miis will share their Royal Raft colors with the princesses
This item is free to use.
Ad blocker interference detected!
Wikia is a free-to-use site that makes money from advertising. We have a modified experience for viewers using ad blockers

Wikia is not accessible if you've made further modifications. Remove the custom ad blocker rule(s) and the page will load as expected.