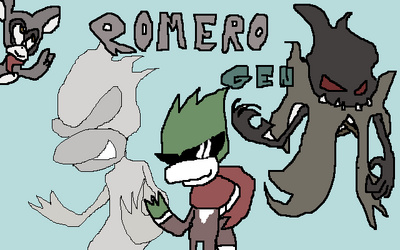 RomeroGen is an anime based on the Romero series of games by STYX. It follows Romero, Dico, and many others caught up in a new foe: The Ender.
Story
In Mallard, you see, the usual "bad events" are snowstorms, heavy rain, sometimes even the wicked scientist Lab Rat...however, though Romero and Dico don't know it's true form, a terror known only as the name it wishes to be called: "The Ender" has appeared seemingly out of nowhere. It's up to Romero and Dico to stop this madman (or thing?) from ending all life as we know it, and discovering the lore behind it...
...Of course when they can, otherwise, it's up to their usual antics!
Characters
| Name | Picture | Description | Introduction |
| --- | --- | --- | --- |
| Romero | | "A courageous duck in search of adventure!" | Episode 00 - PILOT |
| Dico | TBA | "The loyal goof of a sidekick to Romero, always curious, but inexperienced." | Episode 00 - PILOT |
| Doc Watt | TBA | "A smart inventor and Hedgehog king of Tarragoo, though mostly not doing his kingly duties, helps Romero on his quests." | Episode 00 - PILOT |
| Lab Rat | | "The evil, but never the less genius, arch-enemy to Romero and Dico - looking to take over the planet DeDe." | Episode 00 - PILOT |
| Yorkman | TBA | "The conman "fox" and owner of Kitsoon, his very own shop. He speaks in broken english and always wants a quick buck, but usually helps Romero and Dico either way" | Episode 01 - A new..."foe"? |
| ??? | TBA | "A strange man, who's body structure or features are never seen, as he's always in the shadows...he's always watching Romero and Dico's larger battles." | Episode 01 - A new..."foe"? |
| Dosico | TBA | "Dico's evil clone, who's only wish is to destroy...he was created in an accident with Watt's cloning device." | Episode 03 - Cloneundrum |
| Rivera | TBA | "The Dragon Princess and stepdaughter to Doc Watt. She's stubborn but sweet, and helps Romero and Dico with tougher foes." | Episode 04 - Bugzy |
| Robor | | "The metallic dopplegangerof Romero, at first seen as another Robor Robot, before being revealed as working for The Ender." | Episode 06 - Robor-return Part I |
| Cod | TBA | "One of the main lackeys of Lab Rat, an explosion-loving soldier-like robot." | Episode 06 - Robor-return Part I |
| Trout | TBA | "The other lackey to Lab Rat himself, he's a lanky, friendly bot who looks up to Cod as some sort of "genius." | Episode 06 - Robor-return Part I |
| Playper | TBA | "The weak and self-proclaimed "protector of Mallard", a large tree mutated by Lab Rat." | Episode 09 - Playperil |
| Kappone | TBA | "A professional conman and semi-rival to Yorkman. He once owned a shop called "Kappah", but closed it for not known reasons." | Episode 10 - Shunnedglasses |
| | | | |
The Ender Forces
| | | | |
| --- | --- | --- | --- |
| Obliterah | "A dark cloud-ish being, known as the Ultimate Destroyer. It is a force from The Ender." | | Episode 01 - A new..."foe"? |
| Bugzy | "An innocent looking shadowy bug at first...but soon revealed to be a force working for The Ender." | | Episode 04 - Bugzy |
| Obliterah Form 2 | "Obliterah's new, gargantuation form. Now taking the physique of a four-legged creature. He's soon captured by Doc Watt." | | Episode 05 - The Light State |
| The Horde | "A swarm of vicious, hungry bugs sent by The Ender." | | Episode 08 - Horde-ibble  |
| Thanato | "A large, pterodactyl-like creature, with the ability to shoot large dark lasers." | TBA | Episode X - X |
| Obliterah Form 3 | "The 3rd form of Obliterah, now with larger fins and two large bat wings, who escaped Watt's lab with the help of 'The Horde'." | | Episode 15 - Obliterah'd |
| Bugzilla | "The new, monsterous form of Bugzy. He speaks in a garbled language." | | Episode 16 - Doomsdae Part I |
| | | | |
| | | | |
| | | | |
| | | | |
Seasons + Episodes
| Name | Picture | Description................................................................................. | Number |
| --- | --- | --- | --- |
| PILOT | TBA | "After a peaceful day on Mallard, Romero and Dico receive a distress call from Doc Watt. He says Lab Rat is invading Little City, Romero and Dico go out to stop him and succeed! (This is simply a Pilot)" | 00 - Season 1 (Adventure Awaits!) |
| A New..."foe"? | TBA | "Romero and Dico are seen wandering through State City looking for Yorkman's shop, "Kitsoon", when they step in Yorkman is seen serving a customer. Romero interrupts saying that their Stove broke again. Yorkman replies by "putting a band-aid on it". Suddenly a large crash is heard, and when they leave, see a dark force obliterating everything in it's path. It looks to be heading for Mallard, so Romero and Dico give chase. After coming to it, it says it is Obliterah from "The Ender". Romero and Dico have no time to react as it attacks them. They lose, and after waking, find Mallard to be infected with some type of goo and the Dae Sphere missing. They go to retreive it when Obliterah trying to consume it, they are once again beaten, but a glowing light surrounds them, giving the power to destroy it. They take the Sphere and it ends on a silhouette of a figure watching them, and saying their attempts are "valid for the taking". | 01 - Season 1 (Adventure Awaits!) |
| Bailing out | TBA | "Yorkman and Watt are seen walking through Little City, argueing over fruits and veggies, when they are stopped by an officer. He arrests Yorkman for selling counterfeit stoves, and is taken to the big house. Watt contacts Romero who is confused about the light he and Dico where in the other day. Watt says Yorkman is in jail, and that the bail is 30,000 coins! With Dico being on some sort of vacation, him and Watt try to gain enough money to bail him out. After failures of getting jobs, and making it into the television industry, they give up...before they see a 30,000 coin reward for a rich lady's lost dog, and dress Watt up to look like it. Romero bails Yorkman and Watt is seen still with the dog owner, saying Romero "owes him". | 02 - Season 1 (Adventure Awaits!) |
| Cloneundrum | TBA | "It starts out on Romero and Dico running over to Watt's lab, now located in Tarragoo. They find the place to be empty, and Dico stumbles on a large device with two doors. He clumsily falls into it, creating another Dico...! Watt steps in and seeing this, freaks out. He came to show them this cloning device, but hadn't tested it out yet. Studying Dico and his clone, they both seemed stable. With the way events happened, he asked Dico to hang out with his clone for a while, see how he behaves. The next day, Romero wakes up to see Dico hanging out with his clone, who he refers to as "Dosico". Feeling neglected, Romero goes to the cloning lab to talk to Watt, when he sees Dosico making something. He asks whats going on, when Dosico quickly ties him up. He finishes making a weapon, and reveals Watt to be tied up as well. He cranks up the cloner and jumps in, creating thousands! The Dicos run out causing havoc in Mallard... Dico swings by the lab to find Romero tied up, and frees him. Romero explains the situation, and they go to stop the Dico army outside. They are caught up in the chaos. When Dosico is about to kill them, once again they are shrouded with a beam of light, and swiftly destroys all of the clones. Dosico attempts to run, but Dico catches him, and destroys him. It cuts to Watt still tied up asking where Romero is, and then to the strange, silhouetted man once again watching Romero & Dico's battle." | 03 - Season 2 (Adventure Awaits!) |
| Bugzy | TBA | "Romero and Dico, in Tarragoo, are visiting Castle Tarragoo and Princess Rivera while her stepfather, Watt, is away. While she gives a tour of the castle, a small shadowy bug is seen hiding in the cracks. Although Dico is freaked out, Rivera picks it up. She names it Bugzy and decides to keep it as a pet, not knowing what kind it is. The next day Romero and Dico come back to her castle to see what happened to the bug, and see Rivera playing with him. She says Bugzy is really playful, and leaves after her mother calls. Romero gets up to Bugzy and hisses, in which Romero acts angry. Rivera comes back and Bugzy acts sad, and Rivera scolds Romero for scaring him. Romero waits in the center when Bugzy runs up to him. It tries to spray something on him, but swats it away. Rivera comes back saying she was looking for Bugzy, and forces Romero out of the house after thinking he hit him. Romero visits Watt's lab after he gets back from his trip, and asks him to examine the weird gooey stuff the bug sprayed. He says it's otherworldly, and comes with Romero to check it out. He sees that it got bigger, and it attacks Watt's nose and scratches up Romero. Rivera and Dico walk in to see Bugzy's goo all over Romero's beak, and says he tried to bite him. Romero is kicked onto the street, but a day later, finds Bugzy even bigger than before. Wishing to not be caught in it again, he starts to leave, before Bugzy pulls him back. Rivera comes trying to stop Bugzy, but Bugzy attacks her. Dico tries to help Romero, and Bugzy runs away. Rivera apologizes and helps them go after it. They see it gigantic, trying to steal the Dae Sphere on Mallard. Romero hits it, and Bugzy fights back. Romero manages to defeat it, but it only shrinks in size. It climbs on Mallard and starts to consume the Dae Sphere, and Romero and Dico start to glow again, before it hits them making it stop. Bugzy is near killing them, when Rivera and Watt shoot him with a laser Watt had. Romero and Dico turn out fine, and the episode ends with a deep voice ranting about something. The silhouette man is seen, and says "Your empire will fall...those are the ones." | 04 - Season 1 (Adventure Awaits!) |
| The Light State | TBA | "Romero and Dico are seen resting in Mallard, when a large crash is heard. Watt suddenly transmits in, saying that a hulking monster is attacking Polis City. They go to investigate, and see it obliterating everything. It actually speaks to Romero and Dico, saying it is Obliterah - reincarnated and reformed by his master, and was trying to signal the two here. He attacks them, and Romero is beaten up...soon, however, he once again is swarmed with light. Obliterah says "Hah! Gotacha!" and punts down Romero, and absorbs the light in his mouth, calling it "the light state". He leaves behind a beaten Romero, who is taken to Watt's lab. Doc Watt betters Romero, and from the analyzing he did, that this "Light State" is triggered in high-octane situations. He does not know how Romero and Dico managed to get this form, however, and does not fully know it's capabilities. He says since the guy whose been attacking Romero meant to steal it, suggests they give chase and get it back. Romero and Dico go after Obliterah, and punch him. He turns around and does battle with them. Romero is badly injured, but Dico manages to knock him down. Watt picks him up with a massive claw, and places him in a large, glass container to keep him. They give the light state back to Romero, who is fully healed. Watt decides to keep Obliterah in this container and perhaps study it further, to see it's capabilities - and what it might have to do with this whole mess. It cuts to the silhouetted man, once again observing Romero and co. He doesn't say much, nods his head, and walks off." | 05 - Season 1 (Adventure Awaits!) |
| Robor-return Part I | TBA | "Deep in the main office of Dynamo Industries, Lab Rat is seemingly ranting about the villanous activity, that he's not involved in. Two robots sit on his desk, in which he refers to the one with army hat as "Cod" and the lanky one as "Trout". Cod suggests building giant robots to combat other giant robots, in which Lab Rat smacks him upside the head. Instead he gets the idea to rebuild his finest creation "Robor". It cuts to Romero wandering Little City, when an earthquake starts. Dico, feeling it from Mallard, comes down to find Romero on the ground. He attempts to help him up, when Robor flies towards Mallard and takes the Dae Sphere. This Robor can talk, and delivers a message from Lab Rat himself. The moniter says he's been feeling a bit neglected, and decided to go "big" on this one. Robor quickly blasts the two with a powerful beam and flies off. Dico limps Romero to Watt's lab, who fixes up the two. He is astounded to find the new and improved Robor did this, and quickly gets on it. It cuts to Lab Rat admiring the Dae Sphere with Cod and Trout, where he wonders what he's going to do with it anyways. He decides after Robor's success, to upgrade him further with it and take over the world! However, Robor becomes so powerful, decides to betray Lab Rat and - instead - destroy DeDe. He forces Lab Rat, Cod, and Trout to do his dirty work, while he works on improvements for himself. Back at Watt's lab, he says that Lab Rat gave him not only a super arsenol - but a super mind as well. He gives Romero some back ups and says the Light State should kick in if things get dangerous. Before he can finish, however, Robor removes the roof to the lab - now looking like a mech. He blasts Watt, and Romero and Dico as well. As the Light State kicks in, he sucks it into his blaster and shoots Romero with it, who is seemingly dead...To be continued... | 06 - Season 1 (Adventure Awaits!) |
| Robor-return Part II | TBA | It recaps the events of last time, before cutting to an almost dead Romero. Watt says with Robor in the possesion of the Light State for ammo, he could succeed in destroying DeDe. He wonders how Robor even knew of the Light State, but gives Romero some mech armor, and says if he can get the Light State back, it could heal him like before (Episode 05). Romero agrees, and with Dico, they head out to see Robor decimating Little City. Robor greets him, before trying to shoot him with another Light Beam. Romero dodges, and engages combat with him. Romero wins, and takes back the Light State, healing him. Going back to Watt's, the armor is removed, and Romero goes to Dynamo Industries to see a tired Lab Rat and his lackeys scrubbing the floors. Romero explains to him what happened, and Lab Rat tries to play it off like it was his genius plan after all - Romero sees through the lie, but waves goodbye to them anyways. Soon it fades to a beaten Robor returning to the place that the silhouette man was before, where Robor apologizes for losing the mission. The Ender, however, said it was not in vain...as they still got the Dae Sphere. | 07 - Season 2 (Adventure Awaits!) |
| Horde-ibble | TBA | Romero and Dico are walking through Tarragoo after Watt calls them in. Entering his lab, they find a small group of bugs sealed inside a container. Dico gets freaked out, while Romero asks where he got them. Watt exclaims he found them all, strangely, grouped together in the middle of the night. He took them to the lab, only to find they where an unidentified species! He asks Dico to take some home, study them for a bit. The two agree, and Dico places it in a glass container on a dresser. Waking up, the container looks completely full. He takes it back to Watt who says they must have duplicated somehow, and says he should look after them tonight. That night, once again, the horde of bugs started duplicating...and broke the container they where in. Flying to his old cloning machine, the horde is multiplied into trillions, and they all fly out. That morning Romero and Dico get a distress call from Watt, and see the Horde terrorizing Little City, eating everything in sight. The start to try and eat Romero, and his Light State starts to kick in - until the Horde eats it form his body. Now equipped with it, they decimate the city and move on. Romero goes back to Watt's lab, where he informs them that they are an unstoppable force meant to consume everything, most likely sent by this "Ender". He says after getting the Dae Sphere, with the Light State, something dreadful could happen... Romero gets an idea, and it cuts to them walking up to the Horde. Watt seems to be pushing a large object into the water. The Horde chases after, when Dico zaps the water with one of Watt's inventions. The Horde is electricuted, and Romero quickly collects the Light State. It fades to The Ender's voice saying that though this failed, with the Dae Sphere, they will plot something big... | 08 - Season 1 (Adventure Awaits!) |
| Playperil | TBA | in Dynamo Industries, Lab Rat, looking disgruntled, is thinking in his office. Trout tells him that he hasn't done anything evil in days, in which Lab Rat replies he wants to get rid of Romero for good. Cod once again suggests giant robots, in which he gets smacked. Lab Rat says he needs to create something big, that will not fight back... he gets an idea, and tells Cod and Trout to meet him in his Mopod. It cuts to Romero and Dico resting on Mallard, when a large boom is heard on the other side of it. They investiagte it, seeing Lab Rat abducting Playper - a weak foe, usually challenging Romero and Dico to leave Mallard. He takes the large tree-like monster, and heads off to Tarragoo. Romero and Dico give chase, and end up in Watt's lab. Watt is nowhere to be seen, and Lab Rat puts Playper in a "Mutanizer". He says it was a little project he "heard" about from his sources, and would rebrand Playper with three things in mind: Bigger, faster, and killer...er. He sicks the pumped up Playper at Romero and Dico, who are swiftly beaten. Lab Rat laughs as he takes Playper to Polis City - to force them to hand over complete control, which he will do to all other countries as well. Romero is tooken back home to rest, seeing that Watt must have been on vacation. Romero gets up, knowing he has to beat Playper. It cuts to Lab Rat listing a list of demands on the Mayor of Polis, with Cod and Trout submitting in. Romero bursts in, wishing to face Playper 1-on-1. Lab Rat agrees, and Playper attacks. Soon enough, Playper is beat, and Romero takes Lab Rat, Cod, and Trout to prison. The silhouette man watches, saying "the next chapter is about to unfold". | 09 - Season 1 (Adventure Awaits!) |
| Shunnedglasses | TBA | Romero and Dico are walking downtown in County City, just off the coast of Capita Sea. They see an old "turtle" charming an audience of people with "magic tricks", with a large hat covering his eyes. He quickly does a card trick, seemingly making it out of thin air, he is clapped and rewarded with coins. Romero says he's gonna check out the ice cream parlor, and asks Dico to hold his sunglasses. While Dico goes to talk to the man, He introduces himself as Kappone, a local street magician and salesman. Dico asks for a trick, in which he asks 15 coins in advance. Instead, Dico tries to trade him the glasses for a trick. Kappone agrees, and says to think of a card. Then he "reads his mind" by saying it's a number between 1-10. Dico, amazed, gives the man the glasses and runs off. Back at Mallard, Romero asks for his glasses back, and Dico tells him he sold it to Kappone. Romero freaks out, saying that he needs his sunglasses. They go and talk to Yorkman to see if he has any extras, and Yorkman notices the man he's talking about. He said Kappone used to have a sort of rivalry with Yorkman, and had a shop across the street called "Kappuh". For months they rivaled over who could make the most profits, and said he was a conman. Strangely, Kappone closed down his company even though he was in the lead, and Yorkman hadn't heard of him since. He offers to help track down Kappone and get Romero's glasses back, and they go back to Downtown County City where he first met him. Yorkman "sniffs" to find the glasses, and simply bumps into Kappone a few inches away. After a feirce stare-down, Kappone says he sold the glasses to a gameshow host as a prize, but Romero says he's a jinx without his glasses. The three go on anyways, and after a long amount of questions and puzzles (most of the time Yorkman misunderstanding, and Romero jinxing the puzzles) they barely manage to tie with the other team. As the last question is directed at Dico, on how many numbers can be on a a card set. Dico replies "3" and they lose...fortunatley, however, Yorkman trades the glasses for a "golden stick" on the other team, and quickly gets out, as it was simply a spraypainted stick. | 10 - Season 1 (Adventure Awaits!) |
| | | | |
| | | | |
| | | | |
| | | | |
| Obliterah'd | TBA | One day, Romero and Dico are sleeping, when they hear a badly transmitted distress call. Romero wakes up, trying to accept it, only for it to cut out. He slaps Dico out of bed and they head to Tarragoo and Watt's lab. They see Doc Watt lying on the floor, and ask what happened. He says that he was examining Obliterah after he captured him, when he started transmitting signals from his brain. He attempted to call Romero and Dico to come over here, but soon enough, The Horde from earlier came in and took him. He suggests that Obliterah was somehow able to communicate with The Ender to save him, and thus The Horde was revived. Romero and Dico go out to destroy Obliterah, but find he's been upgraded once again. They attempt to fight him, but are swiftly beaten, they enter the Light State. Romero at first tries to fight, but controls the state, and flies Dico back to Doc Watt's lab. He says Romero somehow controlled his Light State, and says with this knowledge, they may figure out the secrets to it. He equips a number of weapons from Watt, and he says that Obliterah will probably be coming back for the Light State. He is soon right, when reports of Obliterah smashing through County City are found. They go and try to defeat him, and Obliterah is weakened for a second. Though, he quickly sprouts wings, and shoots large beams at Romero and Dico. Romero dodges them, but Dico isn't so lucky, and gets shot down. Romero in rage, enters the Light State...however, in a different form. He now glows dark and eerie, and Obliterah seems surprised. Romero does a long battle with Obliterah and wins, taking Dico back to Doc Watt. Watt says he does not know what the form Romero said he took, but promises to get to researching it immediatley. Romero goes to get Obliterah, only to find he's gone, and Dico still in recovery. It cuts to The Ender talking to Obliterah. He says he's failed him one too many times, and goes onto "Phase 3". He laughs creepily, while the disgruntled sillouette man is seen. | 15 - Season 1 (Adventure Awaits!) |
| Doomsdae Part I | TBA | In an area outside of Watt's Lab, Doc Watt and Rivera are seen a working Romero attempting to trigger the Light State, but failing. Watt tells him to stop trying, and Romero agrees, going to check on Dico - who's still injured. His eyes flare with a dark substance, and Watt tells him to calm down. Romero takes a deep breath, and suggests finally finding where this "The Ender" lies. Watt agrees, and says perhaps he can track it with the tests he did on Obliterah. Soon, however, a beam of light shoots through the lab, almost killing them. They see a shadowy figure trying to shoot the beam at them. Romero recognizes it, before they are blasted again. Romero takes Dico and runs, while telling Rivera and Watt to run. Dico wakes up and sees the giant monster, calling it "Bugzy". Romero puts Dico down in a safe place, and goes to fight Bugzy. Before Romero can even touch him, Bugzy grabs Romero and takes his Light State. He speaks in some garbled language Romero can't understand, and throws him down with force. Bugzy starts to walk away, thinking he's done, when Romero in fury - starts to glow ith dark aura. He attempts to punch Bugzy, until Bugzy starts attacking back. They wage a large battle, where Romero gets the Light State back. He is quickly switched to light around him, still with some darkness around him, until he surges a large burst of pure power. He opens his eyes to see another figure in front of him, a being of light, looking very simalar to Romero. The being looks around, and Bugzy thinks it's the Light State, and tries to take it again, the being fights back, easily blasting it with a beam of light. Bugzy falls down, murmuring something as he plummets. The Light Being looks at Romero, before flying off...to be continued. | 16 - Season 1 (Adventure Awaits!) |
| Doomsdae Part II | TBA | It leaves off with Romero in Watt's lab, where he says that Dico has fully recovered. Rivera says she would've knocked out that monster if it wasn't for her stepfather. Watt sheepishly changes the subject, and asks more questions about the being of light he saw earlier. He said it appeared in a burst of energy from the Light State, and ever since, hasn't been able to trigger it at all. Watt theorizes that in a burst of energy, the Light State went into a physical form, which he dubs "Lite". He doesn't know how it could be living, or a copy of Romero for that matter. Romero decides to go after The Ender once and for all, and Dico offers to come with. Watt offers them a translator in case they run into something, and a couple of other inventions to help them on their journey. They use a tracker built by Watt to track Obliterah's DNA, as The Ender is most likely in the process of reviving him. They follow it to a large path of dead things, and many floating isles atop. They travel the land, when Romero gets ready to use the jetpack Watt gave him, when he is suddenly grabbed by Bugzy. Bugzy once again speaks in it's garbled language, and Romero manages to use the translator. Bugzy says it goes by Bugzilla now in it's larger, newer form, and says that the Dae Sphere will let The Ender do his ultimate attack. Romero remembers the missing Dae Sphere, and caught of guard, is attacked by Bugzilla. Bugzilla slams Romero against the ground, but Dico attacks from behind, Romero quickly shoots Bugzilla with a laser in the mouth, and Bugzilla is severily hurt. Bugzilla starts to walk away, and Romero and Dico quickly fly up to one of the floating islands. They start walking, when Bugzilla once again jumps on the platforms. Dico is stunned, and Bugzilla takes him, jumping off to one of the further islands. To be continued... | 17 - Season 1 (Adventure Awaits!) |
| Doomsdae Part III | TBA | "It leaves off with Romero still tracking after where Bugzilla went, when he comes on a grand island, bigger than their country of Mallard. He sees a large pulsating figure near the center far away, and treks forward. He sees many creatures growing in the ground, and when coming across the figure, sees it's some sort of generator. On the top a large pink gel has pulsating figures. When he tries to walk in, Thanato suddenly flies out of it. He swoops down and tries to incinerate Romero, and Romero tries to zap it. He fails, and Thanato picks up Romero and carries him inside, and is dropped in front of two guards. He finally sees The Ender, who reaches his hand out to greet him. Dico is seen in bars as well, and The Ender proceeds to show him the Dae Sphere. He says it's for his final project - Roborzer, the ultimate form of Robor, that will end Romero and seal "the prophecy" for good. He reveals Robor, and gives him the Dae Sphere, and combining with it, prepares to shoot Romero with a burst of Daenergy. Suddenly, the S.S. Tarragoo appears in, piloted by Rivera. She shoots the two guards and Dico's bars. She crashes it into The Ender, who is hit with a scar against his right eye. He whales in pain, and Rivera tells them to get in. They see Doc Watt in the back, and try to fly off, until Thanato appears on the glass of the ship, and claws at them. He breaks the ship down, which lands in a field just outside the dark lands. Thanato burns the ship and takes Rivera, who tries to zap the creature, to no avail. Watt attempts to save her, but is too late. Romero collapses from exhaustion, while they glimpse the strange thing that The Ender was in, and go back to the lab. Watt worries about his stepdaughter, and Romero promises to get her back. It cuts to the flying fortress The Ender was in, now reffering it to as "The Charon", stops. The Ender leaves his space in the wall for once, landing it in a deserted field. He sees Lite, the Light Being cloned from Romero, and offers to give him purpose, and join his army. Lite turns, nods, and the episode ends." | 18 - Season 1 (Adventure Awaits!) / Season Finale |
The Lore
Gallery
Trivia
This is the first instance that Yorkman's shop name is revealed as "Kitsoon", in the games, it is simply known as "Yorkman's Shop".

Also, the name "Kitsoon" is a reference to a Kitsune, the Japanese Creature that Yorkman seems to be based on.

The name of the character "Kappone" is a mixture of the mythical creature (which Kappone was based off of) "Kappa", and "Al Capone".
Ad blocker interference detected!
Wikia is a free-to-use site that makes money from advertising. We have a modified experience for viewers using ad blockers

Wikia is not accessible if you've made further modifications. Remove the custom ad blocker rule(s) and the page will load as expected.