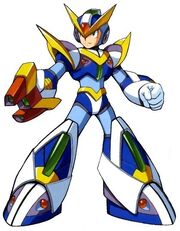 Rockman exe is a fan made cartoon.
EPISODE 1 CLASH ATTACK!
The episode starts when megaman shoots a mettuar and kills it. He says"yeah!" and the opening starts. After that, a scilab guy finds fake virus data and says, "omygodrealvirusdata!" and then says "nope it's fake." and then Lan gets his pet. Lan jacks megaman into his alarm clock and he asks, "do you have anybattlechips?" Lan says no. and it ends.
Episode 2 Chiped?!
This episode starts where the last one picked up, at higby's store Lan asks Higsby for battlechips but Lan has to show him his pet, and buys a weegee chip. Soonly goes to a place called the chip hut and buys some chips and a folder. End of ep.2
Episode 3: the papers
This episode starts when rockman E.X.E is running from a shockwave. He gets the mettuar that made it, and rockman killed him. He jacks out of the AC and Lan says, "Lets go home, no not home, over here." and the opening starts. Lan starts walking and sees dex. Lan asks, "hey dex whats on the papers?" and dex says, "why dont you find out?" Then, in the AC, a new virus formed. it's a BUNNY. Then Lan finishes reading the papers, and goes home. his mom says, "the air is not working." and then the episode ends.
NOTE!:The GIF to the left is NOT For this episode, its for episode 2.
Trivia
The characters talk high pitched.
When Lan asks for battlechips, it looks like higby is talking.
Episode 1 is the shortest episode yet.Episode 2 is longer.
Episode 8 is the longest and fastest episiode.Thus making it feel like the shortest.
Quotes
Episode 1:
Megaman:(running)
mettuar:(expoding)
Megaman: Yes!
opening: Rockman E.X.E. Starring Lan, Dex, and rockman E.X.E.
The rest will get finished.
Episode 2.
The opening.
Narrorator: At higby's store in acdc,
Lan: Id like those chips.
Higby:Show me your pet
PET:DOOT DOOT DOOT, DOOT DOOT DOOT.
Sound fx:money sound
Sound fx: VROOM, VROOM
Music:doo doo do,dodo doo doo
Japan dude:Show me yo pet
PET:DOOT DOOT DOOT, DOOT DOOT DOOT
Narrorator:End of episode 2!!!!!
Ad blocker interference detected!
Wikia is a free-to-use site that makes money from advertising. We have a modified experience for viewers using ad blockers

Wikia is not accessible if you've made further modifications. Remove the custom ad blocker rule(s) and the page will load as expected.