Rikaceti
Capital City
Kyñaka
Largest City
Zuigrada
Language(s)
official:
Rikacetic
recognised minority languages:
English
Finnish
Dutch
Government
Republic
Population
98.153.000
Currency
Rikacetic Aṽeno (ⱥ)
Drives on the
right
Abbreviation
RC
Included Environment(s)
Mountainous, Tropical
Rikaceti (IPA: [rɪkə'sɛtʰiː], Rikacetic: Rigacetti, IPA: [riɡa'tɕetːi]), officially the United Kingdom of the Rikacetic Islands, is an island nation in Sytiria. It consists of 25 provinces, and 27 inhabited islands, majority of which are smaller than 10 km². It is located in the Gulf of Faerania, and has one island near to Dolenia.
Majority of the population reside on the large westernmost island, Ŭeldona, which is also where the capital and biggest cities are located. While majority of the islands are rather flat, the island of Ŭeldona has a mountainous area in its northern area. The biggest river of the country is the Zuelû, which flows through the mountains. The rest of the islands host a rather warm and wet climate.
Etymology
The name Rikaceti is an English compound of the Rikacetic Rigacetti, which comes from the words rigavo, meaning 'island', and vecetti, meaning land or country.
History
Classical State
Some of the societies scattered in the islands remained isolated, but many of them evolved into states, which developed trade contacts with the people of Victoria, Griftopia, Pabels, Minifraca and Tomsylvania. The states started to grow larger and more crowded, and this also saw the rise of harbours and evolution. A revolution in production of products to trade happened in 1675, where new methods used were proven useful.
Tomsylvanian colonisation
In 1683, Tomsylvanian explorers arrived in at the islands and claimed them for themselves. They established Kyñaka the capital, which it remains to be until this day. During its rule, the Tomsylvanian fought of several colonial challenges from other countries, including Lumoshiland, Sketchiria, Angelia and Lockinston
Soulan forces occupied Kyñaka from 1839 to 1842, as some sort of allowance. However, Tomsylvanian rule was restored in 1843, when the Minifracan forces had to retreat. In 1845, Rikaceti was granted an own government, which soon declared themselves independent in 1956.
Rikacetic war
After the independence was declared, a president was elected, shortly after which, the state became communistic. Other countries, such as Lumoshiland, offered assistance, and performed invasions on Kyñaka, Zuigrada, Macesko, and other large cities in the country, after which a war was quickly declared. Rikaceti got devided into West Rikaceti, the communistic forces, and East Rikaceti, the anti communistic forces.
West Rikaceti trained secret extra forces for defending purposes, of which only West Rikaceti knew; their allies, being ___, were not aware of these extra forces. As East Rikacetic forces fought against West Rikaceti, these extra forces were used and many East Rikacetic forces were eliminated. As East Rikaceti had to retreat, Rikaceti was threatened to become one communistic country. However, Lumoshese, Soulan and Marinian forces came for assitance, which were threatened to be elimated as well, due to the secretly trained extra forces that the West Rikacetic had been training. Extra forces from all allies of East Rikaceti were sent, after which they eventually outnumbered the West Rikacetic forces and their allies, resulting in the loss of the communistic state in 1962.
East and west reunified, becoming the now republican kingdom; however, lots of damage was done due to the war, leaving the country in a poor condition. Allies of the former East Rikaceti granted supplies and money for reconstruction. The western half of the country was originally left in a poor condition, until the aid was spread over the full country, which is now fully reconstructed and a well-faring and wealthy country.
Politics
Foreign relations
Geography
Provinces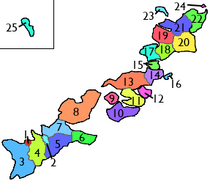 | # | Name | Population | Capital City | Largest City |
| --- | --- | --- | --- | --- |
| 1 | Kyñaka | | Kyñaka | Kyñaka |
| 2 | Zuigrada | | Zuigrada | Zuigrada |
| 3 | Gendavo | | Vȧle | Vȧle |
| 4 | Undenô | | Ndevada | Ndevada |
| 5 | Regôf | | Kynvam | Bamx |
Islands
Climate
The climate in Rikaceti varies greatly, due to its lying and the altitude in the area.
Climate data for Kyñaka.
Jan
Feb
Mar
Apr
May
Jun
Jul
Aug
Sep
Oct
Nov
Dec
Year
Average High (°C)
(°F)
35
(95)
35
(95)
34
(93)
32
(90)
30
(86)
28
(82)
27
(81)
26
(79)
27
(81)
28
(82)
31
(88)
33
(91)
31
(88)
Average Low (°C)
(°F)
26
(79)
26
(79)
25
(77)
24
(75)
23
(73)
23
(73)
22
(72)
21
(70)
20
(68)
22
(72)
23
(73)
25
(77)
23
(73)
Culture
Languages
Majority of the population, being approximately 86,2%, speak Rikacetic natively. The second most spoken language is Finnish, which is spoken by 5,5%. Another 4,1% speak Dutch, and 3,2% speak English natively. The remaining 1,0% is filled by other languages.
Art
Cuisine
Economy
Education
Health
Currency
Urbanisation