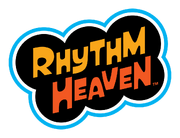 The Rhythm Heaven series (known as the Rhythm Paradise series in Europe and the Rhythm Tengoku series in Japan) is a Nintendo series that contains several rhythm games with nice soundtracks composed by the Japanese song writer and producer Tsunku♂.
Games
Canon
リズム天国 [Rizumu Tengoku, lit. meaning Rhythm Heaven/Paradise] - A Japanese, Game Boy Advance game started the series. The games makes use of the A button, B button, and the D-Pad.
Rhythm Heaven (Rhythm Paradise) - The sequel of the original game, this one was for DS and was released worldwide, therefore giving the series popularity. Unlike the first, it makes use of the touch screen.
Rhythm Heaven Fever (Beat the Beat: Rhythm Paradise) - The sequel of Rhythm Heaven for the Wii, and thus the third game in overall. This one returned to the usage of the buttons, but was limited to the A button and a combination of the A and B buttons.
Rhythm Heaven Megamix (Rhythm Paradise Megamix) is the fourth and last game of the series and is available on the 3DS. This game reused games from the previous three. Unlike it's DS version, it uses A, B, D-Pad and the touch screen.
Fanon
Rhythym Utopia - The fourth game in the series is another set of addictive rhythm games for DS.
Rhythm Partners - The fifth game is sold in sets of two for the prices of one, and is meant to be played multiplayer by siblings or best friends.
Rhythm Paradise: Offbeat Overdrive - The Rhythm Heaven game for Wii U. Takes advantage of the Wii U's gyroscopic controls, duo screen play and microphone functions.
Characters
Recurring Characters
Barista - Also known as the Dog. He's a small dog with a headset. He is, as the barista, always unseen, and was just revealed as the Dog in the Cast roll of Rhythm Heaven Fever.
Karate Joe - The character from the Karate Man (aka Karateka) games, and so far appeared in all Rhythm Heaven games.
Other Canon Characters
Fanon Characters