"Zany rhythm action with Wario and Friends!"


— The game's slogan.
RhythmWare

Logo for RhythmWare and box-art.

Developer(s)
Intelligent Systems, Nintendo
Publisher(s)
Nintendo
Platform(s)
Wii U
Release Date(s)
April 16th, 2017

December 2, 2016

April 17th, 2017

Genre(s)
Music, Puzzle
Series
WarioWare, Rhythm Heaven
Predecessor
Rhythm Heaven: Megamix, WarioWare D.I.Y.
RhythmWare (Made in Wario: Rhythm Tengoku Edition in Japan) 
is a Music game developed by Intelligent Systems and
Nintendo
. It is a crossover between Rhythm Heaven and WarioWare. Most of the original games from both games return in the game and some get a makeover, There is also brand new games you are able to play as well. Simillar to Rhythm Heaven Megamix, RhythmWare also has a new built-in character creator, creating a character allows you to use your character in minigames and use it as a file icon. The game is the first Rhythm game crossover. RhythmWare was also the fifth Rhythm Heaven game in Japan and fourth in the west.
Gameplay
The game allows you to control in three ways, using the ZL and ZR buttons, using the A and B button, and using the Wii U Gamepad's touch screen. You have to copy the rhythm of each minigame and depending on how you did, You can get a Try Again rank, a OK rank, or a Superb rank. You can also earn medals by getting OK or Superb rantings, where you can exchange them for Rhythm Toys or Endless Minigames.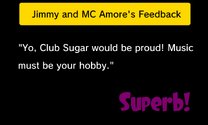 Story
After working for ten years on it in his lab, Dr. Crygor finished his rocket which could fly to outer space. He gave Wario and everyone else an invitation to fly in it and test it out. One week later, everyone went to Dr. Crygor's lab to fly in his rocket. "Where's the free food in here?", Wario says running inside the rocket, Everyone else went inside. Wario was still running and looking for food but he pressed a button that makes the rocket blast off. "3...2...1....", a robot-like voice says. It flies all the way to outer space, but then it passes their destination. Kat and Ana spot a sign that reads "Welcome to Rhythm Heaven!", After reading the sign, they all see pink skies, and three unknown creatures, one being white, one being pink, and one being blue. "Welcome to Rhythm Heaven, friends!" the white one says, his name was Marshal and the other two were named Ms. Ribbon and Cam. "Wah-hah! Look at this place! I could make a pretty penny selling microgames here!" Wario says. He then proceeds to make a deal with Marshal, Cam, and Ms. Ribbon, "We could work together and sell these little games to this place!" he says.
They agreed, since they wanted to make the citizens on Rhythm Heaven happy. After planning everything out with everyone in the rocket and select people from Rhythm Heaven, they founded RhythmWare Inc., and sold collections of microgames to the people of Rhythm Heaven.
Development
At E3 2010, A tech demo used to show off the Nintendo 3DS's 3D feature and touch screen named "Rhythm with Wario and Friends" was playable at Nintendo's booth. The game featured Wario, Mona, Ashley, and Jimmy T and their quirky collection of 40 second Rhythm minigames (named "microgames" in the game). It was thought to inspire the idea of RhythmWare, The game even featured Rhythm Heaven cameos, A Monkey is featured in the background of one of Mona's minigames, A plush of a Chorus Kid can be seen on Ashley's bed, and in the staff roll of the game, Play-Yan is seen jumping.
Music
Just like the DS, 3DS and Wii versions of Rhythm Heaven, RhythmWare uses original music composed by musical artist Tsunku. The English vocals in his songs are by TNX artists. You can listen to the vocal tracks in the Jukebox in the Cafe, as well as minigame tracks. Songs used in Rhythm Heaven DS, Rhythm Heaven Fever, and Rhythm Heaven Megamix are reused/made more high quality. There are also new ones. For a list of all the songs used in RhythmWare, please click here.
Despite Erina Hashiguchi, the preformer of two Rhythm Heaven DS songs leaving one of Tsunku's group, the Canary Club, she came back for a song in the minigame Fan Club Duet. In an interview with Tsunku, he stated that the music team of the game begged her to come back for one game.
Modes
RhythmWare has five modes unlocked at the start, but there is one more mode you can unlock by completing Remix 9 and 10. 
Games
The Games mode includes all the Rhythm minigames, as well as all the Remixes and Minigame Mixes.
Endless Minigames
The Endless Minigames mode includes all the endless minigames you can play, you can also buy endless minigames in the mode as well.
Rhythm Toys
The Rhythm Toys mode includes all the Rhythm toys you can play, you can also buy endless minigames in the mode as well.
Character Creator
The Character Creator in the game allows you to create your very own Rhythm Heaven verison of yourself, The creator lets you choose the eyes, eye color, hair, hair color, mouth, nose, eyebrows, shirt, pants, shoes, glasses, hat, and favorite color you want. It is also very simillar to the Mii Maker's OS.
Cafe
The Cafe lets you talk to the Barista that will give you tips on the game, listen to the music in the game, and view rewards.
Classics
The Classics mode lets you revisit past Rhythm Heaven and WarioWare games and play them for about 3-8 minutes. The games included are Rhythm Tengoku (Rhythm Heaven Zero in the west), Rhythm Heaven, Rhythm Heaven Fever, WarioWare Inc.: Mega Microgames!, WarioWare: Mega Party Game$!, WarioWare: Twisted, and WarioWare: Touched.
Pairs
A feature in RhythmWare is pairs, One Rhythm Heaven character and one WarioWare character that are alike would team up and have Rhythm games that the said WarioWare/Rhythm Heaven character is interested in.
List of Pairs
Wario and Marshal
Young Cricket and Karate Joe
9-Volt and Cam
Kat and Ms. Ribbon
Ana and Monkey
Jimmy T and MC Amore
Mike and Chorus Kids
Mona and Reporter
Ashley and Rhythm Girl
18-Volt and Tibby
Dribble and Baxter
Spitz and Forthington
Melody (also known as Pop Star) and Orbulon
Games
Here is a list of the games pairs have in their collection.
Wario and Marshal
Hole in One - "Play some Golf on a tropical island! Your Monkey friend and his friend Mandrill will help you on the way!"
Hammer Hassle - "Hammer time! Help the boy hammer in a nail, but remember to keep a steady beat!"
Super Wario Bros. - "Originally from my hit game, WarioWare Inc.: Mega Microgames, Help me jump on those evil brown things in rhythm! Wah wah wah! And this was totally not written by Wario!"
Toss Boys - "Practice your tossing technique with these three close friends!"
The Clappy Trio - "The world-famous Clappy Trio never misses a beat. Watch the other two!"
Board Meeting - "You finally made it to the big office! If you want to impress the chairman, follow your assistant's advice."
Kitties! - "Meow! Clap with your two kitty friends! Warning: Cute things happen in this minigame.
Young Cricket and Karate Joe
Karate Man - "The main man himself, Karate Joe returns for more punching action. Punch the flying objects coming towards you while keeping a steady beat."
Dog Ninja - "Ninjas are cool, they can slice things really fast. What's cool about this ninja? He's a dog. Cool, huh?"
Samurai Slice - "The evil demons stole your crush's fan! It's up to you to get it and impress her!"
Munchy Monk - "Monk training begins deep in the mountains!"
Power Calligraphy - "Write Japanese with a brush, it's harder than it seems. (You do the fun parts though.)"
The * Bon Odori - "It's a Bon Ordori going on in the streets of Japan!"
Karate Man Kicks! - "Karate Man's back, and this time, the music is set to a nice little vocal track!
9-Volt and Cam
Monkey Business - "Clap to the beat of the music and the Wii U Microphone will detect it causing Jumpman to jump the barrels!"
Plug It In - "Take a road down Memory Lane and have some fun while doing it too! Plug your controllers into Nintendo consoles to a beat!"
Counting Coins - "Mario collected a lot of coins! Time to count them!"
Picking Pikmin - "Help Olimar pick Pikmin!"
Sword Adventure - "Link's adventure to save Zelda is just starting and there's already enemies everywhere!"
Rhythm Parade - "Take a trip to Wuhu Island and march around the town!
Baseball Beat - "Wii Sports Baseball remastered!"
Kat and Ms. Ribbon
Love Lab - "The research of scientists of Love Lab intend to get to the bottom of this whole "love" thing. Just make sure there aren't any accidents!'
Double Date - "Protect your date from flying sports balls, Good luck!"
Volleybeat - "A round of Volleyball at a tropical island! Your Monkey friends will cheer you on!"
Channel Changers - "There's nothing on TV, but why not have some fun with the channel guide?"
Kitties! 2 - "The trio of kitties make their big debut!"
Screwbot Factory - "Ah, another day in the screwbot factory..."
Catch of the Day - "What a catch! Catch some fishes at the nearby lake in Rhythm Heaven!"
Ana and Monkey
TBA
Dialogue 
Before and after playing each minigame, the characters in the collection will have something to say, here is a list of what they would say.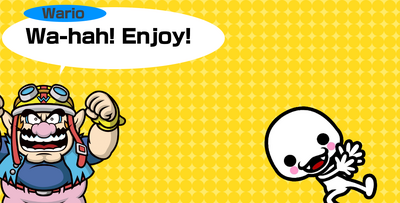 Wario and Marshal
Marshal: Hey! Thanks for joining us! I'm Marshal!
Wario: And I'm-a Wario! Wahaha!!
Marshal: We both set up a minigame collection that tests your rhythm keeping skills!
Wario: Can we-a start now?
Marshal: Not yet, Wario. First, we have to choose a control method.
Marshal: So, there are three control methods, you can use the A and B buttons, ZL and ZR buttons, or you can use the Wii U Gamepad's touch screen.
-If picked any option-
Marshal: Okay, have fun!
Wario: Wa-hah! Enjoy!
-After done with all the games-
Marshal: Awesome work! You did great!
Wario: It was OK... I could do better though...
Wario: Anyway, onto the next collection!
Young Cricket and Karate Joe
Young Cricket: Hello. I am Young Cricket.
Karate Joe: And I am Karate Joe.
Young Cricket: Aren't you the guy who punches styrofoam cups and soccer balls for fun?
Karate Joe: Maybe.
Young Cricket: Whatever, this minigame collection is full of games that'll release your inner-Japanese.
Karate Joe: Correct. Let's get going, Have fun.
-After done with all the games-
Karate Joe: Woah, nice skills.
Young Cricket: Yeah, it was alright.
Young Cricket: Onto the next collection, I heard it also includes Japanese-related things. It's about the company that makes playing cards, right?
9-Volt and Cam
9-Volt: Oh hey!, Welcome to our minigame collection! I'm 9-Volt!, I'm a huge fan of Nintendo!
9-Volt: Oh yeah, and this is Cam!
Cam: ...Uh, hi...
9-Volt: Me and him made this AWESOME collection of Nintendo games that can test your rhythm skills, It's super!
9-Volt: From Mario to Pikmin, you'll have lots of fun!
Cam: Yeah...
9-Volt: Enough of the talking, let's get to it! Hope you have tons of fun! Bye bye!
Cam: ....
-After done with all the games-
9-Volt: AWESOME, dude!
Cam: Yeah, good...
9-Volt: If you loved our collection, you'll love the next one!
Kat and Ms. Ribbon
Ms. Ribbon: Hello!
Kat: Hi, hi, hi!
Kat: Welcome to our "Cute" Minigame collection! We created this when Mr. Wario said we all had to create a certain collection.
Ms. Ribbon: Right!
Kat: Let's not waste any time, let's start the collection! Bye bye!
Ms. Ribbon: Have fun!
-After done with all the games-
Kat: Amazing!
Ms. Ribbon: Nice work!
Both: Now to Ana and a little Monkey!
Ana and Monkey
Ana: Hello!
Monkey: Ook ook! (Hey!)
Ana: If you're looking for minigames that relate with animals and nature, you've come to the right place!
Monkey: Ook! (Yes!)
Ana: Are we ready?
Monkey: Ook ook! (Yes! Let's start the collection!)
Ana: Alright! Have fun!
-After done with all the games-
Ana: Wow! You did great!
Monkey: Ook! (Congrats!)
Monkey: Ook ook! (This next collection is brought to you by artists MC Amore and Jimmy T!)
Jimmy T and MC Amore
MC Amore: Yo.
Jimmy T: Sup, welcome to our minigame collection.
MC Amore: Our games include our favorite thing, music. I think you'll like it.
Jimmy T: Mmmhm.
Jimmy T: Alright, let's go. We start in 3, 2, 1.
-After done with all the games-
MC Amore: Woah.
Jimmy T: Nicely done, you must have Rhythm in your soul.
MC Amore: Okay, the next collection includes some other artists like us, Mike and the Chorus Kids are coming next.
Mike and Chorus Kids
Mike: Hello!
Chorus Kid 1: Ooh!
Chorus Kid 2: Ooooh!
Chorus Kid 3: AAAHHHH!
Mike: I'm confused...
Chorus Kid 1: Together now!
Chorus Kids: AAAHHHHH!
Mike: Alright, I believe this collection is for singing...
Chorus Kid 1: Ooh!
Mike: Just start already...
-After done with all the games-
Mike: You rocked the mic! Fantastic!
Chorus Kids: Great!
Mike: Next collection, are you ready?
Outfits
This is a list of all the outfits you can unlock by winning minigames in RhythmWare, you can put the outfits on your character.
Costumes
Wario Costume
Marshal Costume
Karate Joe Costume
Young Cricket Costume
9-Volt Costume
Cam Costume
Kat Costume
Ms. Ribbon Costume
Ana Costume
Monkey Costume
Jimmy T Costume
MC Amore Costume
Mike Costume
Chorus Kid Costume
Mona Custome
Reporter Costume
Ashley Costume
Rhythm Girl Costume
18-Volt Costume
Tibby Costume
Dribble Costume
Baxter Costume
Spitz Costume
Forthington Costume
Melody Costume
Orbulon Costume
Play-Yan Costume
Samurai Drummer Costume
Dazzle 1 Costume
Dazzle 2 Costume
Cheer Reader Costume
Shirts
Standard Shirt
Note Shirt
Headphones Shirt
Microphone Shirt
I LOVE RHYTHM Shirt
Property of RhythmWare Inc. Shirt
Plumber Shirt
Hero Shirt
Puffball Shirt
Fox Shirt
Bounty Hunter Shirt
Orange Shirt
Apple Shirt
Watermelon Shirt
Lemon Shirt
Orange and Blue Star Shirt
Rainy Day Shirt
Dog Shirt
Cat Shirt
Fire Shirt
Flower Shirt
Game and Watch Shirt
Famicom Shirt
NES Shirt
Game Boy Shirt
SNES Shirt
N64 Shirt
GameCube Shirt
Game Boy Advance Shirt
Nintendo DS Shirt
Wii Shirt
Nintendo 3DS Shirt
Wii U Shirt
Ghost Shirt
8-Ball Shirt
Baseball Shirt
Soccer Shirt
Basketball Shirt
Bowling Shirt
Sun Shirt
Cloud Shirt
Lion Shirt (Unused)
Duck Shirt (Unused)
8-Bit Note Shirt (Unused)
Rabbit Shirt (Unused)
Worn-Out Shirt (Unused)
Snowy Day Shirt (Unused)
Fish Shirt (Unused)
Hats
Standard Hat
Clappy Trio Member Wig
Note Hat
Dog Ears
Cat Ears
Swimming Cap
Retro Hero Hat
Pikachu Ears
Black Beanie
Jungle Hat
Trivia
In the Channel Changers minigame, all of the channels are references to the staff of the Rhythm Heaven/WarioWare series and past Nintendo games. Ko Takeuchi's mascot can be seen dancing on Channel 25, and Tsunku can be seen singing on Channel 3.
Marshal is renamed "Matt" in Europe for unknown reasons.
The game was the first Rhythm game crossover ever.
In an interview with Ko Takeuchi, the designer of the game, RhythmWare was his favorite game to work on.
Unused/Beta Elements
Graphics
During the game's early stages, the font used for the "Superb!" word design has been changed many times. The unused word designs are seen in the game's files.
Over five different outfits for the character creator are seen in the game's files.
An unused sprite of Play-Yan with headphones on is found in the game's files.
A picture of two Wii Remotes is seen in the game's files, the same image was used in the title screen of Wii Play.
There is a sprite of a Chorus Kid with a Santa hat on inside the game's files. This same image was used on the Japanese website of Rhythm Heaven.
Sounds/Music
There are many unused sounds in the game's files used for testing out syncing sounds onto minigames. One sound has a clock ticking, another has keyboard clicking, and the last one listed in the file is a cruch sound.
A person humming Young Love Rock n' Roll is also found in the game's files.
Regional Differences
Blooper Reel
The minigame Blooper Reel is renamed Manzai Birds in the Japanese version of RhythmWare, the lines of the birds are also changed. The crow slapping the other crow is also censored in the US and Europe version of the game and the crow is instead pointing at the other crow. He also says "Don't be stupid!" in the Japanese version of the game. This is censored in all other versions of the game and he instead says "Don't say that!". Despite the censorship of the crow slapping the other crow, his slapping sprite is still in the files of the US version of the game.
Gallery
In-Game Creation
TBA
Page Creation
Art Design Program
Fonts Used
Rodin Rose Pro DB
New Rodin
Custard Condensed
Dreamland
DF Gothic W10
Bauhaus 93
Grobold
Original Games
Nintendo
Intelligent Systems
This project is not in anyway a real Nintendo game, this is only a fanon creation. I do not own any of the characters used in this game, all of them belong to Nintendo and Intelligent Systems. Please support them by purchasing games in the Rhythm Heaven and WarioWare series.
Ad blocker interference detected!
Wikia is a free-to-use site that makes money from advertising. We have a modified experience for viewers using ad blockers

Wikia is not accessible if you've made further modifications. Remove the custom ad blocker rule(s) and the page will load as expected.