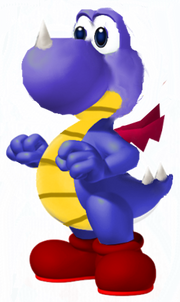 Rex is a dinosaur enemy who originally debuted in Super Mario World, and has since appeared in few games. Rex hails from Dinosaur Land, where it is a common species that Bowser enlists for his Koopa Troop. Rexes take two hits to be defeated, with the first hit flattening them.
Appearances
'
Rex appears in Super Mario Dino Riders as a rideable mount, his first special is Stomp.
Rex appears in The Marvelous Misadventures of Bowser.
Rex appears as a medium weight driver in Super Koopa Kart.
They reappear in this game. This time, there will be two new sub species: Flying Rex, which will fly, and Pyro Rex, wich will shoot fireballs. In this game, we will discover that Draggadon is somehow related to Rex.
Gallery
Ad blocker interference detected!
Wikia is a free-to-use site that makes money from advertising. We have a modified experience for viewers using ad blockers

Wikia is not accessible if you've made further modifications. Remove the custom ad blocker rule(s) and the page will load as expected.