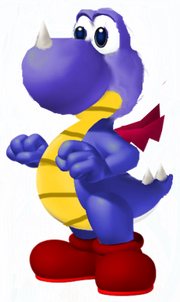 Rex is a dinosaur enemy who originally debuted in Super Mario World, and has since appeared in few games. Rex hails from Dinosaur Land, where it is a common species that Bowser enlists for his Koopa Troop. Rexes take two hits to be defeated, with the first hit flattening them.
Appearances
'
Rex appears in Super Mario Dino Riders as a rideable mount, his first special is Stomp.
Rex appears in The Marvelous Misadventures of Bowser.
Rex appears as a medium weight driver in Super Koopa Kart.
They reappear in this game. This time, there will be two new sub species: Flying Rex, which will fly, and Pyro Rex, wich will shoot fireballs. In this game, we will discover that Draggadon is somehow related to Rex.
Gallery