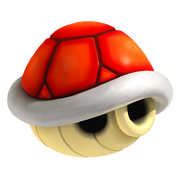 A Red Shell is a red-colored Koopa Troopa Shell. They are worn by less common Koopas, which won't walk off cliffs and are as well weapons in the Mario Kart series. When stomping a Red Koopa, it will or hide in its shell or will be kicked out its shell. In both ways, the Red Shell could be used anyway. Normally, in sidescrollers it just acts like a Green Shell, but in spinoffs, it has a homing effect. It sometimes is eventually harsher than a Green Shell.
Appearances
Red Shells appear as staple items in the Mario Kart series, appearing in almost every installment - canon or fanon - and usually functions in the same way. Once thrown, Red Shells tend to lock on to the racer ahead of the thrower, and will target them. They are unable to bounce off of walls in most installments.
Ad blocker interference detected!
Wikia is a free-to-use site that makes money from advertising. We have a modified experience for viewers using ad blockers

Wikia is not accessible if you've made further modifications. Remove the custom ad blocker rule(s) and the page will load as expected.