The
Red Gazelle
is the machine driven by the impervious cyborg: Mighty Gazelle. It was manufactured by the very same company that granted Mighty Gazelle his robotic shell in the first place, Cyber Stick, Inc., and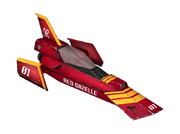 was specifically designed to match this artificial body accordingly. Where it excels in superior speed, it's outer strength is severely reduced, which doesn't faze Mighty Gazelle in the slightest given that the new form that he's been granted abolishes such a fear of possible injury or death.
Statistics
Appearances
The Red Gazelle makes several appearances in the game. It appears with its pilot Mighty Gazelle as a trophy. In addition, the machine can be seen racing on Mute City.
The Red Gazelle returns once again in F-Zero U. This time, the Red Gazelle's body has been tweaked to be slightly stronger.
Ad blocker interference detected!
Wikia is a free-to-use site that makes money from advertising. We have a modified experience for viewers using ad blockers

Wikia is not accessible if you've made further modifications. Remove the custom ad blocker rule(s) and the page will load as expected.