Characters
A new blue Pouchet was intended to take Pesh's place, but was scrapped for unknown reasons. He donned a large machette and cowboy boots.
Bosses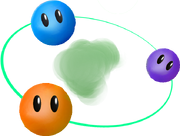 A strange figure was going to be the 6th boss, instead of Voo-Doom. He had 3 rotating heads, and a green power source in the middle. He had an artwork (shown up above). He was called Zigie.
Ad blocker interference detected!
Wikia is a free-to-use site that makes money from advertising. We have a modified experience for viewers using ad blockers

Wikia is not accessible if you've made further modifications. Remove the custom ad blocker rule(s) and the page will load as expected.