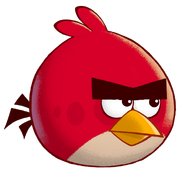 Red the Red Bird
, is an
unlockable character
in the eighth Smash Bros. game,
Super Smash Bros. Endgame
. He is the main protagonist in the
Angry Birds franchise
, where he saves the Eggs from the Pigs. In some games, he uses a slingshot. While in other games, he uses weapons.
Appearance
Red is a cardinal red bird.
On-Screen Appearance(s)
Red (off-screen) is fired from the slingshot and hits into a structure with pigs inside.
Red is carried by Chuck to the stage.
Moves
TBA
Taunt(s)
Red will shake around, with feathers coming out of him.
Victory Pose(s)
Red holds the Eggs in victory.
Red celebrates with the rest of the Flock.
Red dances while a HUD comes down that shows three stars.
Victory Theme(s)
The battle win music from Angry Birds Epic.
The mission complete music from Transformers.
The race win complete music from Angry Birds Go!.
Alternate Costumes
Guardian costume
Avenger costume.
Paladin costume.
Ronin costume.
Samurai costume.
Stone Guard costume.
Fight costume.
Gallery
Trivia
His official artwork doesn't have his default costume.