RedYoshi's Universal Conquest
Developer(s)
Publisher(s)
Platform(s)
Release Date(s)
N/A
N/A
N/A
N/A
Mode(s)
Single player
Multiplayer cooperative
Age Rating(s)
Genre(s)
Platformer
RedYoshi's Universal Conquest is a Fan Game by RedYoshi. It is the final game in the RedYoshi series. It is the first 3D platformer in the series. The game has the same gameplay as Super Mario Galaxy. It was made exclusively for the Wii. It is rated E (Everyone).
Story
RedYoshi's Island was formed a thousand years ago by a lone asteroid. The asteroid crashed into the sea, so fast that it crashed onto the sea floor. It caused a massive earthquake that lifted a mountain out of the ocean. Soon, it would become an island full of abundance and life.
The creatures of the planet went to this island to celebrate its existance. Star creatures called Lumas also celebrated the asteroid landing on the earth, creating the island. During the time of celebration, shimmering stardust fell on the island. The inhabitors of RedYoshi's Island wondered why the mysterious things fell on the earth. That was when the Star Castle was found months later. As long as the castle was there, stardust would fall always fall on the island.
However, one Luma didn't want this to happen. She was an evil witch who was apparently supposed to watch over the Star Castle. She wanted the stardust to fall on her own planet. She planned to take the castle away and destroy the island. Thankfully, her plan was just minutes away from completion when one brave Luma stopped her. The witch Luma was banished to the far depths of the universe. The Star Castle was returned to the island and stardust fell once again. Sadly, the Star Castle was damaged, so stardust could fall on RedYoshi's Island only once in one's lifetime.
That time has come again...
RedYoshi has been invited to the Comet Festival! RedBirdo wishes to sip some tea with him while they watch Star Bits fall on the island. When RedYoshi arrives the next day, the festival is under attack by a giant BlackYoshi. He is attacking the old Star Castle. BlackYoshi roars a deep laugh when RedYoshi makes it to the castle. BlackYoshi explains with a booming voice: "This 'Star Castle' is, like, 1000 years old! I'd love to take control of this baby, just like someone way back then! Without it, Star Balls—or whatevver they're called—wouldn't fall on your island, RedYoshi! I'd like to take this thing to the center of the universe and make those Star thingies fall on my OWN EMPIRE! Ha!" BlackYoshi and the castle start to fly off. "See ya around, buddy!" BlackYoshi calls as he flies away.
|
RedYoshi watches in awe as his worst enemy flies away with the famed Star Castle. He knows he must travel the universe to retieve the castle and defeat BlackYoshi, but how?
Suddenly, a Launch Star appears out of nowhere. RedYoshi sniffs at it, seeking out Blueberries. He gets caught in the middle of the Launch Star and blasts off into outer space!

When RedYoshi wakes up, he finds himslef on a lush, small, green planet and sees three Red Lumas hovering over him. "Look!" one of them squeals. "The maroon monster is awake! Hide!" They all transform into Star Bunnies and hop away.
After RedYoshi has caught all three of them, one of the Star Bunnies says, "You seem to be dependable. See, our mama has disappeared. We can't find her, 'cause we're too small."
"And no one will help us," another Star Bunny adds. "Could you help us?" After RedYoshi has aggreed, the three Star Bunnies lead him to where they saw their mama last. They lead him on top of a small tower. After RedYoshi inspects the place, he sees no clues that would help the Star Bunnies and him. One of the Star Bunnies transforms back into a red Luma, then into a Launch Star. "We should look for Mama some other place..." the Launch Star says. "Let's go look!" RedYoshi launches himslef to explore the rest of the Gateway Galaxy.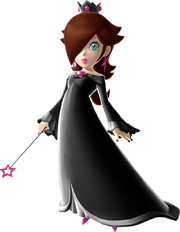 After RedYoshi has rescued the Grand Star from the Gateway Galaxy, they fly to the Comet Observatory. There, the Grand Star dissolves an plunges into the beacon. There, Elise walks up to RedYoshi. "Wow, a ColredYoshi," she says in awe. "We haven't seen of those for years. How did you get here?"
"We brought him here!" a red Luma replies.
"Ahhhhhh..." Elise answers. "Well, my name is Elise. I am these children's mama's sister. Their aunt, if you will. The Lumas came to me when she went missing. It could be possible she is very far away from here, maybe on the other side of the universe... I hear an enemy of yours took the Star Castle from you planet."
RedYoshi nods.
"That is not good," Elise continues. "The Star Castle is very dear to your planet as well as to the Lumas here in space. If that castle is not retreived, Star Bits wouldn't fall on your planet. It's hard to believe, but your planet thrives on Star Bits. Without them, your planet will soon die...
"I will tell you what: if you help us look for my sister, we will help you defeat your enemy and find the Star Castle. Do you agree?"
RedYoshi nods again.
"Good..." Elise says. "Well, since your enemy and my sister are far away, we need Power Stars to fuel the Comet Observatory and make it like a starship again. If you could get Power Stars for us, we could transport you to your enemy. Power Stars are found in galaxies. Even massive aliens hold these Power Stars. In fact, there some in the Planet Plains Galaxy, which isn't far from here at all."
A blue Luma came up to RedYoshi. "I will take you to the Planet Plains Galaxy!" it says. It transfprms into a Launch Star and blasts RedYoshi off to the Planet Plains Galaxy.
Characters
Playable
NPCs
Enemies
Bosses
Bosses are characters who make the game more challenging. Bosses are common in this game. They are battled at the end of a mission. RedYoshi gets a Power Star or a Grand Star when one is defeated. There are a few bosses that are battled more than once, and some bosses are variations of another boss. Many different tactics are needed to defeat these massive enemies.
Artwork

Name

Galaxy

Stars Given

Goomboss
Gateway Galaxy
Goombas' Fortress
x2
Peewee Piranha
Planet Plains Galaxy
Brickred
Planet Plains Galaxy
King Cloud
Sky Skiff Galaxy
N/A
Rawrry
Rawrry's Space Station
N/A
Abomasnow
Frost Field Galaxy
BlackYoshi
BlackYoshi's Gravity Generator
BlackYoshi's Star Generator
BlackYoshi's Galaxy Generator
x3
N/A
Octillery
Swift Swirl Galaxy
N/A
Squizzard
Swift Swirl Galaxy
BlackBirdo
BlackBirdo's Space & Time Mash-Up
King Bill
Bullet Base Galaxy
N/A
Rhyperior
Bold Boulder Galaxy
N/A
Mad Ape
Jungle Junction Galaxy
Magmortar
Heat Storm Galaxy
N/A
Lavarin
Heat Storm Galaxy
Empoleon
Starscape Galaxy
Objects
Items
| Artwork | Name | Description |
| --- | --- | --- |
| | Star Bits | Can be collected and can be shot at weak enemies to stun them. They can also be fed to Hungry Lumas. When 50 are collected, RedYoshi gains an extra life. |
| | Berries | When eaten, RedYoshi releases 1 Star Bit. After 100 Berries have been eaten, RedYoshi releases 15 Star Bits and a power-up. |
| | Blueberries | When eaten, RedYoshi releases 1 Star Bit. After 50 Blueberries are eaten, RedYoshi releases 15 Star Bits and gains an extra life. They also heal RedYoshi's health by one point. |
| 1-Up Berry | 1-Up Berries | When eaten, RedYoshi gains an extra life. |
| N/A | Berry Bushes | Bushes that hold 4 Berries and 1 Blueberry. Sometimes, they hold a 1-Up Berry instead of a Blueberry. |
| | Question Coins | When RedYoshi touches it, Star Bits, a 1-Up Berry, Rainbow Notes, or another Question Coin will appear. |
| | Purple Coins | Appears in galaxies when a Purple Comet is in orbit of one. |
| | Launch Stars | When the player shakes the Wii Remote when near one, it shoots RedYoshi off to another planet. |
| | Pull Stars | Pulls RedYoshi towards it when the player positions the cursor over and presses the A button. |
| | Star Chips | When all five have been found they form into a Launch Star/a group of Pull Stars, allowing the player to advance. |
Power-ups
| Artwork | Name | Description |
| --- | --- | --- |
| | Blimp Berry | Transforms RedYoshi into Blimp RedYoshi, allowing him exhale air to make himself float higher and higher. |
| | Bulb Berry | Transforms RedYoshi into Bulb RedYoshi, allowing him to reveal secret passages temorarily. |
| | Dash Pepper | Transforms RedYoshi into Dash RedYoshi, allowing him to dash at spped fast enough to climb steep sloped and to run across water. |
Galaxies
This game takes place in deep space. So, the player must travel through numerous galaxies. Galaxies from Super Mario Galaxy and Super Mario Galaxy 2 appear in this game. Power Stars are located in the galaxies. Some galaxies have more than three Power Stars, while others only have one or two. Players must complete missions to obtain Power Stars. There are galaxies with special missions. Special missions appear after the player has completed the main story, but not the game. Ther player is rewarded Red Power Stars for completing special missions. Commonly, the player must defeat a boss to get a Power Star. They can also be obtained by completing a mission when a Prankster Comet is in orbit of that galaxy. Prankster Comets orbit galaxies that hold more than three Power Stars (excepting the Comet Canyon Galaxy). Players must obtain Grand Stars to end a chapter of the game and begin a new one. At the start of each chapter, new galaxies become available for exploration. NOTES:
Hold your mouse over the Power Star icon to see the name of the mission.
Underline indicates a Hungry Luma galaxy.
Prologue
| Name | Power Stars | Bosses |
| --- | --- | --- |
| Gateway Galaxy | | Goomboss |
Chapter 1
Name

Power Stars

Bosses

Planet Plains Galaxy
Peewee Pianha
Brickred
Space Spiral Galaxy

None

Sky Skiff Galaxy
King Cloud
Comet Canyon Galaxy

None

Rawrry's Space Station
Rawrry
Rolling Green Galaxy

None
Chapter 2
| Name | Power Stars | Bosses |
| --- | --- | --- |
| Hightail Falls Galaxy | | None |
| Frost Field Galaxy | | Abomasnow |
| Cosmic Hills Galaxy | | None |
| Beach Ball Galaxy | | None |
| BlackYoshi's Gravity Generator | | BlackYoshi |
| Rail Rage Galaxy | | None |
Chapter 3
Name

Power Stars

Bosses

Spring Fling Galaxy

None

Swift Swirl Galaxy
Octillery
Squizzard
Octo Launch Galaxy

None

Crystal Clear Galaxy

None

BlackBirdo's Space & Time Mash-Up
BlackBirdo
Drip Drop Galaxy

None
Chapter 4
| Name | Power Stars | Bosses |
| --- | --- | --- |
| Bullet Base Galaxy | | King Bill |
| Daily Dash Galaxy | | None |
| Slip Slide Galaxy | | None |
| Bold Boulder Galaxy | | Rhyperior |
| BlackYoshi's Star Generator | | BlackYoshi |
| Loopdeeloop Galaxy | | None |
Chapter 5
Name

Power Stars

Bosses

Jungle Junction Galaxy
Mad Ape
Searing Sand Galaxy

None

Heat Storm Galaxy
Magmortar
Lavarin
Bubble Breeze Galaxy

None

Goombas' Fortress
Goomboss
Heartstopper Galaxy

None

BlackYoshi's Galaxy Generator
BlackYoshi
Elise
Epilogue
| Name | Power Stars | Bosses |
| --- | --- | --- |
| Starscape Galaxy | | Empoleon |
| Mole Mess Galaxy | | Major Burrows |
| Big Boss Galaxy | | All bosses, except Elise |
| Bigmouth Galaxy | | None |
Themes
Title / Menu
Comet Festival Theme
BlackYoshi & The Star Castle
Elise & Lumas' Theme / Elise's Storybook
The Comet Observatory
Boss Battle Theme 1
Boss Battle Theme 2
Boss Battle Theme 3
Boss Battle Theme 4
Boss Battle Theme 5
Goomboss's Theme
King Cloud's Theme
Rawrry's Theme
Major Burrows's Rage
BlackYoshi Battle Theme
BlackBirdo Battle Theme
Planet Plains Galaxy
Hightail Falls Galaxy
Frost Field Galaxy — Main Theme (Shortened Version)
Frost Field Galaxy — Winter Field Forest
Final Boss Battle Theme
Elise's Farewell
End Credits (Shortened Version)
Ad blocker interference detected!
Wikia is a free-to-use site that makes money from advertising. We have a modified experience for viewers using ad blockers

Wikia is not accessible if you've made further modifications. Remove the custom ad blocker rule(s) and the page will load as expected.