Ad blocker interference detected!
Wikia is a free-to-use site that makes money from advertising. We have a modified experience for viewers using ad blockers

Wikia is not accessible if you've made further modifications. Remove the custom ad blocker rule(s) and the page will load as expected.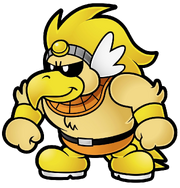 Rawk Hawk 
is a professional wrestler who was the former champion at the Glitz Pit. In Paper Mario: The Thousand-Year Door, Mario locks heads with Rawk Hawk in an attempt to gain the championship (and subsequently, the Crystal Star.)
History
Paper Mario: The Thousand-Year Door
When Mario comes to Glitzville, he quickly finds out that Rawk Hawk is the champion of the famous Glitz Pit. Rawk's belt seems to have the Crystal Star that Mario is looking for on it, leading Mario to sign up for the tournament. Rawk Hawk is brash, unkind, and a graceless opponent. He even attempts to poison Mario at one point with a mysterious Cake.
When it comes time for Mario to duke it out with the Hawk, the plumber shows up fashionably late due to some shady business backstage. However, Mario easily defeats Rawk Hawk in the arena and gains the Champion's Belt.