Ranch is a stage from the Sheriff/Bandido universe that appears as an unlockable stage in Super Smash Bros. Global Apocalypse. It is a custom stage, meaning it has never appeared before in any game in the series.
Description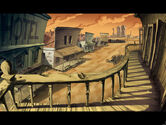 | | |
| --- | --- |
| Universe | Sheriff/Bandido |
| Home Stage to | Sheriff |
| Availability | Unlockable |
| Size | Medium |
The stage is based off of a typical Western little town in the middle of a dessert. The stage is medium sized. It features two large buildings on both sides, seperated by a muddy road. The player views this in a 2-D perspective, so that players can fight in the middle of the road, as well as on the buildings. If players get too far behind the two buildings on the edges, they get KO'ed automatically. Players cannot fall off here. The buildings also have wooden balconies where the players can battle. The background of the stage features the small town's buildings, as well as the morning sun and orange mountains.
How to Unlock
Unlock Sheriff.
Music Played
Note: The stage features custom music, as the original games did not feature any music.
Bolded ones must be unlocked.
Ad blocker interference detected!
Wikia is a free-to-use site that makes money from advertising. We have a modified experience for viewers using ad blockers

Wikia is not accessible if you've made further modifications. Remove the custom ad blocker rule(s) and the page will load as expected.