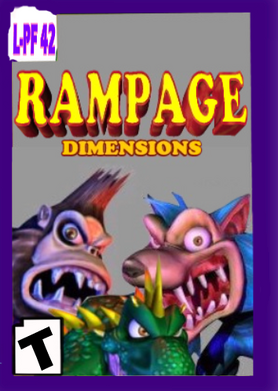 Rampage: Dimensions is a call back to the Rampage Series for Legendary Pop-Fizz 42, PS3, ROC, and 3DS.
ROCU
George
Story
The Monsters are Back! They have brought some new monster, but the milatary got an upgrade. They traced each monster down, and sent each one to a different dimension. Now each monster will have to wreck their way out of the seemingly endless path of dimensions to get to each other.
Returning Monsters
George the Ape
Ralph the Werewolf
Lizzie the Dinosaur
Gilman the Blowfish
Marco the Shark
Boris the Rhino
Ramsey the Ram
Rhett the Rat
Cal the Squid
Leon the Lion
Crock the Crocodile
Kyle the Cyclops
Rojo the Bull
Icky the Echidna
Venus the Plant
Wally the Warthog
Harry the Yeti
Shelby the Tortoise
Amanda the Armadillo
Natalie the Nautilous
Kingston the Cobra
Rocky the Granite
Edwin the Invader
Joe the Wildman
Bart the Bat
Jack the Jackolope
Jill the Jellyfish
Nick the Demon
Eyegore the Alien
Bubba the Blob
Philburt the Ungulate
Plucky the Chicken
Fifi the Poodle
Sarah the Spider
Curtis the Mouse
Ruby the Lobster
Brian the Brain
Cyril the Squirrel
Fabio the Flea
George the Gorrila
Harley the Boar
Myukus the Alien
Noobus the Marcian
Squirmey the Worms
V.E.R.N. the Abomination
New Monsters
Olly the Aardvark
(Guest Monster) Giga Bowser
Ringo the Racoon
Creepy the Night Crawler
Syd the Snail
Ferdenand the Frog
Timber the Tree
Gertrude the Griffon
Danny the Dragon
Newman the Gnu
Perry the Pangolin
Billy the Playtapus
Icee the Penguin
Ad blocker interference detected!
Wikia is a free-to-use site that makes money from advertising. We have a modified experience for viewers using ad blockers

Wikia is not accessible if you've made further modifications. Remove the custom ad blocker rule(s) and the page will load as expected.