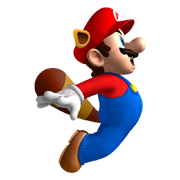 Raccoon Mario is one of Mario's Power-Ups that first appeared in Super Mario Bros. 3, then returned in a game called New Super Mario Bros. 2, set to be released August 19, 2012 in and North America and July 28, 2012 in Japan. After grabbing the Super Leaf, the power-up allows Mario to fly after reaching top speed and also lets him hit things, like enemies and blocks with his raccoon tail.
Appearances
After a long absence, the power-up returns in the game, New Super Mario Bros. D.I.Y. It works just like it did in Super Mario Bros. 3.
In this game, Raccoon Mario or Raccoon Luigi have the ability of fly for a bit and also flutter softly, just like Super Mario Bros. 3.
New Super Mario Bros. WC
In this game, Raccoon Mario has a new (and more racoon-like) look.
Transformed Mario and Luigi into Raccoon Mario or Fox Luigi.
Names in Foreign Languages
Language
Name
Meaning
Japanese
しっぽマリオ
Shippo Mario
Tail Mario
Spanish
Mario Mapache
Raccoon Mario
German
Waschbär-Mario
Raccoon Mario
Italian
Mario Procione
Raccoon Mario
Gallery
Ad blocker interference detected!
Wikia is a free-to-use site that makes money from advertising. We have a modified experience for viewers using ad blockers

Wikia is not accessible if you've made further modifications. Remove the custom ad blocker rule(s) and the page will load as expected.