Purple Guy
Comments

0
18,125pages on
this wiki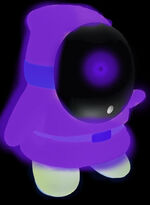 The
Purple Guy
is the trademark character of Purpleverse Inc. He is an unlockable character in every known Purpleverse game and is generally portrayed as a hero.
He will appear as a major character in Neverworld The Second.
Appearences
Edit
Purple Guy will appear in the upcoming game Trinity, along with Unten (Fantendo & Co.'s mascot) and Toad (WiiSmarts Inc.'s mascot).
Purple Guy also appears in the upcoming Purpleverse Day 2010 game, YoshiEgg & Bloop: Shades of Purple as one of the main playable characters. This game introduces Purple Guy's nemises, Scythe Guy, and gives Purple Guy a backstory.
Purple Guy appears as a playable character in the upcoming Dark Purple, a game by Black Diamond Games.
Animals' Buddy
Edit
He is an NPC in Purple Beary Bros. where he arms you with the Purple Sword and the first power ups of the game.
Purple Guy appears in the game as a playable character once you enter the "Purpleverse" half of the game.