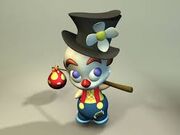 Punchinello Peril is a game where the main protaganist is a goofy clown named Julius K. He is asked to join The Knuckleberry Brothers Circus Spectacular. After refusing, he goes to bed and wakes up in The Knuckleberry Bros.' circus tent, which is far from his home. He must find a way back home and escape this beastly show.
Stages
Prologue: The Circus Tent-  Boss: None (simply find the exit) 
1: Sloshintosh City- Boss: The Bearded Lady
2: Leopard Flats- Boss: The Strong Man
3: Krabeecrab Beach- Boss: The Fortune Teller
4: Swamp Lake- Boss: The Puppet Master
5: The Himallamas Mountains- Boss: The Wolf Man
6: Knuckleberry Bros. Headquarters-Boss: The Knuckleberry Bros.
Ad blocker interference detected!
Wikia is a free-to-use site that makes money from advertising. We have a modified experience for viewers using ad blockers

Wikia is not accessible if you've made further modifications. Remove the custom ad blocker rule(s) and the page will load as expected.