The Psycho, who can go into a bloody rage. He puts his guns away then pulls out his 2-handed Buzz Axe and gains 500% melee damage.
Bloodlust: Skills are focused around kill skills and abilities which increase with Bloodlust stacks, such as increased damage, reload speed, and grenades.
Mania: Focuses on melee attacks, including allowing Krieg to morph into a Mutant Superbad Psycho.
Hellborn: Focuses on fire damage and giving perks such as damage resistance to Krieg while he himself is on fire.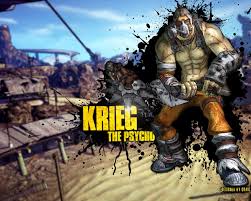 Ad blocker interference detected!
Wikia is a free-to-use site that makes money from advertising. We have a modified experience for viewers using ad blockers

Wikia is not accessible if you've made further modifications. Remove the custom ad blocker rule(s) and the page will load as expected.