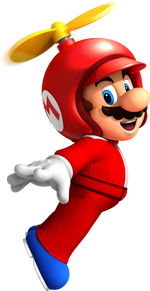 Propeller Mario is one of Mario's Power-Ups. Mario can access this form by eating a Propeller Mushroom.
Ability
Mario gains a jumpsuit and a helmet with a propeller. When Mario uses the Spin Jump, he'll propel up literally instead. When in air, Mario can do this one time before he lands. Spinning makes Mario slow down a bit. Mario could also beat foes when using the propelling technique, by spinning fast (the player must do the same as when Mario ducks), which make Mario speed up a bit by falling.
Appearances
Propeller Mario appears as a trophy in Jake's Super Smash Bros..
Trophy Description
Mario has been able to obtain the power to fly since Super Mario Bros. 3's Super Leaf, and New Super Mario Bros. Wii introduced the Propeller Suit, allowing Mario, Luigi, Blue Toad, or Yellow Toad to propel themselves high into the air and float around. It's a fairly useful ability to have in a platforming game, even if you do need to shake the Wii Remote silly in order to actually fly upwards.
Propeller Mario
Gallery
Navigation Templates
Playable Characters
Default
Unlockable
Alternate Characters
Assist Characters
| Default | Unlockable | Pokémon |
| --- | --- | --- |
| | | |
Obstacles
Other Characters
Alolan Grimer · Amul · Ann Takamaki · Big Urchin · Blizzy · Bravoman · Buzz-Buzz · Cutiefly · Don-chan · Dragoneel · Fierce Deity · Gil · Happy Mask Salesman · Judge · King · Kissy · K.K. Slider · Litwick · Lloyd · Mappy · Mareanie · Mii · Missile · Morgana · Perry · Pidgit · Pooka · Rabbid Luigi · Rabbid Yoshi · Red Baron · Ribbon · Rowlet · Runner · Ryuji Sakamoto · Sandy · Smasher · Rusty Slugger · Servbot · Sima Zhao · Swanna · Tarosuke · Timmy Nook · Toadsworth · Tommy Nook · Tron Bonne · Valkyrie · Wonder Momo · Ziggy