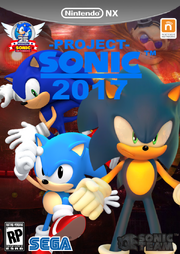 An upcoming game installment in the Sonic the Hedgehog series under the production title
Project Sonic 2017
is set to be released during the holidays of 2017. The game will be developed by Sonic Team and was first mentioned at the Tokyo Joypolis Sonic 25th party on 25 June 2016.[1] At the end of the Sonic 25th anniversary party on 22 July 2016, they released the first teaser. The game will mark the return of the collaboration between both Classic Sonic and Modern Sonic since the twentieth anniversary game
Sonic Generations
. Despite initial popular belief though, this title is not a sequel to previous games.[2]
Artworks
Models 3D
Characters
Playable
Non-Playable
Voice Cast
Roger Craig Smith as Modern Sonic the Hedgehog / Classic Sonic the Hedgehog
Tara Strong as Modern Princess Sally Acorn / Classic Princess Sally Acorn
Colleen Villard as Modern Miles "Tails" Prower / Classic Miles "Tails" Prower
Travis Willingham as Modern Knuckles the Echidna / Classic Knuckles the Echidna
Kirk Thornton as Shadow the Hedgehog and Orbot
Laura Bailey as Blaze the Cat
Wally Wingert as Cubot
Mike Pollock as Modern Dr. Eggman / Classic "Dr. Robotnik" Eggman
Ad blocker interference detected!
Wikia is a free-to-use site that makes money from advertising. We have a modified experience for viewers using ad blockers

Wikia is not accessible if you've made further modifications. Remove the custom ad blocker rule(s) and the page will load as expected.