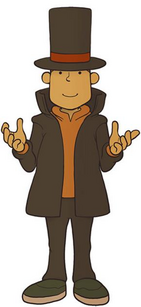 "Critical thinking is the key to success."


— Professor Layton, Professor Layton and the Curious Village
Hershel Layton is a professor of archeology at Gressenheller University, in the United Kingdom. He is the main character of the Professor Layton series. He enjoys solving puzzles, and in fact this is the main focus of the Professor Layton series. Luke Triton is his self-proclaimed apprentice.
Appearances
Super Smash Bros. Global Apocalypse
Professor Layton appears as a playable character in Super Smash Bros. Global Apocalypse. He is available from the start as a newcomer fighter. He can be considered one of the game's most essential Universes, along with Mario, Kirby, Pokémon and The Legend of Zelda.
Gallery
Ad blocker interference detected!
Wikia is a free-to-use site that makes money from advertising. We have a modified experience for viewers using ad blockers

Wikia is not accessible if you've made further modifications. Remove the custom ad blocker rule(s) and the page will load as expected.