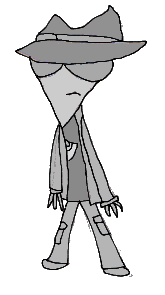 Private Eye R.O.B is an character that first officially appeared in Doodleland 4. At the time, his series was still a work in progress that would not get started until 2011, even though the series was thought about in mid 2008. As such, some of the concepts, like the Black and White coloring of the world and characters, and it being based off old detective films. R.O.B stands for Robotic Operations B-555, B-555 being his production code.
Personality
Private Eye R.O.B often is a clearly focused detective, and will often not stop until the case is done. As such, he has caused accidental deaths to his clients, and is often considered unlucky. He is also very senstive about certian things, such as his criminal life before amoungst others.
Powers
Private Eye can extend his limbs up to 8 feet, as well as drive a car. He can also turn his hat into a spinning weapon. He can also use hooks to grab onto things, however the pull is much more weaker than his hands.
Gallery