Ad blocker interference detected!
Wikia is a free-to-use site that makes money from advertising. We have a modified experience for viewers using ad blockers

Wikia is not accessible if you've made further modifications. Remove the custom ad blocker rule(s) and the page will load as expected.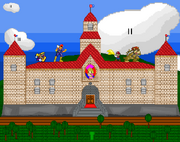 Princess Peach's Castle is from many Mario games and is one of the stages in Mario Smash Bros.. Peach's Castle is also a court in Mario Basketball: Mushroom Tourney.
In many Mario Games, the story begins in Peach's Castle. In most of them, it is where Peach is kidnapped by Bowser.
Appearances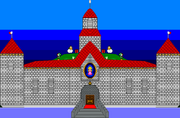 Like Super Mario 64, Peach's Castle is the hub world, although this time, Mario must travel to the areas first before he can open up a Warp Zone to the world from Peach's Castle. This makes it easier, since Mario can return in Peach's Castle whenever he wants. A Rabbit boss called Rabbpage appears as the only boss in this area and Mario can defeat him after multiple hits overtime.
Gallery