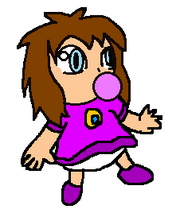 —Princess May, Super Mario Land 6 Regonal Explorers
May is one of the princess apearing in Mario Land 6 Regional Explorers.
Apearance
May is a generaly quiet baby and is one of the three rulers of the Goo Goo Kingdom. May has dark brown hair and blue eyes. She has a purpley pink dress and purple shoes. She will burst in to tears if left on her own. She has also got a pacifier
Personality
May hasnt realy developed a personality since shes only 1 but she seems to be a bit of a cry baby.
Gallery
Trivia
Like Treble Clef and Mimi she is based of one of SuperToadMan56's sisters May is based on May the second youngest.
She dosent have a crown despite being a Princess.