Cupcakes they are so sweets....

Princess Cotton-Candy, in her kingdom.
Princess Cotton-Candy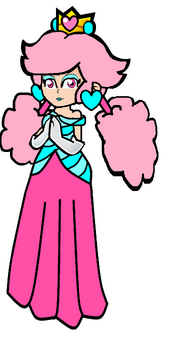 is the princess of Sweet n' Candy Kingdom, she is 14
years old.
Personality
She is sweet and  lovely, she loves the sugar, and it doesn't affect her the sugar,
never fattening.
Appearance
Her hair, naturally, is a cotton-candy hair, with pink colour, she has some pink  eyes, usually makeup with aquamarine colour.
Clothes
She wears a pink and aquamarine dress without hoops, she wear some aquamarine colour heart earrings, and a golden crown with a pink heart gemstone and two aquamarine gemstones in the lateral parts.
Gallery
Ad blocker interference detected!
Wikia is a free-to-use site that makes money from advertising. We have a modified experience for viewers using ad blockers

Wikia is not accessible if you've made further modifications. Remove the custom ad blocker rule(s) and the page will load as expected.