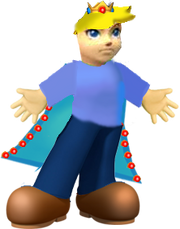 Prince Perry is the cousin of Peach and Daisy. He rules over the Freezeen Kingdom. Other then that, not much is known about him.
Appearance
Prince Perry looks younger than Peach or Daisy, and has yellow hair like his cousin Peach. He wears a blue shirt with jeans and brown shoes, and a blue robe with red jewels along the edges. His crown is similar to Peach's.
Game Appearances
Mario 3D World
Mario 3D World is the prince's first appearance. He is the one kidnapped, and when Mario, Luigi, Toad & Green Toad beat Bowser, Jr. and Kamek for the last time, he is freed.