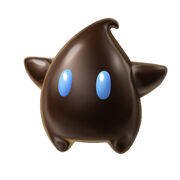 Polari is a Luma who appeared in Super Mario Galaxy and Super Mario Galaxy 2 as the assistant of Rosalina; he is to Rosalina what Toadsworth is to Princess Peach.
Appearances
Edit
In Super Mario Radiance, Polari has a similar role to the first Super Mario Galaxy; he will show Mario or Luigi a map of the HUB world (Princess Peach's Castle in Super Mario Radiance), and also show them which Power Stars they have collected.
He can be controlled by Player 2 in this game.
The events of this game explain Polari's backstory and how he came to befriend Rosalina. He assists her in bringing down the ultimate evil known as the Cosmic Spirit.