Ad blocker interference detected!
Wikia is a free-to-use site that makes money from advertising. We have a modified experience for viewers using ad blockers

Wikia is not accessible if you've made further modifications. Remove the custom ad blocker rule(s) and the page will load as expected.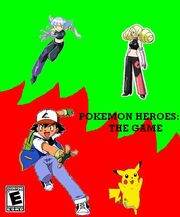 Pokemon Heroes: The Game is a platform game based on the movie, Pokemon Heroes. It follows the movie's plot with some new elements thrown in.
Gameplay
The gameplay is a 3D platformer with RPG elements such as leveling up and learning new moves as you gain experience points.
Story
See the story of Pokemon Heroes for the story.
Stages
Stage 1: Water Race
Stage 2: City of Alto Mare
Stage 3: Alto Mare Museum
Stage 4: Secret Garden
Stage 5: Soul Dew
Stage 6: Water Path
Stage 7: Alto Mare Museum Revisit
Stage 8: Oakley's Keep
Stage 9: Espeon Flyer
Stage 10: Final Wave
Bosses
Boss 1: Robotic Scyther
Boss 2: Annie and Oakley (boat)
Boss 3: Guardian Water Golem
Boss 4: Aerodactyl and Kabutops
Boss 5: Espeon and Ariados
Boss 6: Defense Mechanism of Alto Mare
Boss 7: Annie and Oakley (spider Oakley mech)
Final Boss: The Evil Fog and Tidal Wave
Super Boss: Defense Mechanism of Alto Mare Kai
Characters
Playable:
Ash Ketchum
Pikachu
Non-Playable:
Misty
Brock
Togepi
Crobat
Politoad
Corsola
Jessie
James
Meowth
Ross
Bianca
Lorenzo
Latias
Latios
Espeon
Ariados
Aerodactyl
Kabutops
Annie
Oakley
Evil Fog
Gallery
Heroes:
Villains: