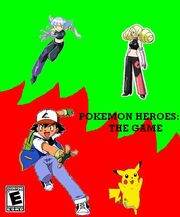 Pokemon Heroes: The Game is a platform game based on the movie, Pokemon Heroes. It follows the movie's plot with some new elements thrown in.
Gameplay
The gameplay is a 3D platformer with RPG elements such as leveling up and learning new moves as you gain experience points.
Story
See the story of Pokemon Heroes for the story.
Stages
Stage 1: Water Race
Stage 2: City of Alto Mare
Stage 3: Alto Mare Museum
Stage 4: Secret Garden
Stage 5: Soul Dew
Stage 6: Water Path
Stage 7: Alto Mare Museum Revisit
Stage 8: Oakley's Keep
Stage 9: Espeon Flyer
Stage 10: Final Wave
Bosses
Boss 1: Robotic Scyther
Boss 2: Annie and Oakley (boat)
Boss 3: Guardian Water Golem
Boss 4: Aerodactyl and Kabutops
Boss 5: Espeon and Ariados
Boss 6: Defense Mechanism of Alto Mare
Boss 7: Annie and Oakley (spider Oakley mech)
Final Boss: The Evil Fog and Tidal Wave
Super Boss: Defense Mechanism of Alto Mare Kai
Characters
Playable:
Ash Ketchum
Pikachu
Non-Playable:
Misty
Brock
Togepi
Crobat
Politoad
Corsola
Jessie
James
Meowth
Ross
Bianca
Lorenzo
Latias
Latios
Espeon
Ariados
Aerodactyl
Kabutops
Annie
Oakley
Evil Fog
Gallery
Heroes:
Villains: