Ad blocker interference detected!
Wikia is a free-to-use site that makes money from advertising. We have a modified experience for viewers using ad blockers

Wikia is not accessible if you've made further modifications. Remove the custom ad blocker rule(s) and the page will load as expected.
Pokatu Region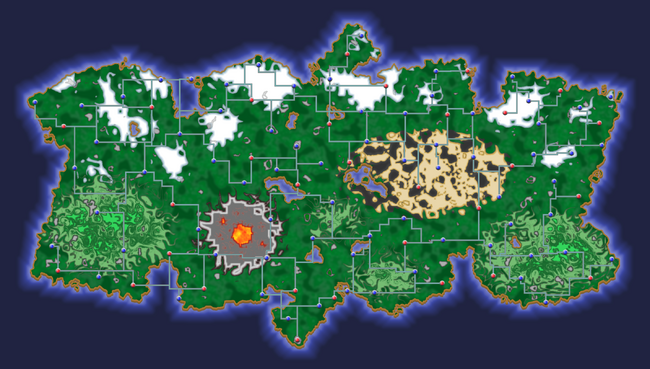 The Pokatu Region is the main region of the Pokemon World and the largest single region. Its Pokemon League governs over all others and has the most number of locations of any region. The Region is said to be the most developed as some of its towns are comparable to the larger cities of other regions while its cities are fully-fledged Mega Cities. There are a total of 100 settlements across the Pokatu Region ranging from small villages to the aformentioned Mega Cities, in addition there are numerous locations of interest across the Pokatu Region including its lakes, seaside, volcano, desert, forests, plains, roughlands, mountains, ice fields and everything inbetween. The Volcano in the South-West of the Pokatu Region is known as Mt. Bakuhatsu and is said to have fueled Groudon with the power necessary to create the Pokatu Region.
The massive oceans around the Pokatu region provide stark contrast to the land-locked lakes as the crashing waves create sharp cliff edges and long stretches of beach for Pokemon and People to roam. In the South-East of the region is a large Rainforest known as the Rainforest of Life, some believe that the first traces of life may have originated from the heart of the rainforest and some travellers have reported seeing the Legendary Pokemon Mew roaming through the rainforest. Up to the North are the sharp and dangerous Ice Fields, these Ice Fields receed and expand every 2,500 years and are said to provide cool winds to the southern half of the Pokatu Region. What lurks inside the Ice fields however is another question. It is believed by many that an ancient temple where people once worshipped the Legendary Golems and their leader Regigigas is buried beneath the snow and may still house the sleeping giant.
In the Central-Eastern section of the Pokatu Region lzies an arid and relentless desert, plagued by a Millenium long Sandstorm, no one knows how the Sandstorm started, however researchers believe it may have been related to the outdated methods of farming of early settlers and caused the land to dry up. Many Rock, Ground & Steel type Pokemon inhabit the area and people have documented finding fossils buried in the sand from ancient Pokemon that likely used to roam what preceeded the desert.
Across the Pokatu Region one may find numerous lakes, these lakes are said to posess mystic properties that allow Psychic-Type Pokemon to train their powers to a greater level. Some believe the lakes' water is the most pure in all the world and could work as well as man-made Potions. There are 8 lakes, six are located in the center of the region and are known as the Gemini Lakes, the outer two lakes are located in the North-West and South-East respectively, they are known as the Eon Lakes as people have sighted seeing Latias and Latios at these lakes.
The Potaku Region also has many unofficial routes, these locations are not marked on the standard map and generally aren't nearly as well structured as the named routes. This is primarily seen in the Desert of Potaku where the entire area is able to be roamed although areas are complex and often split up by the rocky structures. The same thing occurs in the four Southern Forests, although much more restrictive in their movement due to the trees, the Forests are open for exploration. In addition the entire coast of the Potaku region is surfable and this allows trainers to travel from various towns to other towns, the most built up section of coast goes from Whispberry Town to Octorrot Town in the South-East. In addition to prevent trainers becoming lost at sea a large barrier around the region was built that detects Trainer ID and raises itself when they approach, thus allowing Wild Pokemon and Boats to travel in and out of the region freely. Some of the Ice Fields are also openly explorable, the largest one which connects; Tuberald Town, Bagaupe Town, Serpdew Town & Saxyan City together has large carved out paths but the terrain around can also be explored.
Settlements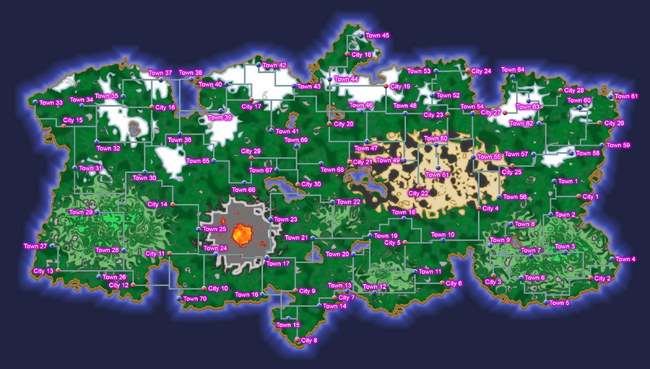 Throughout the Potaku Region are 100 Settlements ranging in size. These settlements are quite well developed and feature various places of interest. While almost all cities are connected directly by Routes, Celestique Town is only accessible from Slelow Town & Tumon City. Slorice Town is the official location of the Pokemon League.
Settlement Name
Number
Places of Interest
Castender Town
T1

Player's House
Rival's House
Meadow Hill

Hydraulan Town
T2

Bug Catching Clubhouse
Pokemon Trainer School
Hydraulen Arcanic Hall

Obony Town
T3

Obony Lookout
Deepwood Shrine
Tree of Bonds

Whispberry Town
T4

Ancient Lighthouse
Starfish Bay
Overgrown Cove

Octorrot Town
T5

Bay of Light
Lover's Ridge
Red Rock Spires

Bealax Town
T6

Bealax Lookout
Honey Tree Grove
Gate of Red Bark

Mikid Town
T7

Mikid Lookout
Deepwood Ruins
Honey Tree Farm

Aphelon Town
T8

Pokemon Farm
Botany Research Laboratory
Seed Recording Facility

Glockenger Town
T9

Glockenger Lookout
Odd Trees
Pinwheel Hill

Huntum Town
T10

Pokemon Ranch
Lonely Windmill
Sundial of Eras

Marial Town
T11

Marial Museum of Fossils
Golden Amber Tree
Old Marial Rail Station

Plasmis Town
T12

Statue of Storms
Plasmis Park
Ruins of Ampho Powerplant

Ocarsia Town
T13

Water Sampling Research Station
Waterwheel Bridge
Beachside Resort House

Charato Town
T14

Reef Research Laboratory
Violet Meadow
Bubbling Fountain

Ukelade Town
T15

Gokana Mansion
Ukelade Bikeway Terminus
Ukelade Bike Shop

Mandolate Town
T16

Pokemon Aquarium
Mandolate Bikeway Terminus
Razor Wheel Racetrack

Vibristy Town
T17

Mt. Bakuhatsu Entrance
Volcanic Mine
Vibristy Smelter and Blacksmith

Angklava Town
T18

Black Rock Spectacle
Snakeway Cave Entrance
Sugar Grass Farms

Wasight Town
T19

South Potaku Daycare
Snakeway Cave Entrance
Rainbow Tree

Pipsy Town
T20

Lakelight Tower
Mega Stone Analysis Lab
Pipsy Arcanic Hall

Steelnolia Town
T21

Treeway Paths
Croaking Pond
Overgrown River

Pyrovy Town
T22

Central Hotel
Whirlwind Tree
Forest of Voices

Picceet Town
T23

Iron Monolith
Mt. Bakuhatsu Entrance
Grindrock Mine Entrance

Fiddickel Town
T24

Volcano Move Tutor's House
Mt. Bakuhatsu Entrance
Grimlock Graveyard

Whayal Town
T25

Origin Pillars
Hot Rock Marketplace
Steam Jet Water Wheel

Engliyst Town
T26

Statue of Infernos
Engliyest Pokemon Playground
Tower of Fruit

Condunyx Town
T27

Unity Cliff
Lightway Tunnel
Dragon Hand Gates

Crumhoy Town
T28

Forest Move Tutor's House
Junglescape Observatory
Great Berry Tree

Lyphire Town
T29

West Potaku Daycare
Giant Mossy Rock
Windmill Market

Mijiwinkle Town
T30

Stone Hill
Gate of Return
Evostone Pillar

Conal Town
T31

Pokemon Historical Museum
Deeprock Cavern Entrance
Ancient Prophetic Wall

Airby Town
T32

Ancient Valley Entrance
Old Windmills
Dried Lake Basin

Pirtz Town
T33

Perilous Beach
Hand of the Ocean
Flowery Beachouse

Violise Town
T34

Snowleaf Hill
Coiling Ice Sculpture
Levitating Isle

Audidot Town
T35

Ruby Crystal
Audidot Sauna
Cracked Relics

Kettwood Town
T36

Pokemon Aviary Complex
Soul Hill Estate
Vanishing Maze

Ampling Town
T37

Tower of Souls
Golden Crystal
Meditation Dojo

Ductolin Town
T38

Frozen Teeth Lighthouse
Rainbow Stone Cave
Secret Marsh

Seruffon Town
T39

Snowplow Facility
Seruffon Arcanic Hall
Snow Bellows Horn

Tuberald Town
T40

North Potaku Daycare
Snowscape Bikepark
Razor Wind Bridge

Djoke Town
T41

Pokemon Reminder's House
Meteorite Research Facility
Moss Cliffs

Bagaupe Town
T42

Snowman Park
Grand Ice Pagoda
Cold Berry Farm

Serpdew Town
T43

Auroran Crystal Statues
Winding Iron Dome
Clockwork Tree Monument

Harpsige Town
T44

Giant Icy Rock
Snowflake Paths
Wishing Star Statue

Keymarine Town
T45

Ice Monolith
Northern Lighthouse
Sunken Ruins

Gonst Town
T46

Goonst Bikeway Terminus
Moonlight Crater
Great Tunnels of Gonst

Bassaar Town
T47

Oasis Hill
Bassaar Bikeway Terminus
Hot Sand Massages

Euphilla Town
T48

Euphilla Bikeway Terminus
Moonlit Wave Rock
Gracidea Garden

Flugereuse Town
T49

Iron Streak Quarry
Sunstruck Pit
Sandstone Spire

Hegeass Town
T50

Crevices of Sand
Rainbow Marketplace
Fire Bellows Horn

Taiteria Town
T51

Relic Tower
Ancient Sand Whirlpool
Fabled Ruins Entrance

Conaki Town
T52

Conaki Treat Shop
Spike Gates
Frosted Arches

Slideste Town
T53

Ancient Well
Golden Ring Oddities
Pebble Glow Creek

Lunadu Town
T54

Conductor Tower
Radiant Beach
Mangrove Banks

Samenrod Town
T55

Ancient Tablet
Heart of Ice Monolith
Oblivion Chain

Orgawba Town
T56

Ravaged Field
Hot Sand Gardens
Radiant Oasis

Balalaffre Town
T57

Cobalt Hill
Pokemon Aquarium
Mountains of Aegis

Buvajo Town
T58

Shrine of the Spirits
Ancestral Tower
Meditation Spring

Zithut Town
T59

Fishing Competition Hut
Hearty Hill Estate
Zithut Training Academy

Slelow Town
T60

Blizzard Train Station
Ice Peak Ruins
Stairs of Resurrection

Celestique Town
T61

Blizzard Train Station
Haunted Beach
Eclipse Observatory

Melorine Town
T62

East Potaku Daycare
Potaku Medical Labs
Tail Plateaus

Throgold Town
T63

Blue Steel Mine
Resonant Stones
Grand Throgold Bonfire

Sitood Town
T64

Northern Potaku Fishery
Fisherman's Hut
Dragon's Eye Rock

Turnodil Town
T65

Red Clay Colosseum
Barren Road
Cherrylight Tree

Synthame Town
T66

Field of Stones
Mega Crystal
Chamber of Elders

Aeolue Town
T67

Spiral Quarry
Grand Waterfall Marsh
Aeolue Bog

Ratchond Town
T68

Ratchond Honey Apiary
Sunset Valley Cliff
Glass Vale

Slorice Town
T69

Pokemon League
Victory Road Entrance
Spring of Valiance

Claplac Town
T70

Gene Cave
Potaku Battle Fronteir
Resort House

Piack City
C1

Professor Bonsai's House
Professor Bonsai's Lab
Pokemon Observation Lab
Sunny Fields

Trumold City
C2

Trumold Pokemon Gym
Grand Trumold Pokemon Park
Treework Houses
Vineway Bridges

Celled City
C3

South Potaku Power Plant
Celled Hedge Maze
Blue Bark Gate
Flowery Spires

Drue City
C4

Herbal Shop
Well of Sands
Glowing Fortunes
Ancient Clay Hall

Guinge City
C5

Guinge Pokemon Gym
Creek of Origins
Shedding Garden
Sunrise Hill

Vink City
C6

Potaku Casino
Grand Vink Hotel
High Roller Market
Resort Beach House

Clardigo City
C7

Clardigo Pokemon Gym
Torn Coast
Clardigo Castle
Rusted Drawbridge

Haite City
C8

Southern Lighthouse
Grand Golden Colosseum
Circles of Stone
Stonewall District

Vocey City
C9

Vocey Bikeway Terminus
Tubeline Paths
Bamboo Tower
Potaku Postal Hub

Troon City
C10

Moth Wing Tree
Three-Tail Farm
Guardian of the Ocean
White Seed Meadow

Freme City
C11

Freme Arcanic Hall
Potaku Carnival
Twisted Stairways
Soaring Statue

Accoreen City
C12

Pokemon Geological Research Facility
Crater of Light
Charged Stones
Pokemon Healing School

Xylagenta City
C13

Xylagenta Pokemon Gym
Pokemon Safari Zone
Slate Quarry Entrance
Shrine of Light

Tambilver City
C14

West Potaku Power Plant
Daitoryo Industries
Tambilver Tower
Red Mist Geyser

Doumson City
C15

West Potaku Mega Mart
Reedway River
Micro Caves
Stardust Crater Wall

Marellow City
C16

Marellow Pokemon Gym
Azure Crystal
White Grass Reserve
Glowing Fountain

Saxyan City
C17

Icefield Move Tutor's House
North Potaku Power Plant
Saxyan Concert Hall
Ribbon Ice Rink

Benze City
C18

Benze Pokemon Gym
Northern Ice River
Snowy Playground
Snow Rose Ring

Trianua City
C19

Move Deleter's House
Pokemon Broadcast Network
Trianua Bikeway Terminus
White Wave Statue

Flunt City
C20

Bridge of Growth
Fingers of The Lake
Flunt Mansion
Stairway to Nowhere

Recure City
C21

Ravaged Gate
Distorted Maze
Somukimasu's Lab
Cerebral Sauna

Panat City
C22

Desert Move Tutor's House
Desert Glass Spire
Red Sand Palace
Damp Cave Entrance

Harmundy City
C23

Harmundy Pokemon Gym
East Potaku Mega Mart
Effort House
Hard Stone Crystal

Bonbalt City
C24

Prof. Shuhasu's Lab
Tower of Rememberance
Misty Dunes
Manta Isles

Cymive City
C25

Sandstone Monolith
Grey Seed Garden
Dusty Library
Eternal Fire Shrine

Snarory City
C26

Blizzard Train Station
Snarory Arcanic Hall
Radiating Tower
Serpent's Pass Entrance

Tumon City
C27

East Potaku Power Plant
Spiral Mountain Entrance
Snowflake Lake
Mystic Voice Fountain

Chilet City
C28

Chilet Pokemon Gym
Thousand Scale Stairway
Powdered Chateau
Cold Seed Farm

Bassick City
C29

Gate of Time
Grand Clock Tower
Verdant Clock Tower
Stone Clock Tower

Bania City
C30

Gate of Space
Vast Garden
Lake of Auras
Lake of Revenge
Routes
Across the Potaku Region are a number of sections of paving that have been designated as Routes, these routes are properly fortified to provide safe travel between towns and cities. In addition to the Routes are many off-road areas that can be freely explored to discover secrets and hidden Pokemon. There are a total of 126 Routes across the Potaku Region, the most of any Region. Many of the Routes cover large distances nad tend to bend around the landscape, the longest single Route is Route 59 which is connected to Routes 55 and 56 on its East End and Conal Town on its West End.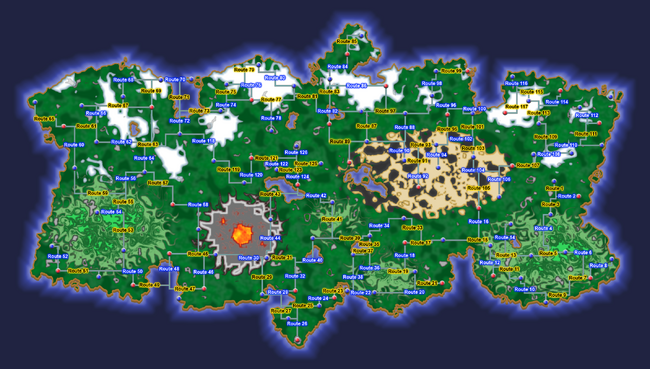 Route No.
North Exits
East Exits
South Exits
West Exits
Places of Interest
Off-Road Trails
1
Castender Town
None

Route 2

Route 3

None
Wooden Lookout
1
2
None
Piack City
None

Route 1

Route 3

None
1
3

Route 1

Route 2

None
Hydraulan Town
None
None
2
4
None
Hydraulan Town
Route 5
None

Coccoon Forest

Deepwood Forest

12
5
Route 4
Obony Town
None
Mikid Town

Speckle Light Trees

Deepwood Forest

16
6
None
None
Route 7
Obony Town

Vineway Maze

Deepwood Forest

12
7
Route 6
Trumold City
None
Route 9

Grand Trumold Wall

Deepwood Forest

9
8
Whispberry Town
None
Trumold City
None
Deepwood Forest
10
9
None
Route 7
None
Route 10
Fisherman's Bridge
4
10
Bealax Town
Route 10
Octorrot Town
None
None
7
11
None
Bealax Town
None
Route 12

Oddity Plateau

Deepwood Forest

14
12
Glockenger Town

Route 11

Route 13

Celled City
None

Glass Coverways

Deepwood Forest

7
13
Route 14
Mikid Town
None
Route 12

Oddity Plateau

Deepwood Forest

18
14
None
Aphelon Town
Route 13
None

Josei Eon Lake

Deepwood Forest

5
15
Route 16
Glockenger Town
None
Huntum Town
None
16
16
Drue City
None
Route 15
None
Bridge of Bellows
7
17
Route 33
Huntum Town
None
Guinge City
Sunrise Windmills
5
18
Guinge City
None
Route 19
None
None
11
19
Route 18
Marial Town
None
Route 36
Amber Woods
9
20
Marial Town
Route 21
None
Plasmis Town
Amber Woods
20
21
None
Vink City
None
Route 20
None
8
22
Route 38
Plasmis Town
None
None

Ampho Cave

Amber Woods

7
23
None
Ocarsia Town
Clardigo City
None
Ocarsia Island Caves
18
24
None
Clardigo City
Charato Town
None
None
6
25
None
Charato Town
Route 26
Route 27
Clustertunnel Cave
15
26
Route 25
None
Haite City
Ukelade Town
Clustertunnel Cave
9
27
Route 28

Route 25

Ukelade Town

None
None

Clustertunnel Cave

Sealight Bikeway

4
28
None
Vocey City
Route 27
Mandolate Town
Sealight Bikeway
11
29
Route 30
None
Mandolate Town
None

Mt. Bakuhatsu

Valley of Ancients

9
30
None
Vibristy Town
Route 29
Fiddickel Town

Mt. Bakuhatsu

River Rock Pass

8
31
None
None

Route 32

Route 40

Vibristy Town
Mt. Bakuhatsu
14
32

Route 31

Route 40

None
Vocey City
None
Perilous Cave
9
33
None
None
Route 17
Angklava Town
Wild Cane Fields
12
34
None
Angklava Town
Wasight Town
None
Snakeway Cave
5
35
Wasight Town
None

Route 36

Route 37

None
Kage Gemini Lake
2
36

Route 35

Route 37

Route 19
None
None

Wildleaf Grove

Amber Woods

22
37
None

Route 35

Route 36

None
Pipsy Town
Kage Gemini Lake
10
38
Pipsy Town
None
Route 22
Ocarsia Town
Amber Woods
19
39
Route 41
Wasight Town
None
Steelnolia Town

Kage Gemini Lake

Forest of Voices

20
40
Steelnolia Town
None
None

Route 31

Route 32

Umi Gemini Lake
8
41
Pyrovy Town
None
Route 39
None
Forest of Voices
8
42
Bania City
Pyrovy Town
None
Route 43
Moyasu Gemini Lake
13
43
None
Route 42
Picceet Town
None

Mt. Bakuhatsu

Moyasu Gemini Lake

7
44
Picceet Town
None
Vibristy Town
None

Mt. Bakuhatsu

Grindrock Mine

16
45
Whayal Town
Fiddickel Town
Route 46
Freme City

Mt. Bakuhatsu

Hill of Souls

Steamcrack River

30
46
Route 45
None
Troon City
None
Boltstone Cavern
12
47

Route 48

Route 49

Troon City
Claplac Town
None

Gene Cave

Bubblegold Islands

16
48
Freme City
None

Route 47

Route 49

None
Seafall Trench
9
49
None

Route 47

Route 48

None
Accoreen City
Seafall Trench
6
50
Crumhoy Town
None
Accoreen City
Route 51
Flutterbark Jungle
18
51
None
Route 50
Engliyst Town
Xylagenta City

Flutterbark Jungle

Lightway Tunnel

36
52
None
None
Xylagenta City
Condunyx Town

Flutterbark Jungle

Stonecity Cave

Slate Quarry

18
53
None
None
Crumhoy Town
Route 54

Flutterbark Jungle

Father Tree

25
54
Route 55
Route 53
None
Lyphire Town

Flutterbark Jungle

Blackwater Pits

16
55

Route 56

Route 59

None
Route 54
None
Flutterbark Jungle
8
56
None
Mijiwinkle Town

Route 55

Route 59

None

Flutterbark Jungle

Crystal Crater

12
57
None
None
Tambilver City
Mijiwinkle Town
Whispy Ridges
24
58
None
None
Whayal Town
Tambilver City

Mt. Bakuhatsu

Lonely Plateau

15
59
Conal Town

Route 55

Route 56

None
None

Flutterbark Jungle

Deeprock Cavern

34
60
Route 61
None
Conal Town
None

Deeprock Cavern

Breezewater Islands

18
61
None
Route 66
Route 60
Doumson City
None
7
62
None
Route 63
None
Airby Town

Dansei Eon Lake

Ancient Valley

13
63
Marellow City
Kettwood Town
Route 64
Route 62

Dansei Eon Lake

Ancient Valley

Nested Mountains

34
64
Route 63
None
Mijiwinkle Town
None
Ancient Valley
6
65
None
Doumson City
None
Pirtz Town

Coldcolour Fields

Reedway River

Gloworm Cave

38
66
Route 67
None
Airby Town
Route 61
Sharded Mountain
10
67
Audidot Town
Marellow City
Route 66
Violise Town

Snowleaf Meadow

Relic Canyon

12
68
None
Ampling Town

Audidot Town

Route 69

None
Hook Arch
9
69
Route 68
None
Marellow City
None
None
6
70
None
Ductolin Town
Route 71
Ampling Town
Crystalsand Islands
3
71
Route 70
None

Route 72

Route 73

None
Shining Trench
9
72

Route 71

Route 73

None
Kettwood Town
None
Shining Trench
12
73
None
Seruffon Town
None

Route 71

Route 72

Shining Trench

Blueye Crag

15
74
Route 75
Saxyan City
None
Seruffon Town
None
17
75
Tuberald Town
None
Route 74
None
None
10
76
Route 79
None
Saxyan City
Tuberald Town

Razor Wind Bridge

Barren Tree Forest

24
77
Serpdew Town
Route 81
Route 78
Saxyan City

Hikari Gemini Lake

Barren Tree Forest

14
78
Route 77
None
Djoke Town
None

Hikari Gemini Lake

Crater Mountain

Moss Cliffs

16
79
None
Bagaupe Town
Route 76
None
Barren Tree Forest
7
80
Bagaupe Town
Serpdew Town
None
None
Barren Tree Forest
14
81
None
Route 82
None
Route 81
Three-Pierce Mountain
15
82
Route 83
Gonst Town
Flunt City
Route 81

Kaze Gemini Lake

Skyclaw Island

9
83
Harpsige Town
Route 86
Route 82
None
Kaze Gemini Lake
5
84
Benze City
None
Harpsige Town
None
Northern Ice River
12
85
None
Keymarine Town
Benze City
None
Northern Ice River
6
86
None
Trianua City
None
Route 83

Winter Canyon

Edgefall Crevice

18
87
Route 97
Bassaar Town
None
None
Restless Bridge
5
88
Euphilla Town
None
None
Route 90
Grandstorm Desert
13
89
Flunt City
Bassaar Town
Recure City
None
Grandstorm Desert
16
90
None
Route 88
Flugereuse Town
Bassaar Town

Suna Gemini Lake

Grandstorm Desert

Sunstruck Pit

10
91
Route 93
None
Route 92
Flugereuse Town

Grandstorm Desert

Iron Streak Quarry

9
92
Route 91
None
Panat City
None

Suna Gemini Lake

Grandstorm Desert

Red Sand Ruins

6
93
None
Hegeass Town
Route 91
None

Grandstorm Desert

Fiery Quicksand Pit

14
94
Hegeass Town
None
Taiteria Town
None

Grandstorm Desert

Fabled Ruins

15
95
Harmundy City
Route 102
None
Hegeass Town
Grandstorm Desert
19
96
Conaki Town
None
Route 100
Euphilla Town
Wispfreeze Forest
9
97
Trianua City
Euphilla Town
None
Gonst Town
None
25
98
Slideste Town
None
Conaki Town
None
Pebble Glow Creek
10
99
None
Bonbalt City
None
Slideste Town
Pebble Glow Creek
18
100
Route 96
Lunadu Town
Harmundy City
None
Mangrove Beach
8
101
Lunadu Town
None
Route 103
Route 102
None
10
102
None
Route 101
None
Route 95

Grandstorm Desert

Bridge of Lights

9
103
Route 101
None
Samenrod Town
None
Grandstorm Desert
15
104
Samenrod Town
Route 106
Route 105
None
Grandstorm Desert
14
105
Route 104
None
Drue City
None

Grandstorm Desert

Clay Caverns

6
106
None
Cymive City
Orgawba Town
Route 104

Grandstorm Desert

Flickering Oasis

14
107
Balalaffre Town
None
None
Cymive City
Mountains of Aegis
7
108

Route 109

Route 110

Buvajo Town
None
Balalaffre Town
None
15
109
None
None

Route 108

Route 110

Melorine Town
Spectre Canyon
19
110
Route 111
Zithut Town
None

Route 108

Route 109

None
8
111
Route 112
Snarory City
Route 110
None
None
11
112
Slelow Town
None
Route 111
None

The Lost Routes

Ice Peak Wall

12
113
None
Route 114
Melorine Town
Throgold Town
Blue Steel Mine
10
114
Chilet City
None
None
Route 113

The Lost Routes

Blue Steel Mine

16
115
None
None
Throgold Town

Route 116

Route 117

Flakeform Maze
11
116
Sitood Town
None

Route 115

Route 117

None
Draconic Redoubt
4
117

Route 115

Route 116

None
None
Tumon City

Spiral Mountain

Glacial River

13
118
None
None
Turnodil Town
Kettwood Town

Dustwheel Bridge

Lonely Clay Field

3
119
None
Synthame Town
None
Turnodil Town
Ancient Woods
8
120
Bassick City
None
None
Synthame Town
None
7
121
None

Route 125

Route 126

Route 122
Bassick City
Maze of the Deep
13
122
Route 121
None
Aeolue Town
None

Maze of the Deep

Spiral Quarry

2
123
Route 125
None
Route 124
Aeolue Town
Aeolue Bog
2
124
Route 124
None
Bania City
None

Moyasu Gemini Lake

Aeolue Bog

2
125

Route 121

Route 126

Ratchond Town
Route 123
None
Sunset Valley
3
126
Slorice Town
None

Route 121

Route 125

None

Victory Road

Misty Garden

1