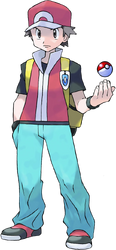 A Pokémon Trainer is a class of a certain type of person, Trainers are traveling characters that catches many types of Pokémon to use in fights called, Pokémon battles, they befriend, help and soon after become teams to gain badges from leaders in various kinds Pokémon Gyms. There are many trainers throughout the entire Pokémon series.
Notable Pokémon Trainers
Any page that has [[Category:Pokémon Trainers]] on them will be added here automatically.
Gallery
Ad blocker interference detected!
Wikia is a free-to-use site that makes money from advertising. We have a modified experience for viewers using ad blockers

Wikia is not accessible if you've made further modifications. Remove the custom ad blocker rule(s) and the page will load as expected.