Pokémon Stadium 3
Developer(s)
Phazonworks
Publisher(s)
Fantendo
Platform(s)
Wii U Plus
Age Rating(s)
E
Pokémon Stadium 3
(as its known in development) is the latest Pokémon Stadium title in the series, said to be the most expansive yet.
Though not much has been revealed as of gameplay (other than following traditional Stadium formula), it has been revealed to be compatible with Pokémon Iron/Amber and Prism versions.
Triad City
Triad City can be considered the hub world for the Stadium, having all the main attractions, as well as other things you might not expexct.
Stadium
Traditionally, there's always a gigantic Stadium with several cups ready to battle in, usually with specific rules and regulations.
Poké Cup: Traditionally, this cup is for Pokémon that can put up a decent fight; there's no restrictions on evolutionary courses, but only Pokémon levels 50 to 55 can participate.
Prime Cup: ???
Petit Cup:  ???
Pika Cup: ???
Challenge Cup: ???
Honura Cup: ???
Legend Cup: The Legend Cup. In this you must face 8 trainers in succession (like in any other cup); unlike other teams however, this cup has opponents who carry solely Legendary Pokemon, this category including pseudo-Legendaries like Dragonite, Tyranitar, etc.
Free Battle Arena
Gym Leader Castle
Pokémon Lab
The Minigame Archipelago
VS Giovanni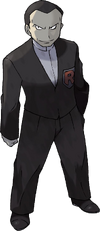 It seems that completing Gym Leader Castle and the Stadium somehow opened up a cave entrance to a hidden area beneath the land; wouldn't ya know it, it's the hideout of former Team Rocket leader Giovanni. He's been training for years. He's been readying himself for the moment to come back and reestablish his command over Team Rocket. This is it: the very final battle!
Pokémon
Ability
Types
Held Item
Moves

Tauros
Anger Point
Persim Berry

Wild Charge
Earthquake
Outrage
Zen Headbutt


Moltres
Pressure
White Herb

Solar Beam
Sunny Day
Hurricane
Overheat


Mewtwo
Pressure (Insomnia)
Mewtwonite Y

Psystrike
Focus Blast
Shadow Ball
Hyper Beam


Nidoqueen
Poison Point
Sitrus Berry

Superpower
Venoshock
Earthquake
Skull Bash


Nidoking
Rivalry
Sitrus Berry

Megahorn
Thunderbolt
Earthquake
Fire Blast
Pokémon
Ability
Types
Held Item
Moves

Tauros
Anger Point
Persim Berry

Wild Charge
Earthquake
Outrage
Zen Headbutt


Landorus
Sand Force
Shield Shell (Protects from damaging moves for one turn)

Fissure
Sky Drop
Focus Punch
Crunch


Greninja
Protean
Expert Belt

Blizzard
Hydro Pump
Shadow Sneak
Gunk Shot


Ferrothorn
Iron Barbs
Rocky Helmet

Iron Head
Power Whip
Rollout
Explosion


Salamence
Moxie
Salamencite

Dragon Claw
Fire Fang
Thunder Fang
Fly


Houndoom
Unnerve
Houndoominite

Sunny Day
Solar Beam
Inferno
Crunch
Trivia