Pokémon Sparkle Version
Developer(s)
FlameKing Enterprises
Publisher(s)
Nintendo
Platform(s)
Nintendo Go
Genre(s)
RPG, Adventure
Release Date(s)
Late Summer 2015
Mode(s)
Main Game, Mystery Gift, Options
Age Rating(s)
ESRB: Everyone 10+
Media Included
Nintendo Go Cartridge
Pokémon Sparkle Version
(Known as Special Poket Monsters in Japan) is the first game in the Seventh Generation of Pokémon, and will take place in the 
Sondar Region
. It has some old things return, like Starter Pokémon and Legendaries, a Storyline, 3D Graphics, Pokémon Amie, and more. Some new things, however, are the two new typings, Robotic Type and Electric Type, Triple and Free-for-All Battles, Apps/Games to download on the éPhone, and for you to make more choices during the story (like 
when you get the option to work for Team Star
.
Pokémon Sparkle Version is coming out August 2016 for the Nintendo Go, and is a Launch Tittle. It will be coming out along-side the other Launch Tittles.
Gameplay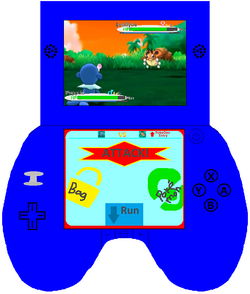 The game runs on an updated version of the Gen. VII engine, giving the graphics a little more HD than the ones in
Pokémon Sun & Moon
. Other than that, it plays pretty similar to the other games in the past.
éPhone
The éPhone is a replacement for both the PokéDex and the PokéGear. It's basically the iPhone of the Pokémon World. You can download apps (such as games and other in-game tools), music, and also numbers from various trainers, so you can re-challenge them later. But most importantly, Prof. Cypress can download the PokéDex App, which basically acts as your PokéDex. The new thing about it is that you don't have to catch the Pokémon to add them to the PokéDex! You can just press a button on the touch screen mid-battle to get it's info. It wont even take up a move!
New Typings
There are two new typings being added. These are the Robotic Type and the Special Type. Here are the Pokémon that have been retyped.
In addition to these two new typings, the type chart was changed. Here is the new updated chart.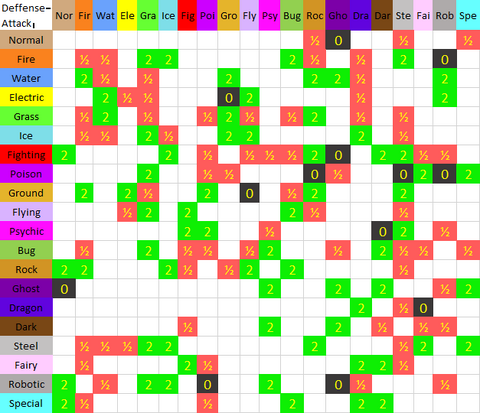 There are also three new contest typings These are Fun, Spooky, and Swagger. In addition to this, the moves has gone through some re-typing, and each Pokémon are assigned to one or two of these typings, as well as their normal elemental typings.
New Battle Systems
Contests
Story
The story starts with a professor. He introduces himself as Professor Alexander Cypress, and welcomes you to the world of Pokémon! He reveals that he puts forth most of his studies into the ancient past, to discover how things used to be. He then asks if you're male, female, name, what you look like, and finally, asks you what your dream is. You can then pick between Pokémon Battle Master, Perfect Pokémon Performer, or a Pokémon Professor. Whichever you choose will decide the story for the whole entire game.
Characters
The avatar characters for the game! Their default names are Logan and Kaylie, but as always, can be renamed to whatever the player chooses.
The can also be customized (to some extent) at the beginning of the game. They can be customized further, but here is what's default:
Friends
Team Star
They are a team of Pokemon Trainers who are trying to get every to leave the Sondar Region so they can get all of the Pokemon for themselves, and build their empire so they can prepare for world domination!
Gym Leaders
Image
Badge
Team
Residence

Tripp (Normal)
Squirffy (Normal)

Tumbell (Normal/Steel)
Squirffy (Normal)
Zadashi (Normal/Fire)
Kangaskhan (Normal) *

Nordalon City

Sherbi (Fairy)
Splairywinkle (Fairy)

Splairywinkle (Fairy)
Genieous (Fairy/Psychic)
Sourbet (Fairy/Poison)
Musharna (Psychic) *

Gorgious City

Honedge (Steel/Ghost)
Piretesteel (Steel)
Barblados (Steel/Fighting)

Aeigislash (Steel/Ghost)
Barblados (Steel/Fighting)
Durant (Bug/Steel)
Lairon (Steel/Rock)
Steelix (Steel/Ground) *

Camoladen City
Pokémon
See Generation VIII (Sondar)/Pokémon for more information.
There are plans for there to be 140 New Pokémon, along with some old ones returning. The starters are Lizabud, Ashow, and Squiduid. The mascot for the game is the legendary Pokémon Empraking.