Ad blocker interference detected!
Wikia is a free-to-use site that makes money from advertising. We have a modified experience for viewers using ad blockers

Wikia is not accessible if you've made further modifications. Remove the custom ad blocker rule(s) and the page will load as expected.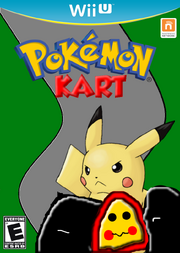 Pokemon Kart is a game made by Nintendo, Retro Studios, Game Freak, HAL Laboratory and United Front Games. The game takes the Pokemon concept and puts karting elements in. Unlike other racing games, this also has Pokemon elements, like moves, HP, and Pokemon-style items. The game has a story mode, which is similar to the main Pokemon games, along with a few other modes, like Free Race, Tournament and Online Race.
Story Mode
In Story Mode, you go through the Quikoh region, a region where racing with Pokemon are the people's tradition. There are 8 karting stadiums to go through, with there stadium champions. Using your Pokemon, you race the champions along with 6 other challengers. You have to get 1st to obtain the Stadium Trophy, and you have to collect 8 of them before going to the Elite Tournament, where you can face the Elite 4 in the longest track in the game, and the Elite 4 are challenging, with powerful moves and speedy Pokemon. When you start the game, before you leave your home, your mother informs you it's a big world out there, and that you must be responsible, and gives you one Potion to prepare you on the journey. You visit Professor Sapling to get your starter pokemon, but your rival is choosing one too, he chooses the one thats effective against your starter. Before you go off into the first route, your rival wants to have a short race with you. No matter if you win or lose, you move on. Basically, gameplay on the overworld is just like the main Pokemon games. But when you encounter a Pokemon in the tall grass, you battle go into a Wild Battle Course, like the Battle mode in Mario Kart. You catch Pokemon with the Kart Ball. There are 4 types of Kart Balls, the Kart Ball, the Great Kart Ball, the Ultra Kart Ball and the Master Kart Ball. There are other Kart Balls too. There are 4 types of items, Key Items, Launch Items, Self Items and Overworld Items. Key Items are special items used to either advance the story or use for certain areas. Launch Items are used while in Race or Battle, that can be launched at opponents. Self items can be used in Race and Battle and are used on the Pokemon that's holding it. Overworld Items are used on the overworld to change your party's certain stats, like evolution state and level.
Story Tracks:
-Wild Battle Course
-Trainer Track (Grass)
-Trainer Track (Cave)
-Trainer Track (Snow)
-Trainer Track (Beach)
- Pyrite City Stadium
- Obsidian City Stadium
- Quartz City Stadium
- Sapphire City Stadium
- Amethyst City Stadium
- Hematite City Stadium
- Lapis City Stadium
- Jadeite City Stadium
- Silver Island Cavetop Track
- Elite 4 Ultimate Course
- Champion Final Battle
Free Race
In Free Race, you can use any of the 718 Pokemon to race in the Story Tracks and Free Tracks. You can also choose what kart the Pokemon uses, and a set of Rent Moves. You can also use your Pokemon from Story Mode. Items are picked up on the track instead of items in the bag. You can also have up to 4 players.
Free Tracks:
- Ocean Swirl
- Grassy Plains
- Thin Ice Whirlaround
- Hollow Forest
- Undergrounds of Poison
- Cloudy Sky
Tournament
In Tournament, you can go through a random set of 4 tracks, against either 8 or 12 other racers. At the end of each track, each racer gets points depending on what place they're in at the end of the track. The player that gets the most points wins. The same rules apply as Free Race. Choose from all 718 Pokemon, any tracks, and all else. You can also have up to 4 players in the Tournament too, plus, you can do a Team Tournament, where racers are separated into 2 teams, and depending on the place that each team racer ends in combines with the whole team of racers amount of points. The team that gets more points wins the tournament.
Online Race
In Online Race, you should probably know what happens. You battle with other people around the world online. It also has the Nintendo Network functions previously implemented in Mario Kart 7.
Racers
in pokemon kart you start off with 19 racers. as the game progresses you gain more pokemon to race with. pokemon will also evolve and this will unlock new racers also this means you can get up to 57 characters with out unlocking others.
name
type and pic
abillitys
super effective move
stats                   
strengths and weaknesses
pichu
















-charm

-thunder shock

-nasty plot

-sweet kiss

thunder wave: turns the other racers controls backwards

handaling 2/10

offence 2/10

defence 1/10

accelaration 2/10

weight 1/10

speed 3/10

strong facing

flying and water

weak to

ground

pikachu










-wild charge

-discharge

-thunder bolt

-spark

electro ball: throws a big ball of electricity at the opponents. it will act like a mario kart shell

weight 2/10

offence 3/10

defence 2/10

accelaration 2/10

handaling 2/10

speed 6/10

strong facing

flying and water

weak to

ground

raichu













-quick attack

-thunder shock

-thunder bolt

-tail whip

electo ball

weight 3/10

offence 6/10

defence 3/10

accelaration 4/10

handaling 3/10

speed 7/10

strong facing

flying and water

weak to

ground

bulbasaur













-poison powder

-razor leaf

-seed bomb

-tackle

vine whip: pulls the closest opponent towards you

weight 2/10

offence 3/10

defence 2/10

accelaration 3/10

handaling 3/10

speed 3/10

strong to

rock, water, fairy and grass

weak to

flying, fire, psychic and ice

ivysaur













-take down

-razor leaf

-leach seed

-poison powder

solar beam: fires a beam of light both infront and behind

weight 3/10

offence 3/10

defence 3/10

accelaration 4/10

handaling 3/10

speed 3/10

strong to

rock, water, fairy and grass

weak to

flying, fire, psychic and ice

venasaur













-razor leaf

-worry seed

-leach seed

- poison powder

pettle blissard: sends a blissard of leafs infront slowly chipping away damage

weight 3/10

offence 4/10

defence 4/10

accelaration 6/10

handaling 4/10

speed 4/10

strong to

rock, water, fairy and grass

weak to

flying, fire, psychic and ice

charmander

-ember

-smokescreen

-fire fang

-slash

flame wheel: turns into a wheel of flame and goes fast for a short time

weight 2/10

offence 3/10

defence 2/10

accelaration 3/10

handaling 2/10

speed 4/10

strong to

grass, bug ice and steal

weak to

ground rock and water

charmeleon

-flamethrower

-smokescreen

-fire fang

-slash

flame wheel: turns into a wheel of flame and goes fast for a short time

weight 3/10

offence 3/10

defence 3/10

accelaration 4/10

handaling 3/10

speed 4/10

strong to

grass, bug ice and steal

weak to

ground rock and water

charizard

-air slash

-heat wave

-wing attack

-flame burst

flare blitz:

same as flame wheel but more power then speed

weight 3/10

offence 4/10

defence 4/10

accelaration 6/10

handaling 4/10

speed 4/10

strong to

grass, bug  and steal fighting

weak to

ground rock ice electric and water

squirtle

-bubble

-skull bash

-aqua tail

-water gun

rapid spin:

turns into a spinning bouncing shell

weight 2/10

offence 3/10

defence 3/10

accelaration 2/10

handaling 3/10

speed 2/10

strong to

fire ground and rock

weak to

electric and grass

wartotle

-water pulse

-bubble

-skull bash

-aqua tail

rapid spin: turns into a spinning bouncing shell

weight 3/10

offence 3/10

defence 4/10

accelaration 3/10

handaling 3/10

speed 3/10

strong to

fire ground and rock

weak to

electric and grass

blastoise

-hydro pump

-bubble

-skull bash

-aqua tail

flash cannon:

laser gun shot forwards

weight 3/10

offence 4/10

defence 4/10

accelaration 4/10

handaling 4/10

speed 4/10

strong to

fire ground and rock

weak to

electric and grass

chikorita

-razor leaf

-poison powder

-body slam

-tackle

solar beam: fires a beam of light both infront and behind

weight 4/10

offence 4/10

defence 6/10

accelaration 4/10

handaling 4/10

speed 4/10

strong to

ground rock and water

weak to

bug flying fire ice and poison

bayleef

-magical leaf

-light screen

-poison powder

-body slam

solar beam: fires a beam of light both infront and behind

weight 4/10

offence 6/10

defence 6/10

accelaration 6/10

handaling 6/10

speed 6/10

strong to

ground rock and water

weak to

bug flying fire ice and poison

meganium

-magical leaf

-petal dance

-poison powder

-body slam

pettle blissard: sends a blissard of leafs infront slowly chipping away damage

weight 6/10

offence 6/10

defence 8/10

accelaration 8/10

handaling 8/10

speed 8/10

strong to

ground rock and water

weak to

bug flying fire ice and poison

cyndaquil

-ember

-flame charge

-smoke screen

-rollout

flame wheel: turns into a wheel of flame and goes fast for a short time

weight 2/10

offence 4/10

defence 4/10

accelaration 6/10

handaling 4/10

speed 6/10

strong to

grass, bug ice and steal

weak to

ground rock and water

quilava

-flamethrower

-flame charge

-smoke screen

-rollout

flame wheel: turns into a wheel of flame and goes fast for a short time

weight 4/10

offence 6/10

defence 4/10

accelaration 8/10

handaling 4/10

speed 8/10

strong to

grass, bug ice and steal

weak to

ground rock and water

typhlosion

-flamethrower

-flame charge

-smoke screen

-rollout

eruption:

makes alot of volcanos

weight 6/10

offence 6/10

defence 8/10

accelaration 8/10

handaling 8/10

speed 8/10

strong to

grass, bug ice and steal

weak to

ground rock and water