Pokémon Amber & Petrol

The game's English logos.

Developer(s)
Game Freak, Icy Cold Gaming Industries, Pyro Enterprises
Publisher(s)
Nintendo
Platform(s)
Nintendo 3DS
Release Date(s)
TBA
Age Rating(s)
7+
Genre(s)
RPG
Series
Pokemon
Predecessor
Pokemon Sun & Moon
Successor
Pokemon Tinted Black and Pure White
Cost
$49.99
"Pokemon Amber & Petrol Versions" are the newest editions in the
Pokemon
series. It will be developed by both Game Freak and
Icy Cold Gaming Industries
 with assistance from
Pyro Enterprises
, and will be published by
Nintendo
on the
Nintendo Switch
. The game will feature about 100 new Pokemon, a new region based on the western United States named Alkoso, new gameplay mechanics, and more. The game will be released on an unknown date, and there are appearantly plans to have an event Pokemon or two.
Gameplay
The graphics of the game are the same as the previous entries, being in a 3D cell-shaded art style. The models will be the same for both the overworld and the battles. You still run around, catch Pokemon, and can evolve the Pokemon you have in many intriguing ways. Breeding also returns as well. Pokemon Refresh and Poke Pelago return, along with the GTS from the 6th generation. However, there are changes in the gameplay, making Gen 8 "the ultimate Pokemon generation."
Origin Forms have been introduced.
Two new types have been introduced: Sound type and Cosmic type. Much like Fairy type, it'll be added to previous Pokemon like Exploud, Clefairy, Beeheeyem, and Noivern.
The Exp. Share has been updated. By default, the Exp Share is set to give EXP to all Pokemon. However, you can change it at any time for any of your 6 Pokemon in your party.
The letter limit for naming Pokemon is now 16.
SOS Battles from Sun and Moon return, but they now have a limit on how many Pokemon can show up, with that number being 75.
PokeBall Changes
The Heal Ball has a higher catch rate if the Pokemon has full HP.
The Love Ball's catch rate increases when the other Pokemon's gender is the opposite of the others.
The Premier Ball has a higher catch rate when the Pokemon is legendary.
The Moon Ball has a higher catch rate for Fairy and Dark types.
Moveset Changes
New Typings
Cosmic type was introduced in this generation. Along with Deoxys, Elgyem, Clefairy, and Jirachi, this typing was given to new Pokemon, old Pokemon, and Past Forms.
Cosmic is super effective against Normal, Fighting, and Steel.
Cosmic is weak to Ghost, Psychic, and Poison.
Sound type was introduced in this generation. Along with Noivern, Exploud, and Meloetta, this typing was given to new Pokemon, old Pokemon, and Past Forms.
Sound is super effective against Normal, Cyber, Electric, and Flying.
Sound is weak to Steel, Rock, Water, and Ground.
Alkoso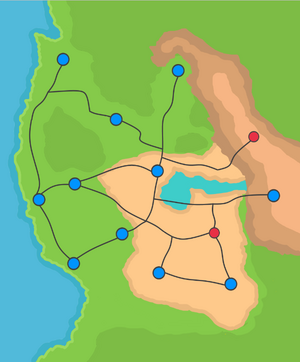 The Alkoso region is based on the western side of the United States. As such, many towns and locations are based on real life locations.
Shōwakusei Town: Your starting town in the game. It's only a few towns away from Suigin Town, and it's where the professor's lab and police station reside. You get your starting Pokemon here.
Suisei Town: The town between Shōwakusei and Suigin. It's known for it's shopping center and it's train station, which can take people all around the region. In addition, it's water fountain was used in tons of movies throughout the years.
Pelipper Prison: A prison off the coast of Meiōsei City. It's home to the gym of Lilac, the Meiōsei City Gym Leader. It was once a prison that hosted 1,000's of prisoners, but was closed due to health concerns and strange hauntings.
Ginga Avenue: The most spectacular and grand city in all of Alkoso. This town is home to many entertainment venues, a Game Corner, resorts, the Battle Frontier, and of course, the Elite 4's palace.
Story
The game starts off with you, the player, and your father moving from Unova to Alkoso due to a fatal earthquake that struck the region hard. The person who suggested you move there was your dad's friend, Art. Soon enough, you make it to Alkoso and find out that Art is the region's local professor, Prof. Fraser. After exploring your hometown for a bit, you finally come across his lab, where you meet Prof. Fraser's assistant, Leaf. After some explanation, it's revealed Prof. Fraser has a son named Larch, who comes in and helps you navigate around the town. When you finish looking around, Prof. Fraser is ready to give you one of his three Pokemon: Jolily, Feukalb, and Pugdle.
Depending on which starter you choose, Larch will pick the Pokemon that is strong against yours. After getting your starter and fighting Larch in a one-on-one fight, you find out that Nishirika uses a different system for gym leaders. Instead of using one type of Pokemon, they use two types each. It's also revealed that Alola isn't too far from Alkoso and people usually like to travel there during the summer.
After that, you meet Senna Lantana, another child living in Alkoso. She heard about "the new kid" and decided to go and meet him.
Gym Leaders
Gym Leader
Description
Pokemon

TBA

Antonio, Suigin Town Gym Leader

Antonio is the Suigin Town gym leader and specializes in Normal and Fairy types. He's a schoolar from the Suigin Town School for Developing Trainers, and has been known to be a successful trainer. He lives in the town next to Suigin, Suisei Town.

Northupine (Lvl. 9)
Mosoncky (Lvl. 10)

TBA

Magnolia, Kinboshi City Gym Leader

Coldier (Lvl. 14)
Keversun (Lvl. 15)
Helionna (Lvl. 16)

TBA

Sage, Chikyū City Gym Leader

Jaspurr (Lvl. 19)
Grotle (Lvl. 19)
Dugtrio (Lvl. 20)

TBA

Lotus, Kasei City Gym Leader

TBA

Briar and Rose, Mokusei City Gym Leaders

Constelleon (Lvl. 26)
Noibat (Lvl. 28)
Melodeon (Lvl. 28)
Elgyem (Lvl. 30)

TBA

Lilac, Dosei City Gym Leader

Frillish (Lvl. 36)
Spiritomb (Lvl. 37)
Skulabone (Lvl. 38)
Shattrust (Lvl. 39)

TBA

Hawthorne, Ten'nōsei City Gym Leader

Skulabone (Lvl. 40)
 Dugdrinity (Lvl. 40)
Aggron (Lvl. 42)
Buzzkateer (Lvl. 42)
Metagross (Lvl. 44)

TBA

Begonia, Nepuchūn City Gym Leader

Salamence (Lvl. 50)
Flygon (Lvl. 52)
Tyrantrum (Lvl. 52)
Oranguru (Lvl. 54)
Reuniclus (Lvl. 57)
Enigmantis (Lvl. 58)
Evil Team
The evil team for this game is known as Team Genome. They plan to tap into the hidden power in certain Pokemon and bring out their "Origin Forme", which gives them tons of power. They hide behind a multi-million dollar corporation known as Rainbow Corporation, run by the CEO, Hawthorne Lantana.
Team Member
Description
Pokemon

TBA

Hawthorne, Team Genome CEO

TBA

TBA

TBA

Jessamine, Team Genome COO

TBA
TBA

TBA

Aloes, Team Genome CFO

TBA
TBA

TBA

Yew, Team Genome Scientist

TBA
TBA

TBA

Genome Staff

TBA
TBA
New Pokémon
As stated before, there will be 132 new Pokemon in these new versions. 100 Pokemon will be original, while the other 32 Pokemon will be Past Forms.
40/100
Image and Name
PokeDex Entry
Evolutionary Chain
Type

TBA

Jolily, the Joey Pokemon

Jolily's have a sense of adventure, always leaving their parents for a short time. Despite that, they're easily frightened and are scared of nearly everything, and usually flee back to their families.

Evolves from: NONE

Evolves into: Kangaroot

TBA

Kangaroot, the Boxer Pokemon

Kangaroot are usually seen as the scrappy teenagers of the group. They seek constant love and attention, but have a habit to kick every opponent. These same kicks have killed many trainers before.

Evolves from: Jolily

Evolves into: Marshupial

TBA

Marshupial, the World Champion Pokemon

Marshupial's back is covered in a thick layer of moss and vines. This is to keep it humid, which gives it a better sense of concentration. In addition, the fungi keeps it's heart pumping.

Evolves from: Kangaroot

Evolves into: NONE

TBA

Feukalb, the Calf Pokemon

Feukalb are very headstrong creatures. No matter who the opponent is, they'll always charge head on to defeat them in a one-on-one fight. The results are always mixed, but Feukalb usually ends up losing.

Evolves from: NONE

Evolves into: Zesteer

TBA

Zesteer, the Steery Pokemon

Zesteer are loyal companions, but easy to anger. Their temper is shown by the sparks of fire coming from it's nostrils. It can run up to 45 MPH, with one even competing in the Alola Sports Tourney once.

Evolves from: Feukalb

Evolves into: Combull

TBA

Combull, the Bull Pokemon

Combull are often called "the angriest Pokemon alive", even rivalling the likes of Primeape. The gas in their noses is constantly igniting and making smoke. They're known to have a rivalry with Lievern.

Evolves from: Zesteer

Evolves into: NONE

TBA

Pugdle, the Platypus Pokemon

Pugdle are regarded as the most playful creatures in Nishirika. Known for their playful and bouncey natures, they've extremely naive and don't know they're in danger until it's usually too late.

Evolves from: NONE

Evolves into: Platylute

TBA

Anaturate, the Wave Pokemon

Anaturate are slowly becoming more and more humble each day. No matter who the opponent is, they'll always congratulate them and treat them like a friend. Despite this, they're very competitive.

Evolves from: Pugdle

Evolves into: Platorrent

TBA

Platorrent, the Swimmer Pokemon

Platorrent are the best swimmers around. They're tail is used a shield and a propellor, which lets them move extremely fast. They can launch balls of water at opponents, but never use them to cheat.

Evolves from: Platylute

Evolves into: NONE

TBA

Healtern, the Tern Pokemon

Healtern is very doctor-like. It's wings contain special medicines and juices that are used to heal different kinds of Pokemon. It was even nicknamed "The Nurse Joy of Pokemon".

Evolves from: NONE

Evolves into: Infloanza

TBA

Infloanza, the Tern Pokemon

While it is still a medicine-based Pokemon, Infloanza is slowly catching a serious disease that is slowly taking over it's body. Not even it's medicines can heal said disease.

Evolves from: Healtern

Evolves into: Spectern

TBA

Spectern, the Specter Pokemon

By the time Infloanza evolves, the disease has gotten to it and it now gains the Ghost typing. The infection has not killed it, but instead has forever changed it's anamoty and powers.

Evolves from: Infloanza

Evolves into: NONE

TBA

Poodamoth, the Poodle Moth Pokemon

Poodamoth are seen as a very peaceful and docile species of Pokemon. They're usually seen mostly status moves instead of physical moves, as it isn't in their nature to be "mean".

Evolves from: NONE

Evolves into: Joustcoon

TBA

Joustcoon, the Shell Pokemon

Joustcoon were actually part of a common ancestor that was also connected to Escavalier. They've grown more battle-hardened, and aren't afraid to attack any Pokemon that threaten it or it's kind.

Evolves from: Poodamoth

Evolves into: Buzzkateer

TBA

Buzzkateer, the Muskateer Pokemon

If Poodamoth was the vision of a weakling, then Buzzkateer is the vision of a noble being. It'll defend any Pokemon that's in trouble, and it won't hesitate to destroy it's enemies flawlessly.

Evolves from: Joustcoon

Evolves into: NONE

TBA

Northupine, the Spikes Pokemon

Northupine are usually very peaceful but easily shocked. If they see one thing that they considered out of the ordinary, their spikes pop up in defense. They huddle with other Northupine to stay warm during the winter.

Evolves from: NONE

Evolves into: Porcuspines

TBA

Porcuspine, the Spikes Pokemon

Porcuspine and Skuntank, like Escavilier and Joustcoon, once shared a common ancestor. Porcuspine, along with it's spine being layered in dangerous spikes, has another defense mechanism: it's stench.

Evolves from: Northupine

Evolves into: NONE

TBA

Jaspurr, the Jasper Pokemon

Jaspurr can usually be found in caves. They're constantly being hunted for their crystals that hang around their neck, which sell on the black market for a lot of money. They're very mischievous and act like house cats.

Evolves from: NONE

Evolves into: NONE

TBA

Mirorim, the Mirror Pokemon

Mirorim accidentally lure the souls of deceased Pokemon into it's glass and traps them there until the glass is broken. It does this without knowing, and is overall very innocent and childlike.

Evolves from: NONE

Evolves into: Shattrust/Reflectairy

TBA

Shattrust, the Reflection Pokemon

Shattrust are born when a trainer neglects Mirorim and then knocks it out. Because of their trainer's neglect, it holds an immense hatred towards them, but is still forced to do their bidding.

Evolves from: Mirorim

Evolves into: NONE

TBA

Reflectairy, the Reflection Pokemon

Reflectairy are born when a trainer cares for Mirorim and then levels it up. It will reflect the positive points in the trainer's future, and will love the trainer until their lives come to an end.

Evolves from: Mirorim

Evolves into: NONE

TBA

Crawlectric, the Wire Cutter Pokemon

Crawlectric are usually seen messing around with power plants. The "battery" on their backs needs constant energy, and snapping wires powers the battery that keeps them alive.

Evolves from: NONE

Evolves into: NONE

TBA

Odorangutang, the Skunk Ape Pokemon

Odorangutang, despite being massive and heavy beasts, are rarely seen. However, the awful smell that radiates from it's fur is picked by all creature's noses for miles.

Evolves from: NONE

Evolves into: NONE

TBA

Coldier, the Soldier Pokemon

Coldiers are always ready to fight for the good of their family and friends. Their igloo-like helmets actually inspired the design of real igloos back in the days of the Ice Age.

Evolves from: NONE

Evolves into: Generice

TBA

Generice, the General Pokemon

Generice, while quite jaded, are still ready to protect their tribe at all costs. Their behavior and appearance inspired this region's military outfits and proceedures.

Evolves from: Coldier

Evolves into: NONE

TBA

Minimantis, the Praying Pokemon

A group of Minimantis' are usually very productive. They usually act like a colony of Durants. However, they're extremely docile and peaceful, and only attack when threatened.

Evolves from: NONE

Evolves into: Enigmantis

TBA

Enigmantis, the Praying Pokemon

A single Enigmantis is powerful enough to lift up a Machamp, but only using it's mind. It seems to be in a frozen state, when in reality, it is forming plans and strategies for battling.

Evolves from: Minimantis

Evolves into: NONE

TBA

Mosoncky, the Sock Monkey Pokemon

Mosoncky and Stufful have adapted together. Both are usually mistaken to be plush toys. However, unlike Stufful, Mosoncky enjoys the attention more than anything.

Evolves from: NONE

Evolves into: Stockong

TBA

Stockong, the Brute Pokemon

Stockong may seem brash and rude on the outside, but in reality, it's a very caring Pokemon. It won't let anyone hurt it's young. In addition, it's one of the only Pokemon that can survive Bewear's hugs.

Evolves from: Mosoncky

Evolves into: NONE

TBA

Melodeon, the Melody Pokemon

Melodeon is known to have one of the most beautiful voices of all Pokemon. It's known to be great at helping put kids to sleep with lullabies. It's incredibly popular.

Evolves from: Eevee

Evolves into: NONE

TBA

Constelleon, the Constellation Pokemon

Constelleon was talked about in legends for it's rumored ability to leap across the solar system. It's silk-like fur is known to be incredibly soft yet bristle at the same time.

Evolves from: Eevee

Evolves into: NONE

TBA

Skulabone, the Grave Pokemon

Skulabone are the remains of deceased Sawks. They wield large bones they use as swords and a tombstone they use as a shield. They're extremely loyal to their trainers.

Evolves from: NONE

Evolves into: NONE

TBA

Helionna, the Sunflower Pokemon

Helionna are extremely fearsome creatures. Sunflora and Sunkern treat it like the chief of a tribe, and it is known to protect it's kind by sending out seeds covered in "gas", then light the seeds on fire.

Evolves from: Sunflora

Evolves into: NONE

TBA

Dugdrinity, the Porous Pokemon

Dugtrio have taken residence in a large pouros lava rock-like creature. The creature has no hands, but it's elephant-like legs are strong enough to paralyze a Conkledurr. It is said Dugtrio provides the brain for the creature.

Evolves from: Dugtrio

Evolves into: NONE

TBA

Toreavern, the Deceiver Pokemon

Toreavern's red wings have often been compared to Emolga's. Because of this, they are constantly used in fashion shows. They're locked in a feud with Tauros, and are also used to tame them.

Evolves from: NONE

Evolves into: NONE

TBA

Sungbug, the Beetle Pokemon

Evolves from: NONE

Evolves into: Keversun

TBA

Keversun, the Charred Pokemon

Evolves from: Sungbug

Evolves into: Scarabomb

TBA

Scarabomb, the Burning Sun Pokemon

Evolves from: Keversun

Evolves into: NONE

TBA

Possesseat, the Ottoman Pokemon

Evolves from: NONE

Evolves into: Ferugcious

TBA

Ferugcious, the Fur Rug Pokemon

Evolves from: Possesseat

Evolves into: NONE
New Abilities
Intoxicate: All Normal type moves become Poison type moves.
Persistant: A Pokemon that has been burned or poisoned CANNOT be killed by said status effects, only weakened.
Imitator: Your Pokemon can imitate the other's stat changes upon entering battle.
Lockjaw: If you use a biting move against an enemy, it'll trap them for 2 to 3 turns.
Antagonize: Lowers the opponent's special attack harshly.
Warm Up: Raises the power of Fire type moves by 10%.
Overdrain: Doubles the power of draining moves if the user's HP is lower than the opponents.
Psychic Shield: Bug, Ghost, and Dark type moves have a 20% chance of missing the opponent.
Foggy Shroud: Fog appears at the beginning of battle. The effects of Haze and Mist also come into play.
Cosmic Void: Stops all forms of terrain and weather from being used.
Astral Projection: Creates a decoy for the user made of stardust. Can take one hit before being destroyed.
Shooting Star: Very much like Hail. Shooting stars fall down from the sky and damage the opponents.
Moon Flora: Gives the Pokemon with that ability a boost in all stats by one stage.
Stone Shield: Gives a shield to the Pokemon. Breaks in the three turns unless a move that has the type advantage over the Pokemon, turning it into one.
False Target: Gives the opposing Pokemon a 60% chance of missing hitting you physically. Status moves like Spore still work just fine, however.
Fist O' Nature: Marshupial can use any physical attack and has a 25% percent chance of hitting twice. This streak can be stopped with a Fire type move.
Black Fog: The steam coming from Combull's nose forms a ring of smoky fog around it, lowering the opponents accuracy. The smoke can be destroyed by a Water type move.
Ocean Calling: Platorrent makes a giant spiral of water surround it upon entering battle, boosting both of it's Defense stats to the max. The spiral can easily be broken with a Grass type move.
Disgusting Scent: When Odorangutang is put on the battlefield, the opposing Pokemon automatically becomes confused. When Odorangutang is put back in the fray, it starts back up again.
TBC
Origin Forms
Origin Forms are certain forms given to old and new Pokemon alike. They're "a locked away form of Pokemon". Each new form is supposed to be more powerful than the forms you've seen before. They're mostly given to Fossil Pokemon, with a few exceptions like Pikachu, the Larvitar line, and Relicanth.
The way you activate these forms is by using the Origin Watch in battle on that specific Pokemon.
Image
Description
Type

Pikachu isn't very different from it's modern day counterpart in terms of typing and moves, but it differs from it in every other way. These Pikachu's are fatter, resulting in slower yet more heavy hitting and defensive Pikachu.

Aerodactyl once ruled the sky alongside Archeops and Archen. It was known for it's very long tail, which resembled a fishing hook. It used this tail to hunt for seaborne Pokemon, such as Relicanth, Omanyte, and Pyukumuku.

Omanyte's shells were laced with toxins that only made certain Pokemon able to eat it. Aerodactyl's tail usually lures it in, however, due to it resembling a tentacle beloning to an Omastar, who are usually the higher-ups in their society.

Omastar have a long-standing fued with Kabutops. Spikes cover it's entire shell, making it's predators think twice before eating it. It'll steal food from innocent Pokemon to feed it's young, but only food that they like.

Kabuto have a long "tail" connected to it's shell. This tail is used to sting prey and can be used to drain it's bodily fluids. However, due to the addition to it's shell, Pokemon are more likely to notice this creature when it hides.

Kabutops takes Kabuto's "tail" and makes them it's scythes. Kabutops is an excellent swimmer and can catch prey on land. However, it's slower than it's modern counterpart due to the weight of it's two scythes.

Larvitar have broken out of the rock-like shells that surrounded them and now are able to move faster. The spike at the top of their head is more sharp and curved now, making eating and cutting open prey easier.

Pupitar's spikes, which were already sharp, have grown sharper and move curved. This makes mobility harder for it, but it mostly feeds off nectar it gets from nearby trees and such. Rarely, a Tyranitar uses them as a shield of sorts.

Tyranitar are treated as warriors or even gods at times. They're known for their brute strength and knight-like behaviors. Their spikes have now turned into armor-like shields for it's back and tail. A bit of it's shell from being a Pupitar is still on it's tail.

Celebi, unlike other Origin Forms, can transform between her weaker form and her Origin Form at will. Celebi was actually from another dimension, much like an Ultra Beast, but was actually very peaceful. She soon adapted to her environment with her old form as seen in Gen 2-7.

Lileep disguises itself as a prehistoric plant and waits for it's prey to come nearby. When it's prey is above it, Lileep proceeds to use their tendrils to suck the fluids out of the prey and then swallows their body in one gulp.

Cradily huddle together in large groups to mimic the appearance of prehistoric plants. When a large amount of food come by, each Cradily has a feeding frenzy and proceeds to take all the food they can. Sometimes they can catch other Cradily and eat them on accident.

Anorith can be just about anywhere: floating on water, on certain kinds of trees, on the ground, and even underground in a few rare instances. However, due to it's eccentric color palette, it is easily spotted by predators.

Armaldo are giant hulking creatures that can scuttle around on all fours or walk on it's hind two legs. When it's near, you can hear rattling sounds similar to a rattlesnake. It's wings let it slightly float above ground.

TBA
TBA
TBA
TBA
TBA
TBA
TBA
TBA
TBA

Origin Rockrunch

TBA

Origin ???

TBA
Trivia
The legendaries will be based on Freyja, the norse goddess of love and war, and Achlys, the goddess of poisons. The names of the Pokemon will be Panthreyja (Psychic/Fairy) and Achlyepida (Dark/Fairy).
The Fire and Water starters were different animals before being scrapped. The Water type was a jellyfish and a swan while the Fire type was an armadillo and a rabbit.
This game, like Sun and Moon, have a large focus on returning characters. These include (but are not limited to):

Leaf from Fire Red/Leaf Green.
Diantha from X and Y.
Hugh from Black 2 and White 2.
Ryuki from Sun and Moon.
Cyrus from Diamond, Pearl, and Platinum.
Professor Tetra from Pokemon Picross.
Looker from Diamond, Pearl, Platinum, Black, White, Black 2, White 2, X, Y, Sun, and Moon.
Silver from Gold, Silver, and Crystal.
Lt. Surge from Red, Blue, and Yellow.

A list of Pokemon names were leaked at one point. These were:

Crawlectric.
Mosoncky and Stockong.
Mirorim.
Hammarark.
Ganokunshu, who is rumored to be a legendary.
Skulabone.
Ferugcious.
Jaspurr.
Coldier and Generice.
Regifallen, who is rumored to be linked to the Regis.
Barriareef, who is said to be a Corsola evolution.
Dugdrinity, who is said to be a Dugtrio evolution.
Helionna, who is said to be a Sunflora evolution.
Terrorvolt, who is said to be an Electrode evolution.
Maractulous, who is said to be a Maractus evolution.