Pokémon
Developer(s)

Publisher(s)
Nintendo
Platform(s)
Nintendo 3DS
Release Date(s)
June 18th, 2016
Mode(s)
1-4 players simultaneous
Age Rating(s)
E
Genre(s)
RPG
Series
Pokémon
Media Included
3DS Cartridge

Pokémon Ash and Dust are the primary paired versions for the next Pokémon generation. Taking place in the new Zenia Region, this game includes 130 new Pokemon, 30 new Mega Evolutions, new "3-way battles" as well as the new Wind and Space types!
Plot
Starting Out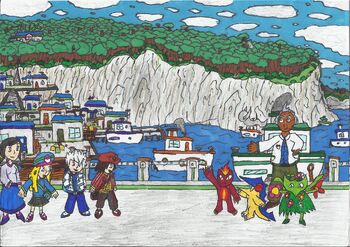 The game starts with Professor Baobab telling you about the world of Pokémon and particularly the Zenia Region. He sends out a Larvire and talks about his role as professor as well as how people take part in Pokémon battles. He then asks who you are (your name), your gender as well as how your character looks. He then says that there's another trainer coming today and asks if you might happen to know him. This is where you choose a name for your rival (His official name is Zayne so I'll refer to him by that name).
Your character wakes up out of their bed and looks in the mirror (in which you can customize your character with some basic clothing) and go stairs to your mom who also happens to be a professional Pokémon Ringer. She then cheerfully tells you "Have you forgotten? Today is the day you start your Pokémon journey! All trainers start on their 10th birthday! correct?" she then gives you some items for later use and tells you that professor Baobab's laboratory is north of Dockane City.
She also mentions that your "father" is currently having trouble keeping his gym in Gusandra City for some reason. But with that, you set off into the coastal city to head to Professor Baobab's laboratory. However, when you get to the north of the city, there's no sign of any laboratory.
Now, if your character is a boy, you'll do bump into a young girl called Lima, if your character is a girl, you'll bump into a young boy called Wren. He/She is also in search of the lab and tells you that the laboratory technically isn't in Dockane City and is actually in the Filan Jungle, just on the hills, north of the city.
She/he says that they can get to the jungle by exiting the city, though she/he does say that it could dangerous. Lima/Wren heads into the jungle and so you follow. The jungle itself is quite dense, but there's a narrow dirt path which your rival says should lead them strait to the laboratory.
However, along the way, Lima/Wren is stopped infront of some tall grass which has overgrown onto the path and there's no way around it. Lima/Wren walks through it without a battle infusing and so they tell you to do the same. However, when you walk into the grass, a battle infuses which is bad since you don't have any Pokémon yet.
A wild Flazard appears, but suddenly, a man wearing a white lab coat jumps in, sends out a Breeznake (which is a Wind type, so it's super effective against Flazard's typing) and so he defeats it in one move. After the battle, he pulls you out of the tall grass and introduces himself as Professor Baobab himself. He then leads you and Lima/Wren down the rest of the path, to where his lab is.
Once in the lab, Baobab, adds up that you must be new trainers and that you're here for your starter Pokémon. Then another trainer enters the room, who is also here for his starter Pokémon. He is your rival (Zayne) and introduces himself. With that, Professor Baobab gets the tray with the starter Pokémon on it and presents to you the 3 starter Pokémon of the Zenia region!
The 3 options are Shrubud: the grass type, Aquina: the water type, and Volava: the fire type. Which ever one you pick, Lima/Wren asks if Zayne wants to go next, but Zayne lets Lima/Wren pick first instead, so, they the type which your's is weak to, and then Zayne will pick the last one, which is weak against the type of your starter. Zayne simply says "I won't be needing type advantages to succeed on my journey..."
Zayne then asks if you want a battle. You accept, and so, they leave the room and start battling. After the battle, he says that he's now setting off for his first gym, though with no mention of where that gym is. Lima/Wren says that he/she is also going to the first gym which she/he looks at their map and sees that the closest gym is in Gusandra City (which is the gym your dad owns).
Lima/Wren then sets off after receiving her/his Pokeballs from the professor. The professor also gives you some Pokeballs, your Pokedex, a badge case, as well as some basic items, and so you finally set off on your journey!
To Gusandra City Gym!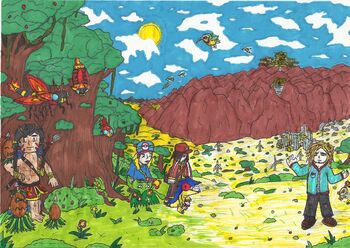 You make your way through the Filan Jungle (New Pokémon: Voodocoo, Flazard, Larvire). Along the way, you meet an old tribal man called Amboco who is friendly to the Voodocoos and Shamanuts that live in the jungle. He tells you that the Shamanuts and Voodocoos are said to worship the legendary moon and sun Pokémon: Araloughz and Kalthumia.
Eventually, you reach the jungles edge but then, a strange omnipresent voice echoes in your charecter's head calling "Please... you mustn't free me", though this confuses your charecter, there is no clear answer as to where or who the voice came from and so you just carry on and go out onto a sandy but fertile area, where Gusandra City is visible in the distance.
This leads you into Route 1, where many trainers are waiting to battle, as well there being some other new Pokémon available (New Pokémon: Pideater, Eggstritch). Eventually, you reach the city where you enter the Gusandra City Gym. Here, you meet up with Lima/Wren who is also there to challenge the gym. The gym leader then enters shows up, who is happy to see you since he's your dad. He introduces himself as Evander but sighs since he's not allowed to accept challenges from trainers anymore. Lima/Wren wonders why and so Evander explains:
"I've been running this gym for years, and I've slowly became stronger and stronger with every challenge that I accept! However, I've became so strong that barley anyone has been able to defeat me in a gym battle anymore, and so the Pokémon league rule makers have decided that I can no longer be a gym leader since no one has the power to beat anymore. Not to brag but I really am that strong! In fact last year, there were actually less trainers in the Zenia league than usual, just because a lot of them were unable to beat me, so they couldn't get the Tornado Badge!"
You and Lima/Wren understand although they wonder what he's going to do now. Evander says that he's not sure entirely but he does have one idea... However, he doesn't go on to explain what this idea is. He also explains "There's another problem with this: With no one running the gym at the moment, there's only 7 gyms running in the region, and trainers need at least 8 to get into the Pokémon League! So, It's obvious that this place needs a new gym leader! I am currently trying to make arrangements with someone from the mainland to be the new gym leader but it could be awhile" With the Gusandra City gym currently not open, Lima/Wren wonders where another gym might be and checks her/his map to find out. She/he then tells you that there's a gym in Marrowanda City which they can get to by taking route 2. However, since she/he couldn't challenge the gym, she/he instead challenges you for a battle! After the battle, Lima/Wren sets off to Marrowanda City. You follow, just after Evander wishes you good luck. With that, you set your eyes on the first gym in Marrowanda City!
To Marrowanda City Gym!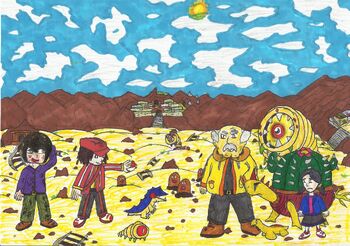 You leave Gusandra City the same way that you entered, and take a different path through route 1, which leads to route 2. This area is still quite sandy but still a bit fertile, and there's various ground and rock type Pokémon (New Pokémon: Earmin, Shelless) which can be found here as well as many trainers waiting to battle. As you travel down the route, the terrain slowly becomes less fertile and more rocky and sandy, almost like a desert.
As you're travelling through this deserted wasteland, you find a young man lying in the sand. You try and help him up and give him an item that you supposedly have (like a berry). He then explains that he was searching the desert for fossils when he was suddenly ambushed by a group named Team Orbit. He explains that he had a battle but they were too strong. After the battle, he was mugged of his bag which had his research in it, as well as other supplies. He introduces himself Harry and says that there's a nearby mining town to the east called Digoala Town and asks if you can take him there. You agree and so he follows you to Digoala Town.
Once in Digoala Town, Harry takes you into his lab where he has many rocks and old artefacts which he does research on. However, he thinks back to Team Orbit and wonders about what their organisation could be up to. But anyway, as a token of his respect, Harry kindly gives you a Mega Ring and the Mega Stone used for your Starter Pokémon's final evolution. He then goes on to explain the basics of how it works and such.
With that, you set off onto Route 3 and head to Marrowanda City. Along the way though, you meet a suspicious young girl playing near some rocks all by her own. But if you try to talk to her, she just says "Oh lucky you! You think you're a better trainer than me just because you're old enough to be one!"
Anyway, you continue until you final reach the entrance to Marrowanda City where a lot of mining tools and equipment as well as mine tracks and carts are just lying about. Either way, you make your way into the gym which also happens to be a mine! Once inside the Marrowanda Gym however, a large man in a yellow coat is worried about where his daughter could be "Oh no! Not this again! Where has she gone off to this time!". The man then sees you and introduces himself as the Gym Leader: Gravley, but explains that his daughter: Avani, has gone wondering off "again" and asks if you might know where she is. So, you go out for a quick search but, if you remember that girl on the rocks from earlier, then that's where you're supposed to go. Once you reach the rocks, you talk to Avani telling her that her dad wants her. However, Avani just shrugs and decides to make a stubborn deal with you: "I'll go if you lend me a Pokémon so we can have a battle".
As ridiculous as it seems, you have to lend her one of your Pokémon and have a quick battle. After the battle, Avani does as she promised and returns to the gym. Back at the gym, Gravley tells Avani off for wondering off like that and thanks you. So, now that everything is good, Gravley lets you into the rest of the gym.
Once in the gym, you see that it's a huge underground mine, and you must traverse it by taking the correct mine carts to get around, all while battling trainers at the same time, who mostly use Ground Types. Eventually, you reach Gravley and so, the battle begins. In battle, Gravley uses a Goborm and a Cactoise. After the battle, Gravley congratulates you and hands you the Dune Badge as the first gym badge in the game! However, Avani then has a hissy fit, complaining about the fact that Gravley won't let her start her own journey.
Gravley then thinks for a moment and then pulls out a Pokéball and gives it to Avani. "I'm afraid you won't be able to start a journey just yet... but the least I can do is give you a Pokémon to start training with. This, is Shelless" Avani is amazed that Gravley is now giving her, her very own Pokémon, and out of pure happiness, hugs her dad. With that settled, Gravley and Avani bid you farewell, and so you get ready to set off to the next gym in Aquarama City!
To Aquarama City Gym!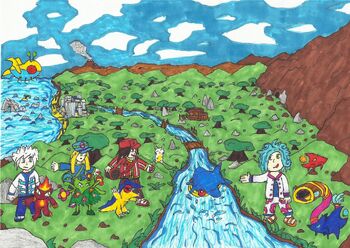 After defeating the Marrowanda City Gym, you set your sights on the second gym in Aquarama City, which you can get by going through a cave system called Carnall Caverns from Marrowanda City, which eventually leads out onto route 4, which leads to Aquarama City.
As you're going through the strange cave system, you meet Lima/Wren who is also on his/her way to Aquarama City, after beating the 1st Gym. He/she then asks if you want a battle, however, Zayne then shows up and suggests that they all have a 3-way battle! Lima/Wren wonders what a 3-way battle is, and Zayne explains: "It's a type of battle where instead of 2 trainers battling it out, there are 3! This could potentially involve much more strategy since you may want to gang up on 1 opponent or divide your power between both! So how about it?"
You and Lima/Wren agree and so begins a "3-Way" battle with your two rivals! After the battle, Zayne tells you that you can get out of the cave if you find the River Carnall and then follow it north downstream. With that, Lima/Wren and Zayne set off to explore the rest of the Cavern.
Eventually, you should find the river and so you follow it north of the cave (downstream) which leads you to the exit of the cave. Now on Route 4, you make your way to Aquarama City, where by following the river, will lead into to the city and then out into the ocean! (New Pokémon: Electrifly, Scorchion, Scorpour, Lecuru)
After following the river and fighting some trainers along the way, you eventually reach Aquarama City, although the gym is nowhere to be seen. However, if you go down onto the beach, you meet Lima/Wren again who tells and shows you that the gym is in a cove just off the coast, and that you need a Pokémon that knows or can learn "Surf" to get over there. But before you set off, she/he challenges you to a battle since their previous attempt to battle was halted by Zayne.
After the battle, you prepare for the second gym! If you need a Water Pokémon that can learn Surf, then you can get an Old Rod by fighting a trainer who is fishing on the River Carnal on Route 4, and then you can buy a HM-Surf at the Pokémon Centre.
Once you have a Pokémon that knows Surf, you can get over to the small cove island where the Aquarama City Gym is! (New Pokémon: Larcata, Mantide). Once in the gym, you see that it is full of water and rocks sticking out of the water. The idea is to use Surf to get over to where the Gym Leader is, while either fighting or avoiding trainers who are also using Surf to swim around in the water. Once on the platform where the Gym Leader is standing, she introduces herself as Cordelia. With that, the second Gym Battle BEGINS! During the battle, she uses a Mantide and a Larcata. After the battle, Cordelia congratulates you and gives you the Cove Badge! With that, you set your sights on the 3rd Gym in Pompeak City!
New Pokémon
For a more detailed Pokedex (with entries) See Pokémon Ash & Dust Versions/Pokédex
#
Image
Name
Type
001

Shrubud
Grass

002

Floweedaff
Grass/Fairy

003

Trunathia
Grass/Fairy

004

Volava
Fire

005

Moldin
Fire

006

Molflaron
Fire/Rock

007

Aquina
Water

008

Wavorse
Water

009

Wavern
Water/Dragon

010

Voocodoo
Grass

011

Shamanut
Grass

012

Tikoca
Grass/Psychic

013

Flazard
Grass/Fire

014

Graptor
Grass/Fire

015

Larvire
Bug/Fire

016

Pupire
Bug/Fire

017

Flyire
Bug/Fire

018

Pideater
Normal/Flying

019

Coracane
Flying/Wind

020

Merocane
Flying/Wind

021

Eggstrich
Normal

022

Ostrock
Normal/Rock

023

Earmin
Ground

024

Goborm
Ground

025

Swormongol
Ground/Poison

026

Shelless
Normal

027

Cactoise
Ground/Grass

028

Coraltoise
Water/Grass

029

Volcatoise
Fire/Rock

030

Iglootoise
Ice/Fire

031

Pyltoise
Electric/Steel

032

Spiritoise
Ghost/Dark

033

Electrifly
Bug/Electric

034

Electrisect
Bug/Electric

035

Scorchion
Fire/Bug

036

Scorpour
Water/Bug

037

Scaldroplet
Fire/Water

038

Lecuru

039

Larcata
Water/Rock

040

Tunicleus
Water/Rock

041

Mantide
Water/Electric

042

Stintide
Warter/Electric

043
Happy Form

Angry Form

Sad Form

Masklad
Grass

Fire

Water

044

Yaramago
Dark

045

Wendaya
Dark

046

Swishter
Wind/Fairy

047

Tornadust
Wind/Fairy

048

Hurriscape
Wind/Ground

049

Aborang
Fighting

050

Elavant
Fire

051

Hellephant
Fire/Dark

052

Pebold
Rock/Ghost

053

Bouldolon
Rock/Ghost

054

Rergle
Fighting

055

Rorgos
Fighting

056

Peaclairv
Flying/Psychic

057

Flurreon
Wind

058

Windust
Wind/Poison

059

Wingust
Wind/Flying

060

Electruff
Electric/Dark

061

Houndark
Electric/Dark

062

Howlectric
Electric/Dark

063

Puffluff
Fairy

064

Carekey
Fairy

065

Drifairy
Wind/Fairy

066

Whirlzard
Wind/Fairy

067

Nokkorn
Fairy/Ghost

068

Walking Form

Grotreeus
Grass/Ghost
069

Orkid (Exclusive to Ash Version)
Dark/Fairy

070

Orking (Exclusive to Ash Version)
Dark/Fairy

071

Troldren (Exclusive to Dust Version)
Poison/Fairy

072

Trollord (Exclusive to Dust Version)
Poison/Fairy

073

Metemplar
Dark/Steel

074

Knighplate
Dark/Steel

075
Tiandra
Dragon/Fighting

076

Horsail
Wind

077

Steedash
Wind

078

Toxhall (Fossil Pokémon)
Rock/Poison

079

Generius (Fossil Pokémon)
Rock/Poison

080

Sparion (Fossil Pokémon)
Rock/Electric

081

Sharkorpion (Fossil Pokémon)
Rock/Electric

082

Mentode
Bug/Psychic

083

Mentis
Bug/Psychic

084

Blindra
Dragon/Flying

085

Dradatwo
Dragon/Flying

086

Orock
Rock

087

Rockslaught
Rock

088

Frostatean
Ice/Bug

089

Spidicle
Ice/Bug

090

Norachnid
Ice/Bug

091
Pupslush
Ice

092
Wolfrost
Ice

093

Zephluff
Wind

094

Gareden
Wind/Grass

095
Hikid
Ice/Fighting

096
Snowbroad
Ice/Fighting

097
Siski
Ice/Fighting

098

Galatron
Space

099
Alienaught
Space

100
Terrestella
Space

101

Diflection
Ghost/Space

102

Mirreflect
Ghost/Space

103

Albar
Fighting

104

Rambearier
Fighting

105

Darcloud
Dark/Wind

106

Altorna
Dark/Wind

107

Vaclean
Space/Wind

108

Breeznake
Wind

109

Serbine
Wind

110

Leskyathen
Wind/Dragon

111

Fallacept
Ghost

112

Fantasm
Ghost

113

Hallusion
Ghost/Dark

114

Levenom
Poison/Psychic

115

Hovenox
Poison/Psychic

116

Drafan
Wind/Electric

117

Windile
Wind/Electric

118

Turblow
Wind/Electric

119

Araloughz (Legendary)(Exclusive to Ash Version)
Fire/Dragon

120

Kalthumia (Legendary)(Exclusive to Dust Version)
Space/Rock

121

Etremos (Legendary)
Ground/Grass

122

Ravoidius (Legendary)
No Typing
123

Dunsung (Legendary)(Exclusive to Ash Version)
Fire/Bug

124
Raboomid (Legendary)(Exclusive to Dust Version)
Space/Fighting

125

Levarnia (Legendary)
Wind/Flying

126

Sergon (Legendary)
Dragon/Dark

127
Almarta (Legendary)
Space

128
Cosmisect (Legendary)
Space

129
Toxotic (Legendary)
Space

130

Etula (Legendary)
Space
New Mega Evolutions
| Image | Name | Mega Stone | Type |
| --- | --- | --- | --- |
| | Mega Trunathia | Trunathiaite | Grass/Fairy |
| | Mega Molflaron | Molflarite | Fire/Rock |
| | Mega Orchean | Orcheanite | Water/Dragon |
| | Mega Raichu | Raichuite | Electric |
| | Mega Golem | Golemite | Rock/Fire |
| | Mega Eevee | Eeveeite | Normal |
| | Mega Rapidash | Rapidite | Fire/Flying |
| | Mega Sandslash | Sandslashite | Ground |
| | Mega Tentacruel | Tentacruelite | Water/Poison |
| | Mega Jynx | Jynxite | Ice/Psychic |
| | Mega Dragonite | Dragite | Dragon/Flying |
| | Mega Donphan | Donphanite | Ground/Steel |
| | Mega Mantine | Mantinite | Water/Flying |
| | Mega Mightyena | Mightyenite | Dark |
| | Mega Sableye | Sableyite | Dark/Ghost |
| | Mega Zangoose | Zangite | Normal/Fighting |
| | Mega Seviper | Seviperite | Poison |
| | Mega Walrein | Walreinite | Ice/Water |
| | Mega Relicanth | Relicite | Water/Rock |
| | Mega Tropius | Tropiusite | Grass/Dragon |
| | Camerupt | Camerite | Fire/Ground |
| | Mega Milotic | Milotite | Water/Fairy |
| | Mega Flygon | Flygonite | Dragon/Bug |
| | Mega Metagross | Metagrossite | Steel/Psychic |
| | Mega Yanmega | Yanmegite | Bug/Dragon |
| | Mega Magmortar | Magmortite | Fire |
| | Mega Electivire | Electivite | Electric |
| | Mega Rhyperior | Rhyperiorite | Ground/Rock |
| | Mega Golurk | Golurkite | Ground/Ghost |
| | Mega Hydriegon | Hydriegite | Dragon/Dark |
| | Mega Clawitzer | Clawitzite | Water/Dragon |
Main characters
| | | |
| --- | --- | --- |
| Name | Image | Description |
| Lima/Wren | | The male and female protagonists of the game! Your rival will be the one opposite to which you choose. Throughout the game, he/she joins you on your way through areas, helps you to stop Team Orbit and also has the occasional battle with you. |
| Zayne | | Your other rival in the game who is much more competitive and usually stays cool and calm, even in defeat. He stays as a regular rival at first, but later sets his sight on capturing an all powerful legendary... |
| Professor Boabab | | This game's regional professor who provides new trainers with their starter Pokémon as well as doing general research on Pokémon. He owns a laboratory in the Filan Jungle. |
| Evander | | Evander is your character's dad in the story and originally owns the Gusandra City Gym, but was forced to move out because he was "too strong" of an opponent. So, he instead sets off on his own quest, although no one is sure what this quest is. |
| Harry | | An archeologist and explorer who you occasionally bump into. However, he also has a lot to do with Team Orbit, since he has something which they need for their plans. |
| Team Orbit | | The "evil organization" working in the Zenia Region to supposedly "free" Araloughz/Kalthumia from their celestial bodies. The leader is Pandora and the admins are Phobos, Triton and Europa. |
Gym Leaders
Gym Leader
Type
Town/City
Pokémon
Badge
Description
Gravley

Ground

Marrowanda City

Goborm (Lv.12)
Cactoise (Lv.10)

Dune Badge

Gravley is the owner of a mine which is also his gym itself. He has a bratty daughter called Avani who interferes with his work because she is so determined to start her own journey.
Cordelia

Water

Aquarama City

Mantide (Lv.14)
Larcata (Lv.15)

Cove Badge

She is a professional surfer who loves all nature of the sea. As such, she enjoys holding surfer competitions in Aquarama City.
Brande

Fire

Pompeak City

Flyire (Lv.18)
Elavant (Lv.17)
Volcatoise (Lv.18)

Eruption Badge

Outside of battling, he studies Mt. Pokimanjaro as he has much interest in the legends behind it, and how it could link to Araloughz.
Faylinn

Fairy

Magestia City

Drifairy (Lv.24)
Carekey (Lv.26)
Nokkorn (Lv.27)

Magestic Badge

She often explores the Kalari Jungle to make sure it is free of harm. As such, she helps you against Team Orbit during their attack there.
Noel

Ice

Coracate City

Wolfrost (Lv.35)
Delibird (Lv.36)
Spidicle (Lv.38)

Summit Badge

He secretly delivers gifts to strong trainers in Coracate City at night, and battles only for the fun of it.
Stella

Space

Aurinius City

Lunatone (Lv.42)
Solrock (Lv.42)
Alienaut (Lv.44)
Galatron (Lv.45)

Galaxy Badge

She is quite serious about battling and is the sister of Team Orbit's leader: Pandora. She was once part of their goals, but quit when she learnt about the consequences. She also does double battles in her gym.
Blair

Dark

Glorus Town

Hallusion (Lv.54)
Abosol (Lv.52)
Spiritoise (Lv.56)
Altorna (Lv.57)

Shadow Badge

He lives in a huge "haunted" mansion where his family once lived... he is now corrupt with insanity and only thinks about darkness.
Gale

Wind

Gusandra City

Flurreon (Lv.57)
Hurriscape (Lv.60)
Steedash (Lv.58)
Turblow (Lv.60)

Tornado Badge

After Evander lost his gym, Gale took over as the gym leader. She also helps you defeat Clad: a Steel Type specialist who tries to steal the gym.
Elite Four
Elite Four Member
Type
Pokémon
Description
Gritly

Rock

Boldolon (Lv.60)
Tyranitar (Lv.62)
Gigalith (Lv.63)
Rockslaught (Lv.64)

He is the younger brother of Gravley and unlike Gravley, likes to play with Avani as she were his own, as a way to make himself seem better than Gravley.
Nikola

Electric

Luxray (Lv.61)
Pyltoise (Lv.65)
Ampharos (Lv.63)
Howlectric (Lv.67)

She is popular actress who loves to perform with her Pokémon. She does however, hate it when her fans try to snap pictures of her.
Jay

Flying

Merocane (Lv.64)
Braviary (Lv.65)
Dradatwo (Lv.65)
Peaclairv (Lv.67)

An old-fashion pilot who was also the first person to discover the Nirvana Skies with her very own plane.
Malden

Rorgos (Lv.68)
Rambearier (Lv.66)
Tiandra (Lv.70)
Aborang (Lv.70)

He managed to survive in a desert for 3 months with limited suplies. As such, he had no choice but to develop his strength, and thus he is a master at martial arts. He also used to be the champion.
Evander

Diverse Types

Nokkorn (Lv.70)
Mentis (Lv.72)
Generius (Lv.74)
Sparkorpion (Lv.74)
Mirreflect (Lv.75)
Leskyathan (Lv.78)

Evander is the player's dad who after loosing his gym, sets off on his own journey, and soon becomes the champion, as he wanted to battle you at the end of the league.
Wind Type
Battle Traits
Wind Types are:
Super effective against Fire, Rock, Ghost and Electric Types
Weak against Ice, Space and Flying Types
Resistant against Fire and Bug
Immune to Ground
Flying and Ice types are resistant against Wind Types
Steel and Ground are immune to Wind Types
Pokémon retyped as Wind
Jumpluff (Grass/Wind)
Wailmer and Wailord (Water/Wind)
Mantine and Mankyte (Water/Wind)
Chimecho (Psychic/Wind)
Rayquaza (Wind/Dragon)
Rotom (Fan Form) (Electric/Wind)
Cottonee and Whismicott (Grass/Wind)
Drifloon and Drifblim (Ghost/Wind)
Cryogonal (Ice/Wind)
Tornadus (Wind/Flying)
Space Type
Battle Traits
Space types are:
Super effective aginst Fire, Grass, Bug, Wind and Flying Types
Weak against Fairy, Psychic, Rock and Ground Types
Immune to Wind Types
Resistant against Fire, Grass and Bug
Psychic, Ice and Fairy Types are resistance against Space Types
Ghosts are Immune to Space Types
Pokémon retyped as Space
Palkia (Dragon-Space)
Lunatone (Space-Rock)
Solrock (Space-Fire)
Staryu and Starmie (Water-Space)
Deoxys (Space-Psychic)
Jirachi (Space-Psychic)
Cleffa, Clefairy and Clefable (Fairy-Space)
Elgyem and Beheeyem (Space-Psychic)
New Moves
| | | | |
| --- | --- | --- | --- |
| Name | Type | Category | Description |
| Fairy Thorn | Fairy | Status | The user raises all its stats slightly and also poisons the target. This is the signature move of Trunathia. |
| Tsunami Wave | Water | Physical | The user creates a powerful tidal wave with its body to inflict damage on the user. This is the signature move of Orchean. |
| Volcanic Outrage | Fire | Physical | The user unleashes a fiery eruption which if the user has taken a lot of damage, the attack will do more damage. This is the signature move of Molflaron. |
| Spear Jab | Steel | Physical | The user uses a sharp spear to jab the user, causing them to take damage. |
| Wind Dive | Wind | Physical | The user dives and spins directly at the target whilst spinning to create a mini tornado around itself. |
| Fire Drive | Fire | Physical | The user swoops down whilst engulfed in flames and smashes into the target at full power. |
| Wind Ball | Wind | Special | The user focuses to create a ball of power winds which is then fired at the enemy to inflict damage. |
| Howl Charge | Electric | Special | The user howls to higher its ATK sharply and lower the target's DEF. It can also be used outside of battle to power electric devices. |
| Light Speed | Space | Status | The user increases its speed insanely to the point where it can always go first! |
| Solar Haven | Fire | Special | The user causes the sun to shine brightly healing them for the first turn, and then attacking with an extreme blast the next turn. This is the signature move of Araloughz. |
| Lunar Eclipse | Space | Special | The user causes the moon to create a dark glow raising the users attack for the first turn and then striking with an extreme blast the next turn. This is the signature move of Kalthumia. |
| Earth Tremor | Ground | Psychical | The user creates a huge earthquake to inflict huge damage as well as lowering the speed, attack and deffence of the target. This is the signature move of Etremos. |
| Singularity Outbreak | ??? | Special | The user releases a devastating blast of destruction which is stronger depending on how many times the user has been attacked before hand. This is the signature move of Ravoidius. |
The Zenia Region! (Locations)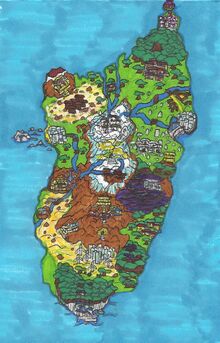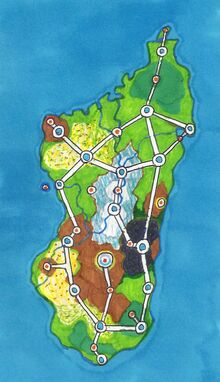 Dockane City is at the bottom of the map, and you make your way around the region clockwise from there)
Dockane City - Your home coastal city where your adventure all begins!
Filan Jungle - A beautiful Jungle swarming with wildlife! It's also the location of Professor Baobab's laboratory!
Route 1 - A sandy but fertile area which is sure to have many trainers waiting to battle!
Gusandra City - A large city which gets its power from wind turbines
Route 2 - A fertile path which slowly become a vast deserted wasteland!
Digoala Town - An old mining town which is known for finding many fossils in the surrounding desert!
Route 3 - It may be vast desert, but many Pokémon still prosper beneath the sands of the wasteland
Marrowanda City - This city is closed in by mountains and caves, meaning adventure is never far for its citizens!
Carnall Cavern - A dark, deep cavern which can be quite a maze! Remember to always follow the River Carnall downstream to find the exit
Route 4 - A luscious green field where the river Carnall flows strait from the caves to Auquarama City!
Aquarama City - A rich seaside city that is flowing with fresh water!
Aquarama Cove - A small cove off the coast of Aquarama City where the city's gym is also located
Route 5 - A path where native tribes often go to view its natural beauty
Afulwa Village - This tribal village is said to have an ancient ruins buried somewhere beneath it!
Route 6 - Also known as the Volcanic shrub-land, it is a popular area for Camerupt riding
Pompeak City - A stone city situated on foot of Mt. Pokimanjaro
Mt. Pokimanjaro - A huge volcanic mountain where ancient tribal rituals once took place
Route 7 - A huge flourishing plains full of wildlife!
Basil Stadium - When Basil was kicked from Zenia's Elite Four, he set up a stadium for challenges to battle him in
Raldeapur Town - A small outpost for trainers planning to venture forward into the Kalari Jungle.
Route 8 - Famously known as the Kalari Jungle, it has many rare species of plants and Pokémon alike!
Zion Tree - A huge tree which towers in the centre of the Kalari Jungle. Many have said that it has been there since the beginning of time.
Magestia City - A colorful city full of fashionable trends and carnivals!
Route 9 - A road designed purposefully for Horsail Riding
Brigidine City - A nice coastal city famous for the large Brigidine bridge!
Brigidine Bridge - A large bridge connecting Brigidine City to Route 10, many trainers gather here to battle
Route 10 - A pathway crawling with rock formations and other ancient structures!
Ruggedry Town - An old town famous for it's ancient rock formations, said to have come from ancient tribes.
Route 11 - A simple path which is often seen as a shortcut to get back to Reldeapur Town
Route 12 - A tricky road up to the snowy mountains, sprawling with caves and other hazards!
Coracate City - A city located in the mountains and so it often snows!
Route 13 - A great spot for skiing down the mountains and is also seen as a shortcut to Afulwa Village
Route 14 - A mysterious trip through the centre of the mountains, full of blizards and caves!
Aldoni Town - A humble town in the mountains, popular for getting skiing gear together!
Route 15 - An area famous for skiing and snowboarding races to get down the mountains!
Aurinius Valley - A beautiful star-lit valley well known for the appearance of Space Pokémon!
Aurinius City - A humble city in Aurinus Valley which is a popular tourist location due to where it is located.
Route 16 - A narrow canyon which leads from Aurinius City to Ruddedry Town. It is known as an ambush point though.
Orbital Ruins - An ancient ruins built by an ancient civilization as a way to call upon the legendries.
Route 17 - A peaceful countryside route
Ovardus Town - An rural peaceful town which also serves as a small port.
Route 18 - Also known as "the Glorus Forst" It is said to be haunted...
Glorus Town - A miserable town in the forest which is over-watched by the Glorus Mansion
The Glorus Mansion - A presumably "haunted" mansion, where one of the townfolk's family once lived.
Route 19 - A desert-like valley which is known for being very windy.
Route 20 - A mountain passage with many caves, which lead to Victory Road
Victory Road - A trechorus mountain road where only the strongest trainers will make it through!
Pokémon League - The arena's of the Elite Four and Champion, where only the strongest trainers can defeat all 5.
(Aftergame Locations)
The Slumber Cave (located on Route 3) - It was once an old mine before a monster made the cave its home...
The Mantle Chamber - (located on Route 5) A huge and natural underground system which is said to be a shortcut under the Earth's Crust. 
Nirvana Skies (located on Route 14) - A peaceful, paradise haven above the clouds where it is said only the purist of hearts are allowed through.
Ash and Dust Anime
To see the full episode list see Pokémon Ash & Dust Anime Episode List
With every Pokémon generation, there's an anime series to run along with it, and this generation is no exception! During this saga through the Zenia Region, Ash is joined by Lima who wishes to become a top Pokémon Ringer, Harry who is fascinated with archaeology and the past of Zenia, and finally Avani; a young child who just wants to explore the world around her and is also the daughter of Gravley (The Marrowanda City Gym Leader). The saga is approximately 200 episodes long and will span across 4 seasons.
Poll
I dunno who's gonna vote on this but, Which starter would you pick?
based of the 2 main legendrys, which version would you be more likely to buy?
Based of their designs, evolutions and typing, which fossil Pokémon would you choose between Toxhall and Sparion?