Pokémon (I haven't enought time to invent a name) Version is a new installment in the Pokémon Series.
Pokémon Version
Developer(s)
GameZ Inc., Game Freak
Publisher(s)
Nintendo, The Pokémon Company
Platform(s)
Nintendo ZeroCube
Release Date(s)
28th November, 2022
Mode(s)
Singleplayer, Multiplayer, Online
Age Rating(s)
PEGI 7, ESRB E
Genre(s)
RPG
Series
Pokémon
Predecessor
Omega Ruby/Alpha Sapphire
Successor
Delta Emerald
Media Included
ZeroCube Disc
Available Input
ZeroCube Controller, ZC Z, Wii U Gamepad
Storage Needed
1 GB
New stuff
Pokémons can have up to four types. (Rayquaza is now: Dragon, Thunder, Flying)
Pokémons can have 4 abilities.
Pokémons can have up to 8 moves.
New types: Light, Wind,
Plot
TBA
Pokémons
NEW LEGENDARY POKéMONS
Chaos Trio
Chaosthic (Dark, Fire, Psychic, Flying)
Chaosrypter (Dark, Steel, Electric, Flying)
Chaosrexus (Dark, ???, Dragon, Flying)
Existence Duo
Zero (Dark)
Zerotwo (Dark, Psychic)
Mewthree
Mewthree (Dark, Psychic)
New Regis
Regihex (Flying, Dragon)
Registorm (Ice, Electric, Water, Wind)
Regibrain (Psychic)
Regiflame (Fire)
Regiobscure (Dark, Ghost)
and others TBA
Pokédex
Arrives to... 913.
Special thing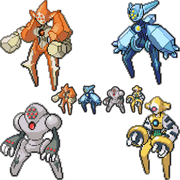 Do you remember the first Regis and Regigigas? And do you remember Deoxys' forms?
Look here.
Regirock+Deoxys Attack= RegiTtack
Regice+Deoxys Speed= RegiSpeed
Registeel+Deoxys Defense= RegiDefense
Regigigas+Deoxys= RegiDNA